Real estate sector to suffer short term amid COVID-19

 Real estate companies will suffer in the short term due to the COVID-19 pandemic, but the overall outlook remains positive, according to a CBRE report.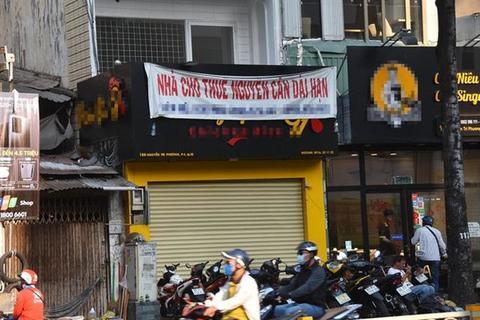 A house for lease in HCM City. — Photo nld.com.vn
Commercial assets, hotels, housing projects, and industrial real estate have all been affected.
In its recent report, CBRE said the pandemic had already impacted Asia-Pacific and the global economy, especially in the past two months.
Sales of food outlets and entertainment businesses in Viet Nam have been the hardest hit by the pandemic. Retailers have been reluctant to make investment decisions, causing a significant drop in new lease deals.
New shopping centre projects face challenges finding first tenants as many of them have postponed business activities. Tenants at shopping malls are asking landlords to cut rent by 50 per cent or even offer free rent during the "unpredictable" situation.
A number of property owners have reduced rent by 20-40 per cent to attract new tenants.
In major cities like HCM City and Ha Noi, more businesses are closing or are terminating rent contracts earlier due to the impact of Covid-19.
Tourism real estate is also suffering from the outbreak.
The number of tourists from China and South Korea, the key source of customers in Viet Nam, accounting for 56 per cent of foreign visitors to the country last year, is declining significantly due to the restriction of flights from epicentre areas.
Vietnamese are also postponing their travel plans domestically and broad.
According to the Khanh Hoa Province Department of Tourism, Nha Trang recorded a decline of 75 per cent of international tourists and 82 per cent of domestic tourists in February compared to the same period last year.
The pandemic is posing a serious risk to hotels in Nha Trang and Da Nang tourist hotspots, which depend heavily on Chinese and Korean tourists. Experts have urged them to seek new tourism markets.
The Viet Nam Tourism Advisory Council predicts a tourism loss of $7-15 billion. Viet Nam's hotel and tourism sector is expected to be seriously affected in the first quarter.
Occupancy rates in high-end hotels in HCM City dropped by 30-40 per cent in February, the peak season for the hotel market
CBRE predicts that tourism demand will gradually recover in the third quarter of 2020 if the pandemic is contained in the second quarter, and expects the market to grow again in the fourth quarter of the year.
The disruption in the global supply chain will cause a great impact as 40 per cent of the goods in the Asian supply chain are manufactured in China.
Viet Nam, Malaysia and Cambodia will be the most affected markets as more than 6 per cent of the Gross Value Added (GVA) of these economies are heavily dependent on China, according to economists.
Supply chain disruptions are taking place because raw materials from China account for 35 per cent of Viet Nam's total import value of production materials.
The COVID-19 outbreak is also affecting industrial real estate as the Vietnamese market saw a drop in demand from Chinese tenants in the first months of the year.
In addition, many housing projects are being delayed. Since the Lunar New Year, many developers and brokerage companies have been forced to postpone project opening activities.
Developers are likely to push sales once the disease is contained, leading to fierce competition in market share in the second half of 2020, according to the report.
Investors and developers have also become more cautious. More than 300 real estate brokerage exchanges, or one third of these firms in Viet Nam, closed recently due to the low supply and the impact of the pandemic. — VNS

Despite the COVID-19 outbreak piling pressure on the toughest segments of the real estate market in hospitality, retail, and industrial property, positive signs have also been unearthed.  
e

Vietnam's tourism industry was growing at lightening speed when it was hit by the Covid-19 epidemic.