VN real estate firms issue bonds again

There are two typical characteristics of the real estate firms' race to issue bonds – the high amount of bonds issued and the high interest rates.
Saigon Securities Incorporated (SSI) reported that VND17.071 trillion worth of bonds were issued in October 2019. Real estate firms surpassed commercial banks to become the biggest bond issuers with VND9.349 trillion worth of bonds issued.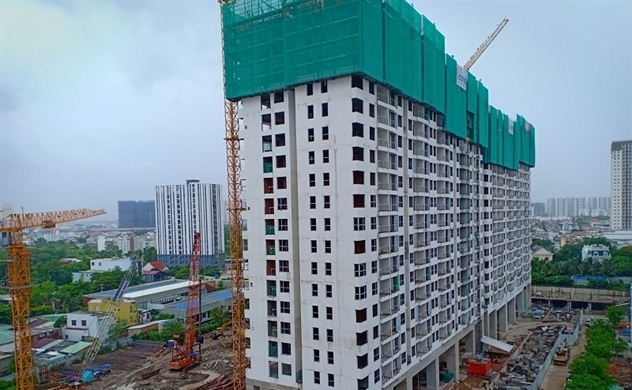 While banks set the interest rates of 7-8 percent, real estate firms offer high interest rates of 11-13 percent, and some of them offer 20 percent.

According to the Hanoi Stock Exchange (HNX), Star Beach has issued VND150 billion worth of bonds with the interest rate of 18 percent, without mortgaged assets.

Most recently, Land Saigon attracted special attention from the public when issuing VND1.85 trillion worth of 3-year bonds with the interest rate of 11 percent per annum. The enterprise issued a big volume of bonds in the context of negative cash flow.

There are two typical characteristics of the real estate firms' race to issue bonds – the high amount of bonds issued and the high interest rates.
Its Q3 finance report showed that in Q3 and the first nine months of the year, Land Saigon only had revenue from financial activities and had no revenue from sales. The debt to total assets ratio is up to 69 percent, mainly long-term debts.
Truong Hien Phuong from KIS Securities commented that issuing bonds in the context of negative cash inflow brings very high risks, to both issuers and investors.

According to Vuong Hoang Son from VnDirect Securities, real estate firms have increased the issuance of corporate bonds in recent months, which not only shows that bonds have become an important capital mobilization channel for real estate developers, but also shows that bonds are an attractive investment channel.

Son said enterprises have rushed to issue bonds because of the State Bank of Vietnam's (SBV) policy on tightening credit provided to the real estate sector.

Meanwhile, commercial banks, when lending money to real estate firms, tend to convert the loans into bonds to have higher liquidity. As for real estate firms, they want to diversify capital mobilization channels to ease reliance on the stock market and bank loans.

Also according to Son, the average bond interest rate has increased by 0.5 percent point so far this year. The offering of high interest rate will negatively affect the solvency and profitability of business. However, the impact level will be very different.

Bui Quang Tin, a respected banking expert said that high interest rate is associated with high risk. At this time, the investment channels which can bring profitability of over 10 percent have high risks. He advised investors to pay attention to the transparency of bond issuers' finance reports, and the legitimacy of real estate projects implemented by enterprises.
Linh Ha 

Vietnam continued to have the smallest local currency (LCY) bond market in emerging East Asia, with outstanding bonds of VND1.2777 quadrillion (US$55.1 billion) at the end of September.

Vingroup said it will guarantee payments worth VND30 trillion (US$1.3 billion) for the obligations of VinFast Manufacturing and Trading Co., Ltd. related to the issuance of corporate bonds and domestic and foreign loans in the 2019-20 period.