Real estate appeal remains amid tumult
Vietnam has more real estate investment opportunities than other more mature Asia-Pacific markets, though certain difficulties remain.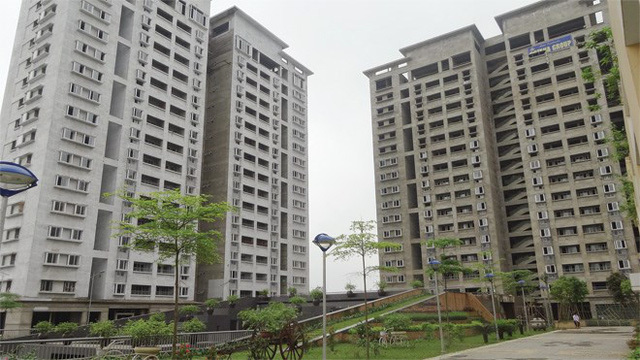 Real estate investors from Asia-Pacific countries with limited potential for real estate growth, such as Japan and South Korea, see extensive opportunities in Vietnam, according to Matthew Powell, director of Savills Hanoi.
Increasing numbers of Japanese and South Korean investors are looking to the local market, assessing land options at the right price.
Vietnam's overall potential is an advantage, but every investment depends on location and the particular industry. Most investors have their eyes on the two big cities of Hanoi and HCM City, while others are expanding their horizons to localities such as Hai Phong.
The main barrier is finding land at a reasonable price, which adds difficulty to foreign investors competing with local investors and developers. Overseas investors should also be aware of the potential difficulties in purchasing land, Powell said.
Some domestic developers focus mainly on residential real estate, while specialist investors have nimbly pivoted to the burgeoning industrial and logistics sector from apartment or resort development. The cost of logistics in Vietnam remain high compared to elsewhere in Asia-Pacific.
Logistics are, however, gradually becoming more competitive due to new and improved infrastructure, including the construction of new airports in the south, new highways, and new ports. Such improvements are partly being driven by higher domestic consumer demand resulting from rising e-commerce and store visits. Increasing requirements for support infrastructure, cold storage, warehousing, and logistics will put these among the key investment areas in 2021.
According to JLL Vietnam, many Vietnamese developers are raising capital for large-scale development portfolios, which are attractive to investors because of the cash flow, high returns, and growth potential of an emerging real estate market like Vietnam.
"Although these transactions are still under negotiation and legal review, this is still considered a positive factor for Vietnam's real estate market, because of foreign investors' confidence in market recovery and improvements in purchasing power over the coming quarters," Nguyen Thi Van Khanh, senior director, Capital Market Vietnam, at JLL, told Vietnam News.
Real estate businesses are continuing with the traditional channel of the capital market through merger and acquisition (M&A) activities despite slowdowns compared to the 2017-2018 period, Khanh said.
After the government conducted legal investigations into real estate matters such as land origin, a lack of transparency in the process of land allocation, and non-compliance with State regulations, investors felt more secure about the market.
Hence, investors could find more notable investment opportunities, such as participating in auctions directly with the Government or buying assets through the Vietnam Asset Management Company (VAMC) or a commercial bank with collateral that is in their bad debt portfolio.
"These investment channels are not unfamiliar to investors, but due to a lack of information and legal transparency in previous years, very few assets have been successfully acquired," she said.
"With the liquidity problems that arise from the suspension of and/or investigation into projects, real estate developers are more actively approaching these aforementioned methods."
The pandemic has certainly had an impact on real estate businesses so there will be a number of domestic real estate firms facing liquidity problems. Foreign investors will also be more cautious with their investments. M&As are not the only way to grow a business, as there are other alternatives to accessing larger sources of capital, according to Khanh.
There are still many challenges, but if transparency was to be further improved, there was greater disclosure of asset portfolios, higher investment returns, stronger bank support, and more flexibility from investors, JLL believes there would be more transactions through this channel in the near future.
"The demand to acquire operating assets is still high for core investors whose strategy is to hold the asset long-term and who are familiar with the market and deal structuring in Vietnam," Khanh said.
"Value-added investors are still actively looking for distressed opportunities to generate heightened yields."
Nguyen Hoai An, director of the Hanoi Branch of CBRE Vietnam, told Vietnam News that "there are many foreign investors interested in the market but their investment is limited due to the pandemic. Investment by foreign investors therefore depends almost entirely on the pandemic and vaccination programmes in 2021 and 2022. If the pandemic is under control around the world, we hope the market will see an even better recovery."
Meanwhile, according to Savills, for individual investors, real estate remains a popular investment channel due to its mid-term capital growth potential. Hanoi and HCM City remain the preference among individual investors, though opportunities are emerging in secondary cities such as Hải Phòng. There are also longer-term investment opportunities in the branded residence model -- apartments or villas developed and operated by better known hospitality brands, including international hotels.
2021 market
The prospects for Vietnam's property market in 2021 are believed to be better than in 2020 because of a range of factors, including Vietnam's control of the pandemic, which is highly regarded around the world. That is also the factor behind stability in the office market this year, according to Đỗ Thu Hằng, director of Advisory Services at Savills Hanoi.
Public investment and new or amended regulations relating to the real estate market will support all property segments, including housing, which will continue to dominate because Vietnam is forecast to have a strong economic outlook together with sound infrastructure and high demand for housing.
Villas and townhouses will also be a brighter picture this year, with the launch of 4,900 units. Supply of such products has been limited since 2019.
Opportunities are present in the resort market as it is developing large, complex projects with casinos, theme parks, and additional attractions. Though there will be operational difficulties during development, some projects have already been planned and implemented. The market will still welcome independent and traditional resorts, however, according to Savills Vietnam.
For the retail market, despite facing difficulties over the last year, many developers are still planning and aim for higher quality, design, and management. The market is shifting to more experiential-based models, such as entertainment, education and sports.
"The market is responding fast, even if a high level of COVID-19 uncertainty persists in 2021," said Su Ngoc Khuong, senior manager, Savills Vietnam.
"Landlords can resolve the temporary challenges relating to finance for one or two years, so issues on deploying projects, buildings, and malls with cash flow, such as procedures, will be addressed, while positive expectations remain in 2022 and 2023.
"For investors, major profits from properties such as five-star hotels, shopping centres, and Grade A office blocks in the city centre with steady revenue is possible, though at a lower profit margin than before, of 6-7 per cent per year. Vietnam is still an attractive market for foreign investors."
However, "the market will need time to recover and of course will depend on many factors, such as economic growth, pandemic control, and macroeconomic policies on infrastructure development," Nguyen Quoc Anh, chief business officer (CBO) at property market website batdongsan.com.vn, told Vietnam News.
"It is difficult to evaluate which segment of real estate is a bright spot, because a real estate product depends on many factors, such as location, selling price, investor reputation, and profitability potential. But the domestic market still lacks affordable and mid-end housing products."
According to data from batdongsan.com.vn, though the pandemic affected the property market last year, the level of interest in affordable and mid-end housing products increased 10 per cent and 11 per cent year-on-year, respectively. Prices increased slightly, by 1-4 per cent, Anh said.
Industrial real estate is the hottest segment in Vietnam nowadays, as the country is establishing itself as an industrial hub in Southeast Asia. With the EU-Vietnam Free Trade Agreement taking effect from last August and buoyed by stable fundamentals, Vietnam has received strong interest from both investors and manufacturers for industrial properties, said Khanh from JLL.
Besides that, JLL pointed to trends in property market development this year, including "city in the city", work from home, e-commerce driving the logistics sector, the sustainable development of property corporates, and the development of health and life science real estate.
"City in the city" is a residential concept that refers to large-scale integrated developments. This urban form has grown in popularity recently as developers seek to attract buyers with holistic, well-planned communities within a city for those who wish to avoid the chaos created by rapid urbanisation and lagging infrastructure in shared facilities. Large-scale developments offer a diverse range of housing types to various groups of buyers.
Meanwhile, a year of mass lockdowns that forced people to work from home showed that many jobs can indeed be done remotely, spurring companies to adopt new, hybrid working models. The shift was already underway at many businesses, but like so many things, it accelerated due to the COVID-19 pandemic.
"A work from home experiment took place globally in 2020 and showed that by leveraging technology, businesses can continue to operate effectively," said Paul Fisher, Country Head at JLL Vietnam.
"But for many, the lack of face-to-face interaction put pressure on teams, and while a number of our clients expect to adopt flexible working practices in the future, for the majority this will include the office remaining the central point for business activities."
E-commerce accelerated massively last year as shoppers stuck at home flocked online. A recent JLL report pointed out that e-commerce is a positive tailwind for consumption-driven demand for logistics real estate. Vietnam is currently one of the fastest-growing e-commerce markets in Southeast Asia.
Surges in online grocery orders among other essentials have pushed businesses to look for more cold storage space with proximity to customers.
Compared to traditional logistics operations, e-commerce is more labour-intensive and requires three-times more warehouse space. That's part of the reason behind increased investor demand for industrial real estate around the world.
One more important trend in the property market this year is that corporates are striving for sustainability. In real estate, assets with high ESG (environmental, social and corporate governance) ratings can achieve a 33 per cent rental premium over comparable non-green-certified buildings.
In addition, investors are setting their eyes on health and life science real estate. Both domestic and international investors have long been interested in this sector, and are in need of more cold storage locations closer to customers to serve the growing demand for heat-sensitive products such as cosmetics, food, and pharmaceuticals. Special healthcare products like COVID-19 vaccines and other vaccines might become a special driving force behind cold supply chain and life science real estate in the future.
VNS

The real estate inventories of listed companies increased significantly in the fourth quarter of 2020 over a year ago because many projects were stagnant due to the impact of the COVID-19 pandemic,