Railway projects proceed slowly, Transport Ministry goes ahead with new projects

Urban railway projects have been proceeding slowly and investment capital has become many times higher than initially estimated.
In Report No 9477 to the National Assembly, the Ministry of Transport (MOT) named five projects which have been going more slowly than planned. These include two projects invested in by HCM City authorities, the Ben Thanh – Suoi Tien and Ben Thanh – Tham Luong, and one project invested by the Hanoi authorities, the Nhon – Hanoi Station.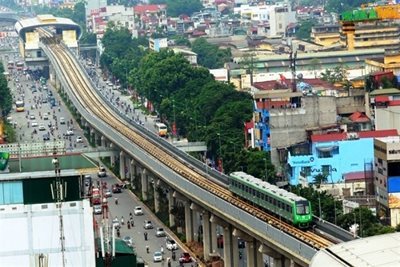 The other two projects are invested in by MOT, Cat Linh – Ha Dong and Yen Vien – Ngoc Hoi in Hanoi.

Regarding project implementation, MOT said thr Ben Thanh – Suoi Tien project has had 66.79 percent of construction and installation workload implemented. As for Ben Thanh – Tham Luong, the CP1 package (office building and depot area) has been completed, while the investor is selecting contractors for other packages.

Urban railway projects have been proceeding slowly and investment capital has become many times higher than initially estimated.
In Hanoi, the Nhon – Hanoi railway project has seen 55 percent of workload completed, while the project implementation is expected to finish by the end of 2020.

As for Cat Linh – Ha Dong, a project known for many problems during execution, 99 percent of the construction and installation workload has been implemented. It is scheduled to be put into commercial operation this year, but the exact time is still unclear.

Asked about the reasons behind slow implementation and the higher investment capital required than initially planned, MOT said the majority of projects are large and utilize complex technologies for the first time implemented in Vietnam. Vietnam doesn't have experience in such management.

Because of the lack of experience in executing urban railway projects, both investors and consultants underestimated the total investment capital.

MOT has also cited problems in site clearance as a reason behind the slow implementation of projects. While waiting for site clearance, the prices of input materials increased, which forced the investors to adjust the investment capital level.

As the real investment capital of projects increased, the investors had to follow other procedures as stipulated by the Public Investment Law.

Many other reasons have also been cited, including unreasonable capital arrangement of ODA capital, which led to slow payment MS for contractors, the lack of reciprocal capital, the problems in selecting contractors, and the difficulties in updating foreign exchange rates.

While the five projects remain unfinished, MOT has proposed implementing 16 other projects in Hanoi and HCM City.

In Hanoi, it has proposed developing eight railway routes linking the central area with the total length of 305 kilometers. In HCM City, there would also be eight routes that connect the city's administrative centers with the total length of 173 kilometers.
Kim Chi 

The rail track on Long Bien Bridge is seeing an increasing number of visitors after Hanoi banned visitors from visiting the railway on Phung Hung Street.

The first set of trains for the Nhon-Hanoi elevated railway project manufactured by a French company will arrive in Vietnam next June, according to the capital city's urban railway management board.