Properly managing relationship with US crucial for Vietnam: Moody's

Fading external demand and a weaker global outlook serve as the primary concerns for Vietnam's export-reliant economy.
Properly navigating the country's relationship with the US will be crucial for Vietnam to be viewed as one of the rare winners associated with the US-China trade war amid rising concern that Vietnam will be the next tariff target, Moody's Analytics has said in a note.

Vietnam is largely seen as a beneficiary of the ongoing trade dispute between the world's two largest economies, but benefiting from it does not come without repercussions, Steve Cochrane, chief APAC Economist, and Steven Shields, economist at Moody's Analytics, have written in an analysis on the economic outlook for Vietnam.

The trade balance between the US and Vietnam is heavily tilted in Vietnam's favor, making the nation increasingly vulnerable to accusations of a one-sided relationship. US President Donald Trump has already taken notice of this dynamic, stating, "Vietnam is the single-worst abuser of everybody," when questioned if he planned to impose tariffs on Vietnam.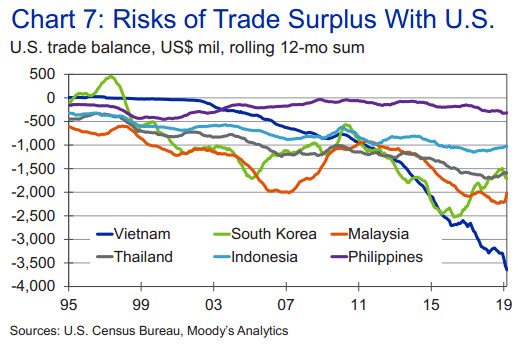 Weeks later, the US Department of Commerce enacted duties of more than 400% on Vietnam steel imports with substrates from South Korea and Taiwan. The economic impact of these tariffs will be limited in scope, since metal accounts for less than 1% of total exports, but further punitive measures by the US risk undoing the many benefits that have taken hold since the onset of the US-China trade tensions.

Additionally, Vietnam was one of nine countries placed on a currency manipulation watch list by the Trump administration in May, citing the rising trade and current account surplus with the US.

Vietnam's relationship with the US has been friendly since the two nations formalized diplomatic relations in 1995, while its close proximity, government stability, and increasingly business-friendly environment have attracted increased Chinese capital. Aware of this dependence on both Chinese and American consumers, Vietnam's government leaders have been effective in diversifying the nation's trade relationships. On June 30, for example, the country signed a deal with the EU that will eliminate nearly all duties on goods.

Moody's Analytics pointed out infrastructure constraint and a relative shortage of workers as other weaknesses of Vietnam's economy in attracting further foreign investment.

Development will be key as Vietnamese officials plan to invest in new expressways, ports, airports and railways. Foreign direct investment will be needed to fund many of these infrastructure enhancements. The government lacks the fiscal capacity to tackle these projects on its own. Even with funding secured, infrastructure upgrades will take time, it said.

In addition, a relative shortage of workers makes production less efficient than in China. While the share of residents with higher education is similar to that of China, the size of Vietnam's working-age population pales in comparison. Moreover, while wages are far less than in China and Malaysia, Vietnamese labor is more expensive than that of some other emerging markets such as India and Bangladesh.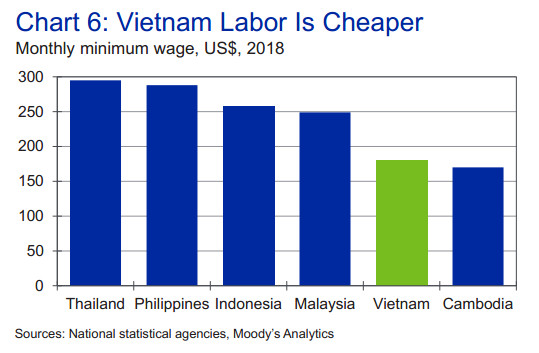 "A dwindling supply of available labor coupled with a surge in demand for workers will create additional upward pressure on wages in the near term. While this is a net positive for income growth and consumer spending within Vietnam, it could dampen Vietnam's overall attractiveness of foreign capital in the long term," the economists noted.

Similar to China, Vietnam faces an aging population, with the labor force as a share of total population declining since 2015. The increase in the elderly population and declining birthrate imply slower economic growth in the medium term.

However, advancement in high-skilled manufacturing and broader economic development will promote stronger immigration flows, injecting upside risk to the current population forecast. Additionally, improved infrastructure will provide a boost to productivity, lessening the impact of unfavorable demographics in the medium term.

For these reasons, Vietnam will benefit, but it will struggle to compete with Chinese production in the near term. Given the relatively high educational attainment, but slowing labor force growth, Vietnam must move into higher-valued-added industries, the suggested.

Moody's Analytics forecasts Vietnam's real GDP growth to be 6.7% in 2019, slightly below last year's 7.08%. Fading external demand and a weaker global outlook serve as the primary concerns for Vietnam's export-reliant economy.

Despite risks firmly leaning to the downside, Vietnam will remain one of the fastest-growing global emerging markets as continued foreign direct investment, greater industry diversification, and strong domestic demand support continued economic expansion, the analysts concluded. Hanoitimes
Anh Minh