Promoting low-carbon circular economy in Vietnam with a Swedish perspective

Forming public-private partnerships is said to be a major solution for the development of the low-carbon circular economy in Vietnam.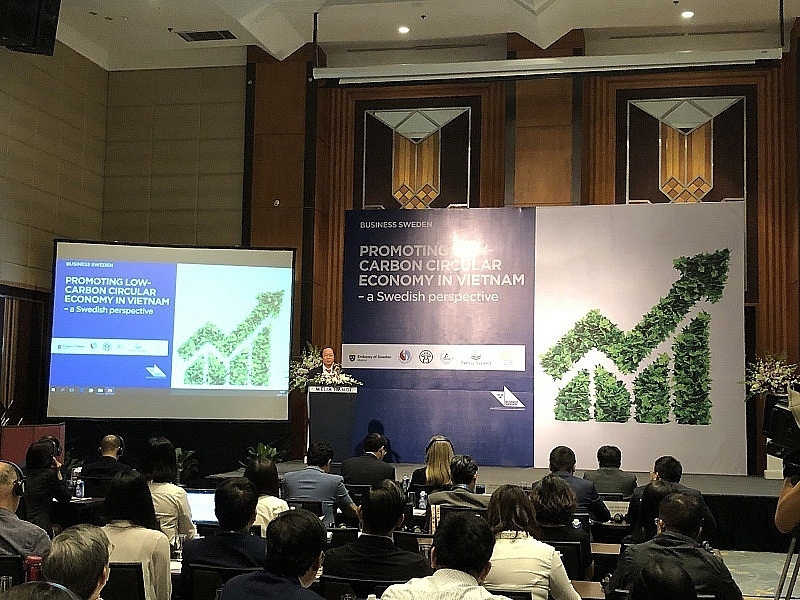 Deputy Minister of Natural Resources and Environment Vo Tuan Nhan addressing at the workshop on promoting a low-carbon circular economy
The circular economy is currently a global trend in sustainability. Swedish experts say that the transformation from a conventional to a circular economy enables nations to deal with the scarcity of natural resources and environmental pollution.
However, one of the biggest obstacles for Vietnam to apply this model is the management of collection and recycling of waste, which would serve as input for the circular economy.
At the workshop on "Promoting a low-carbon circular economy – a Swedish perspective" held by the Embassy of Sweden, the Ministry of Natural Resources and Environment (MoNRE), and Hanoi People's Committee, Deputy Minister of MoNRE Vo Tuan Nhan said that the country is facing numerous challenges from the scarcity of natural resources, environmental pollution, and climate change. Thereby, promoting the circular economy would help Vietnam reach its sustainable development goals.
The Vietnamese government issued some policies to promote sustainability, strengthening the management of natural resources, and environmental protection, coping with climate change, promoting recycling, and reusing resources for circular economy.
In 2017, the prime minister approved the scheme on the development of Vietnam's environmental sector by 2025 to meet the requirements of the circular economy. Some circular economy models have already been established in Vietnam like the eco-industrial parks in Ninh Binh, Can Tho, Danang provinces, aquatic products processing, and Packaging Organisation Vietnam (PRO Vietnam).
However, according to the deputy minister, businesses' capacity and technology of recycling and reusing are weak, while long-term habits in productionand consumption of single-use plastics remain strong.
In the context that rapid growth and industrialisation have had a negative effect on Vietnam's environment and natural assets, waste generation in the country is expected to double in less than 15 years. Vietnam is among the ten countries around the world that are most affected by air pollution.
"Through this workshop, the MoNRE would like to strengthen the co-operation with the authorities of Sweden, the leading country on recycling and developing circular economy, to learn from its experiences in policymaking, collaboration between the public and private sector, and draft an overview for the circular economy," said Nhan.
At the workshop, Swedish Ambassador to Vietnam Ann Måwe said, "In a circular economy, we see everything as a resource for something else, waste becomes a resource. Circular economy is good for both consumers and businesses."
Companies that are moving in this direction have proved that through recycling used products can be more cost-effective than new items created from scratch. As a result, production costs are reduced, so that the sale price is also lowered, thereby benefiting the consumer, she said. "I hope this is inspiring for Vietnamese businesses."
Sweden is one of the world's leading countries in waste management and recycling. As a large amount of waste is recycled and used for other purposes such as biogas and energy, Sweden has now turned into a waste importer, importing more than 2.3 million tonnes of waste per year.
According to Måwe, as one of the most sustainable countries in the world, Sweden is aiming for a zero-waste society. Thanks to the environmental awareness of its citizens, effective policies and incentives by the government and an efficient waste collection system in place, Sweden has made great progress in its "recycling revolution" over the past two decades. The percentage of recycled waste by households has increased from 38 per cent in 1975 to 99 per cent today.
"Circular economy, in a simple way, means reduce, reuse, and recycle. This also implies changing patterns of consumption. Sweden would happily share its experiences with Vietnam," she said. VIR
Nguyen Huong

Vietnam should act fast to switch to the circular economy, heard a workshop on promoting the no-carbon circular economy held in Hanoi on November 12.

The Vietnamese government has taken actions to tap the US$4.5-trillion market potential generated by circular economy, said an expert.