Pork prices drop after country flooded with imports
Vietnam spent VND5 trillion ($214.78 million) to import pork in the first nine months of the year, leading to a drop in prices.
The General Department of Customs (GDC) imported 90,420 tons of fresh, chilled and frozen pork (HS 0203) in the first nine months of the year, worth $214.78 million, an increase of 357 percent in quantity and 460.4 percent in value compared with the same period last year.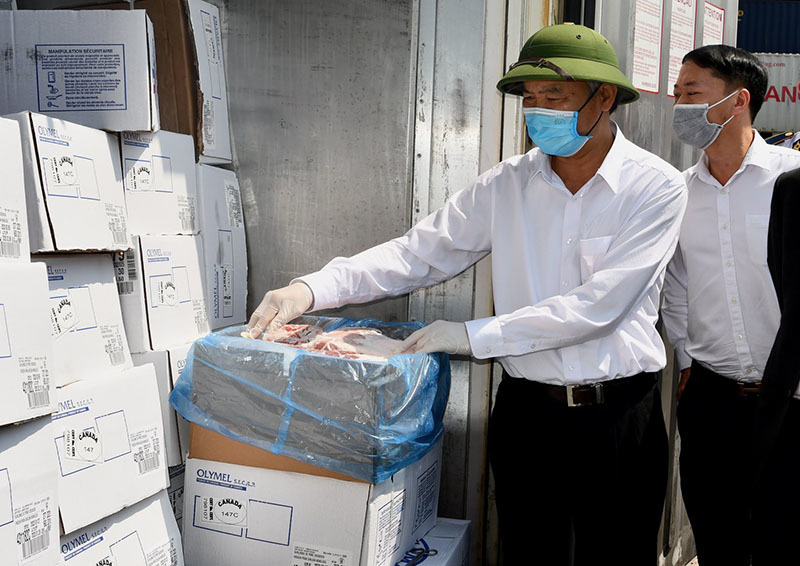 Vietnam spent VND5 trillion ($214.78 million) to import pork in the first nine months of the year
Vietnam allows 24 countries to export meat and cattle and poultry meat products to the country. Around 800 businesses from 19 countries have exported pork and pork-made products to Vietnam.
Russia, Brazil, Canada, the US and Poland were the five biggest pork exporters to Vietnam in the first nine months of the year.
With a big import volume, import products are flooding the domestic market. Consumers can easily buy imports, from bacon and pig's feet to byproducts, at traditional markets, supermarkets or on social networks.
Imported pork is selling at very reasonable prices. Some products are as cheap as vegetables.
On social networks, bacon imported from Russia is selling at VND70,000-75,000 per kilogram, ground lean meat from Germany VND43,000 per kilogram, cartilage from the US VND90,000 per kilogram.
Some supermarket chains even run imported pork weeks to boost sales.
Imports are not only sold on social networks and at supermarkets, but t
are also available at traditional markets and on pavements, which previously only sold domestic pork.
In HCM City, ribs and bacon are selling at just VND50,000-100,000 per kilograms at the 'pavement markets'.
A merchant selling imported pork in HCM City said imports are always cheaper than domestic pork. The prices of imports are even lower than previously because of mass arrivals and importers have had to compete with each other.
Nguyen Van Tien, a distributor of pork imported from Germany, Poland, Russia and the US in HCM City, said Vietnam pork prices have gone down in recent months thanks to abundant imports with retail prices around VND120,000-150,000 per kilogram. However, domestic pork prices are still too high.
Vietnamese consumers still prefer raw meat from animals after slaughtering sold at traditional markets, because they believe that the meat is fresher and better than chilled and frozen meat. Some of them even cannot differentiate chilled and frozen meat. However, as the prices of this raw meat are high, many people have accepted to eat imports as an alternative.
Tien said though the sales are not good, he still can sell nearly one ton of meat to wholesale buyers a day.
Imports are mostly delivered to catering companies and eatery houses. Merchants at traditional markets also sell imports, but in small quantities. 
Tam An

The pork production cost is just VND50,000 per kilogram for closed husbandry chains, while the live pork price in the market is VND80,000.

The rising number of herd stock, plus pork imports, have helped lower the domestic pork price.