PM Nguyen Xuan Phuc attends ASEAN-RoK CEO Summit

Addressing the ASEAN-RoK CEO Summit in Busan, PM Phuc expressed his hope that enterprises will cooperate with governments to promote the application of science-technology achievements.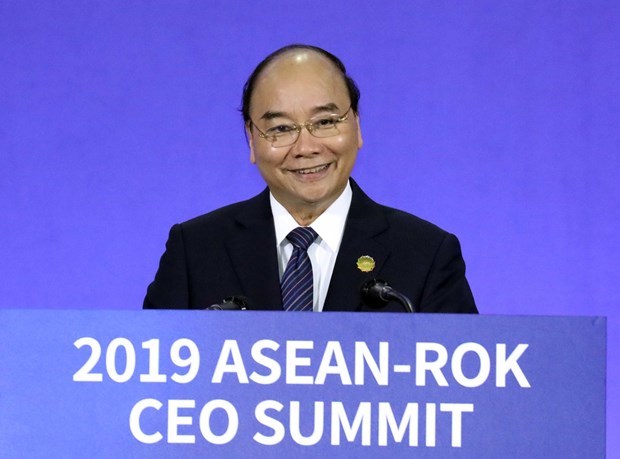 PM Nguyen Xuan Phuc add
resses the ASEAN-RoK CEO Summit in Busan.
The governments of Vietnam and other ASEAN member states always create best conditions for businesses to boost connectivity and promote creativeness to realise their business initiatives in the ASEAN market with a population of 630 million people and total GDP value of nearly 3 trillion USD, Prime Minister Nguyen Xuan Phuc said on November 25.
He believed that the "New Southern Policy" initiated by Korean President Moon Jae-in would contribute to elevating the relations between ASEAN and the RoK to a new high as the RoK has pledged to stand shoulder by shoulder with ASEAN to develop the ASEAN Community 2025 towards the common goal of peace and prosperity in East Asia.
The policy is also expected to help increase the two-way trade from 160 billion USD in 2018 to 200 billion USD in 2020, he said, adding Vietnam and the RoK are striving towards 100 billion USD in trade value next year.
ASEAN and the RoK need to accelerate multilateral trade through upgrading the ASEAN – RoK Free Trade Agreement, contributing to boosting investors' confidence as well as encouraging them to expand production and business in the fields of sustainable infrastructure, green energy and IT, he stressed.
The Vietnamese Government leader said he is looking forwards to seeing more investments from both sides in environmentally-friendly technologies, climate change response, mitigation of natural disasters, disease prevention and control, and water management, among others, to ensure that future generations will have better lives.
As the 2020 ASEAN Chair, Vietnam, together with other ASEAN members, welcomes Korean businesses who follow the 'New Southern Policy', with a view to enjoying thriving cooperation with ASEAN – a community of peace, friendliness, openness and dynamic, he underlined.
Vietnam has moved up places in business environment improvement recognised by international organisations, and the nation will continue its efforts to facilitate business operation of all enterprises in the country, he added.
The ASEAN – RoK CEO Summit drew the participation of more than 500 business leaders in the RoK and ASEAN, who met to seek measures to strengthen cooperation in the time ahead, as well as discuss ASEAN's roles in the context of changing global trade environment.
Earlier, PM Phuc visited a Vietnamese booth at the ASEAN – RoK Business Expo themed "Invest ASEAN 2019"./. VNA