New policy mobilising land for HCMC's development
HCM City is planning to apply new policies to mobilise land along key infrastructure system to quench the thirst for urban development. Despite the new policy potentially creating a clear land fund for the market,
it would also need to be implemented very carefully to avoid negative social impacts.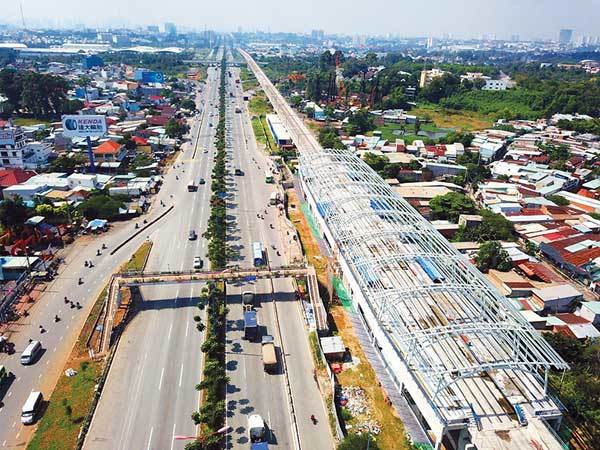 Ho Chi Minh City's metro system will hope to ease traffic congestion for the city's nine million people.
On the sidelines of the Hanoi Expressway linking Ho Chi Minh City's centre and the east, a 500m road section was not cleared due to local residents not agreeing with the compensation – a bottleneck that has been existing for a long time without resolution.
In the front of Pham Van Dong Boulevard, the so-called "thousand billion boulevard" of the city which was expanded recently with investment capital of more than VND8 trillion ($347 million), some houses remain which are 4m in length but less than one metre wide only. Local authorities cannot move them because they were not included in the compensation plan and their residents also do not want to move, since the value of their homes have increased 10-fold.
Land clearance and compensation have long been the most difficult subjects for both local authorities and developers because they delay hundreds of projects and waste untold amounts of money.
With a fast growing population, high urbanisation rate, and strict regulations on planning and construction of high-rise buildings in the inner city, land funds are becomes scarcer.
In 2019 Ho Chi Minh City reached a population of nine million, with a density of 4,292 people per square kilometre. Population pressure has led to an increase in demand for housing, becoming a lever for strong real estate growth in the following years.
In 2020, in spite of the negative effects of the pandemic that has seriously affected the growth of industries, real estate has somewhat weathered the storm. Although the economy faces many difficulties, the real estate price range in large urban areas like Ho Chi Minh City and Hanoi still recorded remarkable growth and show no signs of slowing down.
Explaining this, experts say that there are many factors that make real estate a solid and durable investment channel because the mechanical population growth trend is increasing in big cities. 
Mechanisms to create land
Ho Chi Minh City is compensating residents and collecting land plots located on the two sides of the metro line and ring roads to develop urban areas. After being collected, these land plots will be auctioned to private developers to invest in commercial projects.
According to the plan recently approved by Ho Chi Minh City People's Committee, local authorities will repossess land larger than the space required for a certain project. The residents whose land is acquired will be resettled on-site, and the excess land area after resettlement will be re-planned and auctioned to finance the project itself. The additional land for acquisition and resettlement will be discussed with the affected communities.
This new policy aims to create a clear land fund to develop urban development projects and beautify the city's landscape, wiping out small houses left after the construction or expansion of infrastructure projects.
Michael Piro, COO of Indochina Capital said, "Sensible planning and effective land use create a conducive environment for economic growth and social development. However, effective land use depends on the legal framework that shapes a government's ability to effectively manage the ownership and use of land."
Piro had further added that it is challenging to translate a vision and planning into concrete rules and reality, and comparing the regulation on land compensation in some other countries, Vietnam's should be more flexible.
According to Piro, public discontent against compulsory land acquisition and resettlement can be observed around the globe, but some countries have avoided the worst of the negative outcomes.
"Laws in more mature economies such as Australia and Canada take into account various inconveniences and non-monetary costs to owners that the broader market does not attribute value to when determining compensation. On a regional level, in Singapore, the mandate for the government to acquire private land with payment of market value compensation is stated and defined in legislation," he said.
Meanwhile, Catherine He, associate director for Research in Southeast Asia for CBRE, said that in Singapore under its land acquisition act, landowners whose lands are acquired are paid market value compensation.
"In addition, for certain cases where public housing is acquired, affected owners are offered alternative housing options nearby with priority and subsidies," she said. 
Careful implementation
Despite a new mechanism being considered to bring fairness for all sides, delicate implementation is being urged.
Former deputy director of Ho Chi Minh City Department of Planning and Architecture Vo Kim Cuong said that it should divide clearer benefits between local residents and government in every project.
"When a project is set up, it must take careful research and a detailed investment plan. The current and future price of land and all of those factors should be composed into the compensation price for removal of residents," Cuong said. "To do this, the prerequisite is to build a specific and detailed legal corridor that clearly explains to people their interests and responsibilities in contributing to the implementation of projects with the government."
Meanwhile Su Ngoc Khuong, senior director from Savills Vietnam, said that in many cases the compensation price was the most important factor for getting the nod from local people to move away. However, the transparency of the removal plan and the living habits of those residents must be of most interest.
"The new location must be as good as their current residences or even better, otherwise they would not agree to move," Khuong said. "The issue of compensation and resettlement is a problem deeply related to urban characteristics and people's consensus, and it is not enough to solve it from a financial perspective alone."
If it is a project that benefits the community such as parks, hospitals, schools, there is usually a great consensus from the people, but if it is used for commercial purposes, it must be transparent in the interests of the people," said Khuong.
Piro from Indochina Capital added that it would be beneficial for Vietnam to revise its legal framework on land acquisition and resettlement while forming an interagency coalition to improve communication and coordination between government agencies and land users.
"As Vietnam is developing and growing at high rates, the government has and is making efforts to find a balance between effectiveness, sustainability and fairness. The proposed coalition will assist with supporting policymakers to link land acquisition and resettlement with other pillars of sustainable socioeconomic development such as urban development, public housing, retirement planning, infrastructure, and communications," he said.

Ngo Duc Son - General director, DRH Holdings
 
If the new mechanism is applied in a transparent and public manner, the whole of society benefits. The government would compensate and collect land and then hand it over to developers.
This will probably benefit developers as they would not have to compensate local residents and land prices would not skyrocket.
If the city has a clear land fund for auction, developers would love to participate because everything would be transparent in auction, from price, procedures, and timelines. This would be meaningful in calling for investors.
Ngo Viet Nam Son - Architect 
The model of land acquisition on both sides of the road to be auctioned when implementing infrastructure projects has been applied by many developed countries.
Ho Chi Minh City owns huge land resources but has not taken advantage of it.
If the city clears only enough land to build roads but not to amass land funds, it will not only make the state lose revenue but also bring about super thin and distorted houses in the land plots left after building roads.
Better than never, the city will need huge investment capital for building infrastructure systems and the land compensation would be the key factor to make its targets true.
To solve this problem, when doing land compensation, Ho Chi Minh City should have a plan to pay at the market price at the time before the project starts.
VIR



The HCMC government has approved a proposal to reclaim land along new road projects in the city for auction and resettlement area development.

The just-established Thu Duc City is already witnessing skyrocketing property prices, with hikes of around 30 per cent reminding local authorities of the need for special policies to manage the market.