New money into stock market slows down, economy growth may miss expectations
In its recent report, Dragon Capital said that the market uptrend is still led by new individual investors.
However, while margin loans were still at a record high and securities companies continued to raise capital, new money deposited into accounts started to show signs of declining.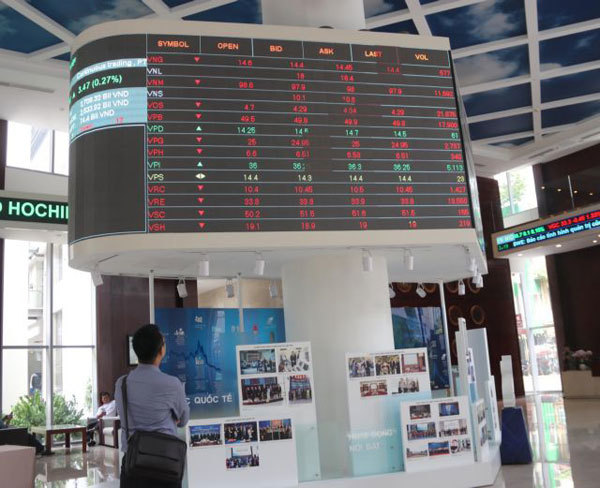 A trader looking at a trading board inside the Ho Chi Minh Stock Exchange (HoSE)'s building. — VNA/VNS Photo
Meanwhile, foreign investors started to reduce their net selling, from nearly VND12 trillion (US$521.8 million) in May to VND3.9 trillion in June. And since July, foreign investors started to buy strongly, over VND4.3 trillion by the end of July 9. This is a very positive signal regarding institutional investors' trading trend, the fund said.
In the near term, corporations' results will play a crucial role in the stock market, Dragon Capital added. It expects profits of TOP 60, which includes 60 biggest companies tracked by the fund, to grow by 46 per cent in 2021, mainly depending on banking, real estate and steel sectors. 
On the other hand, the correction factors will mainly come from the negative impact of the current fourth wave of COVID-19 on economy and businesses. 
If the yearly growth is only 35 per cent, 2021 price to earning ratio (PE) will reach 14.1 when the VN-Index is at 1,350 points. This is still an attractive level compared to other markets in the region.
Therefore, Dragon Capital believes that the market may need time to accumulate. If the global markets continue to rise and there are no negative factors, the country's stock market will keep its rallies in 2022 thanks to the strong recovery of fundamentals after the pandemic.
GDP in 2021 may not be as expected because of the Delta virus strain. Although the 4th wave of COVID was spreading strongly, Vietnam's GDP growth in the first six months of the year still reached 5.6 per cent, significantly higher than 1.8 per cent of the same period in 2020. The economy continued to maintain its recovery momentum thanks to the growth of production activities, accounting for 38 per cent of total GDP, up 8.4 per cent, leading to strong growth in trade activities.  
2021 GDP might miss expectations due to the Delta variant
Domestic economic activities showed signs of slowing down in June when Vietnam began to apply social distancing in many provinces, reflected in a drop of 40 per cent in travel compared to the same period last year. Service and retail sectors were also hit hard as total passengers and retail sales fell 13 per cent and 2 per cent, respectively, in June. 
For manufacturing, in June, the PMI decreased to 44 from 53 in May, as some industrial zones halted production. However, the fall is not much compared to the record low of 33 in March last year. 
The fund expects production activities will not be affected as strongly as in 2020 due to the priority of the COVID-19 vaccines for industrial zones, and potential higher orders when US and Europe, accounting for 41 per of Vietnam's export market shares, reopen.
Credit growth from the beginning of the year to mid-June reached 5.5 per cent, while the M2 money supply only increased by 3.5 per cent. 
On the other hand, the six-month average inflation only increased by 1.5 per cent over the same period last year, which is a low increase amid rising global inflation. This allows Vietnam to continue maintaining its loose monetary policy and aim at credit growth of 12 - 14 per cent to support the economy to overcome the tough time.
Besides, credit growth since the beginning of the year is higher than deposit growth, at 3.1 per cent, putting pressure on banks to mobilise capital in the future.
However, Dragon Capital expects the State Bank of Vietnam to inject about VND115 - 140 trillion into the system in the third quarter through the acquisition of USD. This move will help improve the liquidity of the banking system.
Due to the complexity of the Delta variant, Dragon Capital lowered its GDP growth forecast for 2021 from 6 per cent to 5 per cent to reflect existing risks. 
Nevertheless, the Government will not change the given plan, but instead set out two growth scenarios of 6 per cent and 6.5 per cent. 
At the same time, the Prime Minister approved a financial support package worth VND26 trillion, as well as moved to approve a tax exemption and reduction programme worth nearly VND115 trillion.
Moreover, with nearly 10 per cent fiscal space compared to 65 per cent public debt ceiling, Dragon Capital expects the next economic support packages to be announced soon and the Government will make efforts to accelerate investment disbursement mainly for infrastructure development projects in the second half of this year.
Source: Vietnam News

Cash flow from individuals and businesses deposited in banks at low interest rates has been increasing gradually, while capital mobilization in the securities sector has also been quite active.