New government moves to spur on impetus for economic growth
With the domestic economy witnessing positive growth in the first quarter, spurred on by a rise in business confidence, the government has continued demonstrating its strong will to drive the economy towards further growth, 
with export-oriented manufacturing, increased investment, and expanded trade being the key drivers.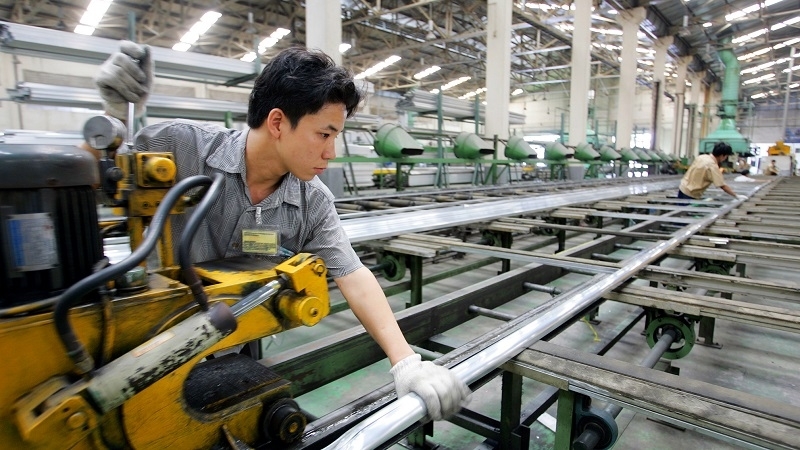 The government has ordered sturdy action from ministries and agencies to support businesses and people in a bid to drive the economy forward.
Prime Minister Pham Minh Chinh has just signed and promulgated a resolution for the government cabinet meeting for April. Under the resolution, the government has underlined drastic actions that must be taken by ministries and central agencies, in a bid to push the economy forward, amid the escalation of the current health crisis affecting the domestic economy as well as the regional and global economy.
The resolution demands the removal of all obstructions in respect of institutions and policy in order to mobilise all available resources in the service of national development. It is necessary to boost administrative reform and create a more business friendly climate for production and business activities.
The government has also ordered an acceleration in digital transformation across all economic sectors in order to build up the digital economy.
The government has also requested the State Bank of Vietnam (SBV) continue applying proactive and flexible monetary policy, with stability in exchange rates and in terms of the monetary market in general. This is aimed at contributing to macroeconomic stability, in particular the speeding up of economic growth in a sustainable manner.
"The SBV must direct commercial banks to continue actively and in a timely fashion deploying all solutions to support people and enterprises affected by the COVID-19 pandemic," reads the resolutions.
Meanwhile, the Ministry of Industry and Trade will apply measures to spur on industrial production and service activities, and to accelerate the implementation of large-scale projects, especially energy ones so as to ensure energy security for the economy. The national power system must be operated safely, effectively, and transparently in harmony with the interests of the state, enterprises, and the public.
Notably, the prime minister also inked and enacted Official Dispatch No.514/TTg-PL on reviewing and proposing amendments to legal regulations obstructing investment and business activities and people's lives. The dispatch was sent to ministers and the heads of ministerial agencies, as well as the chairpersons of provinces and centrally-run cities.
"As the country's legal system still has many overlapped, inconsistent, and unfeasible regulations unsuitable to reality and hampering investment and business activities and people's lives, the prime minister requests that ministers and heads of ministerial agencies, as well as chairpersons of provinces and centrally-run cities expeditiously review and list regulations in existing legal documents such as laws, decrees, and circulars," stated the dispatch.
All results from reviews and listings, as well as proposals and measures have to be sent to the Ministry of Justice and the Government Office before May 15, after which they will be reported to the government and the prime minister.
Economic performance
The prime minister's fresh moves came amid a climb in business confidence nationwide and the government's boosting of its great efforts to continue creating a more business-friendly climate. The economy has continued its growth trajectory since last year in the context of the COVID-19 pandemic raging and sabotaging the global economy as well as hurting the Vietnamese economy.
Underlining Vietnam's impressive achievements in 2020, the Asian Development Bank (ADB) said the government has taken effective measures to largely insulate the economy from the COVID-19 pandemic in 2020, when GDP grew by 2.91% - one of the highest growth rates in the world. Even so, it was Vietnam's lowest growth rate in a decade.
Agriculture grew by 2.7% in 2020 from 2% in 2019, the sector buoyed by proactive export promotion and structural transformation - for example, shifting from rice to high-value cash crops and livestock; and a dynamic private sector. Agriculture contributed 0.4 percentage points to GDP growth last year—a strong performance given the many negative factor such as severe floods and drought, increased saline intrusion, and a sharp drop in external demand.
Industry and construction growth moderated to 4% in 2020, contributing 1.4 percentage points to growth, as the effective control of COVID-19 helped maintain a stable supply of labour.
In the first four months of the year, the economy witnessed close to 44,200 newly-established enterprises with total registered capital of VND627.7 trillion (US$27.3 billion), the employment of 340,300 labourers – up 17.5% in terms of the number of enterprises, 41% in capital, and 7.8% in the number of labourers as compared to the same period of last year.
The average registered capital of each newly-established business in the first four months of the year was VND14.3 billion (US$617,400), up 20% on-year. If the additional VND792.9 trillion (US$34.47 billion) registered by 14,900 operational enterprises is included, the total registered capital inserted into the economy in the period was VND1.42 quadrillion (US$61.74 billion).
According to new data from the European Chamber of Commerce in Vietnam (EuroCham), European business leaders started 2021 positive and optimistic about Vietnam's trade and investment environment.

EuroCham's Business Climate Index (BCI) recorded a level of 73.9 points in the first quarter of 2021. This is the highest score since the third quarter of 2019, before the COVID-19 pandemic hit global trade and investment so hard. This continues the positive upward trend in the index, with the score rising more than 47 points over the last 12 months.

When asked about the prospects of Vietnam's business environment in the next quarter, 67% predicted either 'excellent' or 'good' – a 12% increase compared to the previous quarter.

Meanwhile, business leaders are also more optimistic about their own companies. About 68% predict that orders and revenue will 'maintain their level or increase' over the next three months. That's a 25% increase compared to the fourth quarter of 2020.
Commenting on the BCI, EuroCham's chairman Alain Cany said, "The BCI confirms once again that Vietnam is open for business. While countries continue to struggle with the impacts of COVID-19, Vietnam has ensured that companies here can continue their operations as close to normal as possible. This is helping drive economic growth and fuel the confidence of European business leaders.

"Therefore, it is no surprise that EuroCham members are positive about the future of their own companies and optimistic about the prospects for Vietnam's trade and investment environment. The BCI has now almost climbed back to pre-COVID levels –a remarkable achievement and further evidence that Vietnam is on the right path to achieving its twin goals of protecting public health and promoting economic growth."

Echoing this view, Thue Quist Thomasen, the CEO of YouGov Vietnam, also said, "Beyond the headline figure, the data in our latest BCI tells us a lot about Vietnam's business environment. For instance, the fact that more business leaders are anticipating a rise in their headcounts and investment plans is – in itself – a vote of confidence in respect of Vietnam's long-term prospects. It shows that companies are investing in their workforces and their businesses now, in anticipation of a strong and prosperous 2021."
Propellants for growth
According to the ADB, the economy is expected to grow by 6.7% in 2021 and 7% in 2022 - strong and steady growth made possible by Vietnam's success in containing the COVID-19 pandemic.
"The drivers of this growth will be industry, especially export-oriented manufacturing, increased investment, and expanding trade," said an ADB report on Vietnam's economy.
Industry is forecast to expand by 9.5% in 2021, contributing 3.5 percentage points to GDP growth.
According to the General Statistics Office (GSO), in April, Vietnam's index for industrial production (IIP) increased 24.1% on-year "thanks to effective control of COVID-19 and the effectiveness of free trade agreements helping excite local production," in which the manufacturing and processing sector created 80% of industrial growth, ascending 29.1% on-year.
In the first four months of 2021, the IIP climbed 10% on-year, in which the manufacturing and processing sector expanding 12.7% on-year – higher than the 9.7% rise in the same period last year.
New foreign and local businesses are expected to be established due to COVID-19 vaccines enabling greater mobility at home and, in the case of foreign investors, travel to Vietnam. The economic recovery of major trading partners will increase demand for manufacturing exports, said the ADB.
In addition, construction is expected to pick up quickly as the government continues to
accelerate major infrastructural projects in 2021 while low interest rates stimulate property development.
Services, meanwhile, are expected to rebound by 6.0% in 2021, contributing 2.3 percentage points to GDP growth. The growth in services is coming from digital transformation, increased spending on COVID-19 vaccines, buoyant business sentiment, and low interest rates.
Also, a stronger agriculture sector is expected this year with continued structural reform, greater market access for agricultural exports under regional free trade agreements, and higher global food prices due to rising demand.
Increased investment will be a key growth driver this year and next. Vietnam's success in containing COVID-19 and the Law on Investment, passed in January 2021 aimed at reducing business regulations are expected to attract further foreign investment.
According to the Ministry of Planning and Investment, as of April 20, 2021, total newly-registered and added capital, as well as capital contributions and share purchases in the first four months of 2021 amounted to US$12.25 billion, equalling 99.3% of last year's figure. Of these, 451 projects (down 54.2% on-year) received new investment certificates, with total registered capital of almost US$8.5 billion (up 24.7% on-year). About 263 projects (down 21.5%) had adjusted capital with a total of more than US$2.7 billion (down 10.6% on-year)
Finally, according to the ADB, trade will remain robust in 2021, supported by strong economic recovery in China and the US, Vietnam's two major trading partners, and the country's participation in 15 major free trade agreements, with the participation of almost all advanced economies.
Figures from the GSO show that in the first four months of 2021, the economy's total export-import turnover is estimated to have hit US$206.51 billion, including US$103.9 billion from exports – up 28.3% on-year, and US$102.61 billion from imports - up 30.8% on-year.
Nhan Dan

The Vietnamese economy has been resilient during the Covid-19 pandemic thanks to the stamina of the people and businesses that has been strong for years.