Nearly 40 planes grounded due to Covid-19
As many as 39 planes of four airlines were left unused and parked at airports or in hangars as of the end of the first quarter due to travel restrictions to curb the spread of the Covid-19 pandemic, according to Civil Aviation Authority of Vietnam.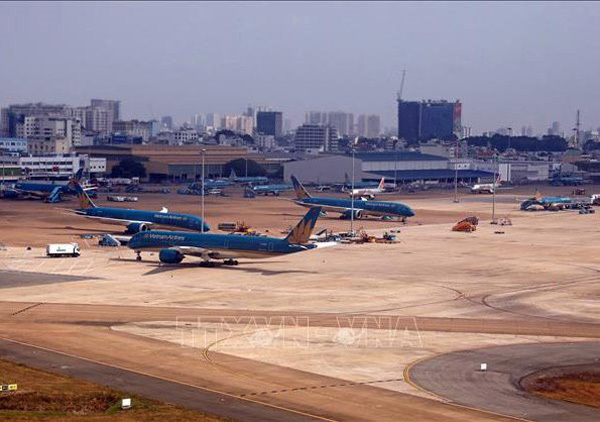 Aircraft are parked at the HCMC-based Tan Son Nhat International Airport. - Photo: VNA
Among the planes left unused, 18 belong to the national flag carrier Vietnam Airlines, 14 to Vietjet Air, three to Bamboo Airways and four to Pacific Airlines.
The Civil Aviation Authority of Vietnam (CAAV) director Dinh Viet Thang has asked the airlines to rotate in-service and unused aircraft every month to maintain the good conditions of the aircraft. According to Thang, the aircraft's conditions can deteriorate if they lie unused for a long time, leading to errors and other problems when they return to service.
"Airlines must regularly maintain the aircraft and strictly comply with instructions provided by manufacturers in terms of maintenance of aircraft in case they are left idle for a long time. They must strengthen inspection and maintenance measures to promptly fix any errors," he said.
Due to the large number of unused aircraft, manufacturers of aircraft and engines have provided airlines with documents of Alternate Procedure in case they don't have enough tools to protect the aircraft as instructed in the Aircraft Maintenance Manual.
The country currently has 269 planes registered as Vietnamese, up 13 from the same time last year. These include 18 Boeing B787 aircraft, 14 Airbus A350, 33 A320, 136 A321, one A319, one A330, seven ATR72, three Embraer and 22 helicopters.
SGT

The Civil Aviation Authority of Vietnam (CAAV) has asked airlines to quickly refund or exchange tickets for passengers who cannot fly to their destinations in areas under lockdown due to the COVID-19 pandemic.

For the first time in six months, Vietnam Airlines' first routine international commercial flight took off from Hanoi on September 19 morning, heading to Japan.