Natural island estate attracts foreign investors
Not only attracting domestic customers, residential areas on natural islands also attract overseas Vietnamese and foreign investors thanks to convenient, classy and private ecological living spaces.
The fresh, modern and private life on natural island
Island residential estate has become a priority of investment of the rich. Among the world-famous ecological islands that are favored by the wealthy, business people, celebrities are Palm Jumeirah Island in Dubai and Deep Water Bay in Hong Kong. Each villa on Palm Jumeirah Island costs about $3.5 million. Well-known celebrities like former football star David Beckham, former supermodel Naomi Campbell, and actor Denzel Washington own estate on this island.
In Vietnam, residential projects on natural islands adjacent to the city center have also lured the wealthy's interest. Experts said that the 'absorption' rate of this type of real estate is very high. For example, the rate is more than 90% for Phoenix island - Aqua City project in the east of Ho Chi Minh City. These limited products are particularly appealing to overseas Vietnamese and foreign customers.
 Phoenix island - Aqua City  has a great attraction to overseas Vietnamese and foreign investors
Ms. Lucy Nguyen - a customer - said: "I am really impressed by the ecological greenery, the river and the fresh living environment on Phoenix island. I did not think that there is such a large-scale residential area right next to Ho Chi Minh City, which is both well-planned and fully equipped with all necessary infrastructure facilities from schools, health care centers to high-class entertainment facilities and full of 'natural breath' like that".
During their visit to Aqua City , movie director Victor Vu and his wife chose a house of the Aqua City project. He said that he and his wife felt comfortable once entering here. Its fresh environment, where everything is very tidy, immediately gave him and his wife a special feeling. Aqua City is the perfect choice for overseas Vietnamese when they return to Vietnam.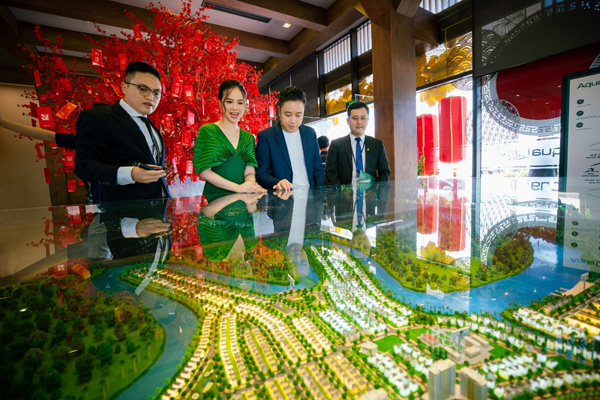 Director Victor Vu highly appreciates the environment and living conditions in Aqua City
Sharing about the attraction of the project, a representative of Novaland Group, the developer of Aqua City project, said: "With the rare position of a natural island in the heart of the Aqua city, Phoenix Island possesses beautiful natural beauty as it is surrounded by rivers and ecological environment. This isolated living space that is close to nature,  is only about 20 minutes of travelling from the center of Ho Chi Minh City or from the Dong Nai Province-based Long Thanh international by road (when the infrastructure is complete). Especially, in addition to the road system, residents of Aqua City can travel by yacht, canoe or water taxi to Ho Chi Minh City by the beautiful Saigon - Dong Nai river route".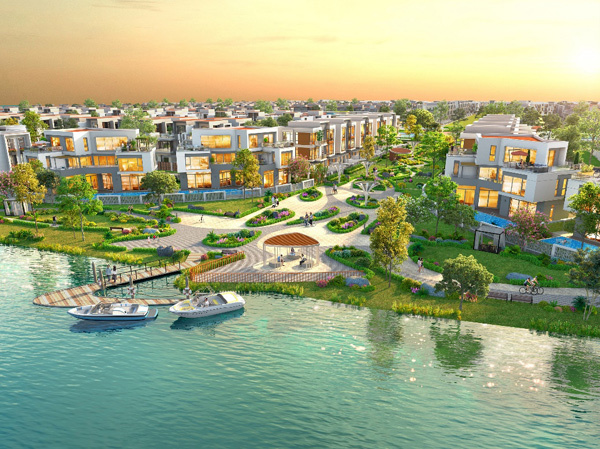 Aqua City Phoenix with a prime location
Experts say that the eastern area of ​​Ho Chi Minh City possesses the advantages of rivers and natural islands suitable for the development of high-end eco real estate projects. Currently, the strong investment in infrastructure in this area, especially a series of key projects such as Metro No. 1 Ben Thanh - Suoi Tien route, ring roads, Ho Chi Minh City - Long Thanh - Dau Giay highways, and deep-water ports, helps increase regional connectivity.
For the first time, Vietnam was named among the top 10 best countries for foreigners to live and work by HSBC Expat 2020. Since then, investors have increasingly paid attention to the Vietnamese market. Meanwhile, the ideal and classy living spaces like eco-island urban areas have also been "aimed" at by foreign investors and overseas Vietnamese.
Potential profitability
Considered one of the dynamically developing regions of Vietnam in recent years, the east of Ho Chi Minh City is home to large industrial zones and a strongly invested transport infrastructure system. For example, in the first 10 days of 2021, Dong Nai province attracted more than $226 million of investment capital, mainly from South Korea and Japan.
At the same time, the construction of the Long Thanh International Airport started earlier this year, promising to attract a large number of foreign experts. This force, combined with the number of experts working in the industrial zones in the area, creates a great demand for housing, especially eco-urban spaces, fully-equipped island cities.
In addition, the attractiveness of the real estate market here also comes from the reason: the land fund in the center and the east of Ho Chi Minh City becomes increasingly scarce, so the rich and foreign investors all desire to own real estate products of this type early.
Ms. Kelly Lin - a Taiwanese customer - said: "I am especially impressed with Aqua City because this project is located in a prime location. All products in this area like townhouses, villas, shop-houses appeal to me because they meet all the things I expect for both residential and investment purposes".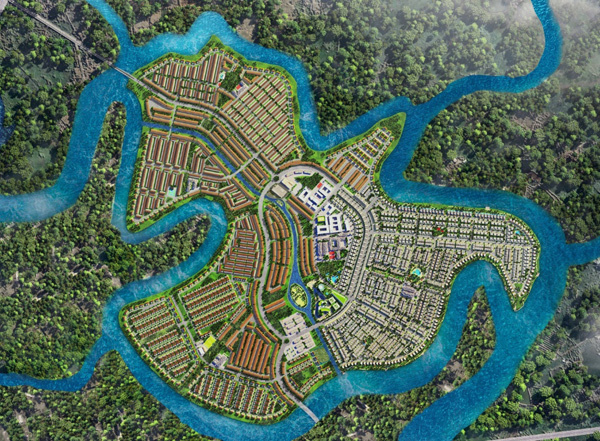 Phoenix island – Aqua city is highly valued by investors for its potential profit.
According to investors, the need to own this type of island ecological residential real estate in the east of Ho Chi Minh City is inevitable and will develop strongly in the future. The rich often want to live in private, classy, high-class areas, while connectivity, civilization, and convenience is still ensured. Investment returns and liquidity of this product line is often higher than other types of housing, thus, it attracts the interest of investors.
Mr. Su Ngoc Khuong - Senior Director, Savills Vietnam's Investment Division - emphasized: "Macao and Hong Kong are good lessons to develop island villas for the super-rich. These people are willing to spend $50-70 million to own such products and willing to take personal planes to work every day. According to a report by Savills, the price of riverside and island estate in major cities in the world such as London, Paris, Shanghai, Sydney, Hong Kong... is usually 10-50% higher than estate products in other places".
Find more information, see https://aquacity.com.vn or call hotline 0943797979
PV