More farming products sold on e-commerce sites
The e-commerce sites of Vietnam Post and Viettel Post saw 33 more suppliers of agricultural products and regional specialities open new booths in the first 10 days of April.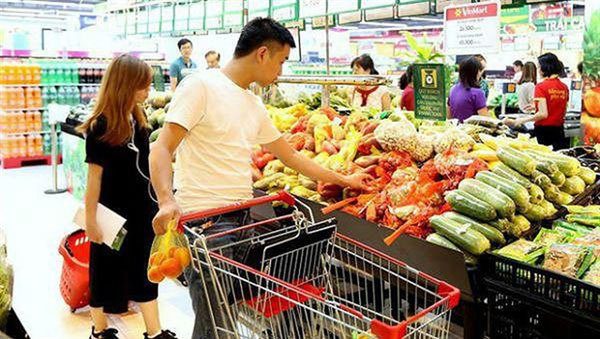 By developing the consumption of agricultural products through e-commerce platforms, farmers have more sales channels. Photo baochinhphu.vn
Of the 33 new suppliers, 21 were on Viettel Post's Vỏ Sò (seashell) and 12 were on Vietnam Post's Postmart.
From April 1 to April 10, Postmart and Vỏ Sò e-commerce sites received more than 2,600 orders for agricultural products.
The two sites are carrying out many activities to help farmers get acquainted with new business methods.
These efforts including helping farmers familiarise themselves with digital technology and a representative of Vietnam Post said that since April, Postmart has opened short training courses on doing business using e-commerce in Ha Nam and Thai Binh provinces for household businesses.
In addition, the Postmart e-commerce floor offers free use for business households that register early for the marketing service package.
Meanwhile, in Vỏ Sò's development plan for the final months of 2021, it will focus on bringing all products meeting OCOP and VietGap standards to the e-commerce site from mid-April to November.
Along with that, Viettel Post will support digital transformation in nine provinces and cities, namely Son La, Lao Cai, Bac Giang (in the second quarter); Ben Tre, Can Tho, Hau Giang, Dong Thap (in the third quarter); Lam Dong and Nghe An (in the fourth quarter).
The Vỏ Sò e-commerce platform has helped sell farming products in Hai Duong Province amid the bad impacts of the COVID-19 pandemic by providing knowledge on doing business on e-commerce sites for about 200 farming households. As a result, 50 households have opened pages on the Vỏ Sò e-commerce platform.
According to the postal enterprises, most farmers are still not familiar with selling and buying online. Therefore, guidance on online business to help farmers change their awareness and habits need to be maintained for a long time.
The Vietnam E-commerce Association (VECOM) Chairman Nguyen Thanh Hung was quoted by the ICT news as saying the market has a trend of expanding online trading channels for all kinds of goods, including agricultural products.
By developing the consumption of agricultural products through e-commerce platforms, farmers not only have more sales channels but also can promote their products to partners and consumers.
The big challenge in selling agricultural products on e-commerce sites is storage and transportation of retail orders, with support in shipping retail goods, farmers would have a lot of opportunities for the development of e-commerce, Hung said.
A representative of VECOM also said it is necessary to encourage businesses to support farmers in the development of online trading farming products. E-commerce service providers need to help farmers build and operate platforms for online sales.
VNS

Hanoi plans to develop an app to sell farm produce and organize an e-commerce supply chain in an effort to build a close link among producers, logistics and e-commerce service providers.

Viettel Post is helping Hai Duong farmers sell produce on e-commerce sites and will expand that aid to other localities in the country.