More airlines join market, create infrastructure bottlenecks

Runways, infrastructure and air traffic control activities cannot keep up with the pace of aviation market development.
According to the Civil Aviation Authority of Vietnam (CAAV), airlines are aggressively planning to expand their fleet to serve development needs.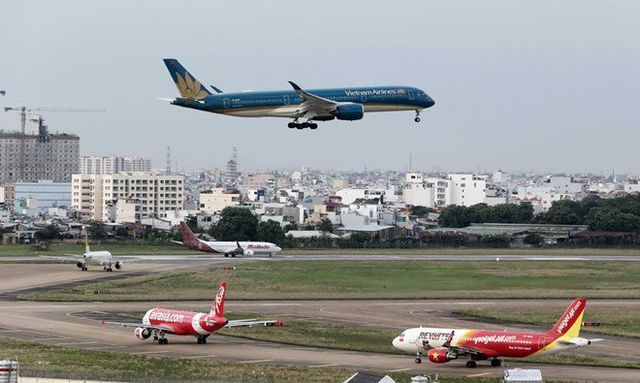 Vietjet Air, for example, reported that from now to 2023, it will receive 100 new aircraft from Boeing and Airbus, A320 and B737 Max.

The business license granted to Bamboo Airways shows that the air carrier can use 10 aircraft. It wants a new flight license, however, with registered capital level of VND1.3 trillion and a fleet of 40 aircraft.

At this time, there are at least two airlines queuing up for licenses – Vietravel Airlines and Vinpearl Air. Thien Minh Aviation JSC has registered its business in the field of air transport. Kite Air, the airline developed by Thien Minh, has registered capital of VND1 trillion and a base airport of Chu Lai in Quang Nam province.

Runways, infrastructure and air traffic control activities cannot keep up with the pace of aviation market development.
The establishment of new airlines is good news for passengerswho have more choices for flights at reasonable costs. However, the rapid expansion in the context of airport overloading is a headache for management agencies.
Analysts say that aviation infrastructure conditions remain poor, while the number of slots is limited. State management agencies find it difficult to allocate slots to airlines.

At the Ministry of Transport (MOT) Q3 press conference, the ministry leaders said they supported the establishment of new airlines, but admitted the problems in infrastructure.

MOT Deputy Minister Nguyen Ngoc Dong said Vietnam's aviation infrastructure is "too limited" for a very high aviation growth rate (15-17 percent).

In the case of Vietravel Airlines, according to the Airports Corporation of Vietnam (ACV), since the airline provides charter flights, it is even more difficult to allocate airport slots, because of the lower priority orders for charter flights.

Meanwhile, CAAV leaders remain optimistic about infrastructure for new airlines.

The Civil Aviation Authority of Vietnam (CAAV) said it was feasible for Vinpearl Air to choose Noi Bai as its base airport. However, it warned that the slots in good hours at Tan Son Nhat in HCMC and Noi Bai airport in Hanoi are no longer available.

Boeing has released a report about airlines in Southeast Asia, predicting that airlines in the region will need 4,500 new aircraft in the next 20 years, worth $710 billion. The aircraft manufacturer predicted that Vietnam would play a key role in the growth, thanks to the high GDP growth rate of over 6 percent. It is expected that Vietnam's aircraft fleet will increase by four times by 2038.
Kim Chi

National flag carrier Vietnam Airlines and Jetstar Pacific on November 10 announced that they will adjust schedules of fights from/to Phu Yen, Quy Nhon, Nha Trang and Pleiku on November 10 due to storm Nakri.

With more airlines planning to take flight in 2020, the room for profit-making is expected to narrow in the burgeoning aviation market, triggering doubts over the possibility of achieving success among newcomers.