Mopeds heat up Vietnamese motorbike market

Due to the cheap price, some businesses admitted that the quality of mopeds is quite poor and the engines would be downgraded after a time in use.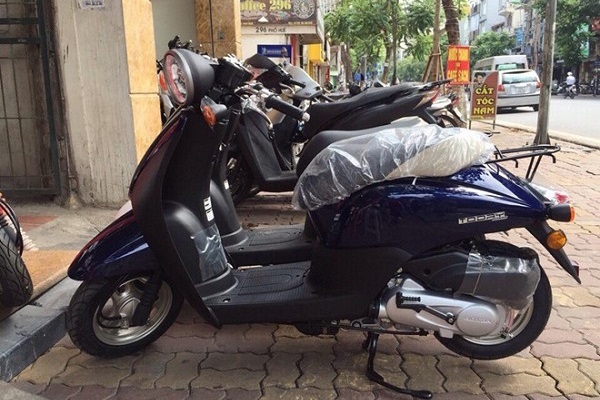 The moped market has been buoyant in Vietnam recently.
Many people choose moped as their regular vehicle because of its affordability price and convenience although their qualities are questionable.
 From the beginning of June, the small segment of mopeds has emerged buoyantly in contrast to the dormant motorbike market which is seeing tepid sales despite attractive promotions and discounts offered by retailers, Nguoi Lao Dong (Laborer) newspaper reported.
Under Vietnamese regulations, driving motorbikes of 50cc or under requires no license, so Vietnamese consumers are fond of these cheap and convenient motorbikes, especially teenagers above 16 years of age, who are not old enough to be granted driver's license.
Le Thi Yen from Ho Chi Minh City said she needed to buy a 50cc motorbike for her 16-year-old daughter so that she can ride herself to school.
"My husband and I are too busy to take our daughter to school regularly so we decide to purchase a moped for her, which is cheaper and handier than electric two-wheelers," Yen said.
Grasping the demands of parents, many motorbike retailers in Ho Chi Minh City has imported various 50cc moped models including standards and scooters.
Most of them mimic the medium and large-sized motorbike models from popular brands such as Honda, Yamaha, Suzuki, among others.
Those mopeds, which are advertised to be manufactured by some joint ventures with Japan, South Korea, Thailand and Taiwan (China), in fact are assembled in Ho Chi Minh City, Hanoi, Hung Yen and Nam Dinh provinces with parts imported from China. Some retailers even imported the completely built-up models from the neighboring country.
The price of 50cc standard models ranges from VND13 million (US$500) to VND15 million (US$600) while that of scooters is a bit higher at around VND15 million (US$600) to VND20 million (US$800).
The owner of a motorbike retail store in District 5, Ho Chi Minh City said that not only the teenagers but also college students are fond of this small motorbikes thanks to their lightweight, handiness and considerable speed.
"Normally I can sell averagely over ten mopeds each month, however, in summer, hundreds of this light motorbike can be sold," the retailer said.
Due to the cheap price, some businesses admitted that the quality of mopeds is quite poor and the engines would be downgraded after a time in use. Hanoitimes
Ha An
Urban residents are still spending big money to buy luxury scooters though a possible motorbike ban in certain areas has been proposed.

Hanoi plans to ban motorbikes sooner than planned by 2030 as part of its efforts to ease traffic congestion and environment pollution, Chairman of the municipal People's Committee Nguyen Duc Chung said.

The Vietnamese electric motorbike market is seeing the participation of more and more domestic and foreign manufacturers.