Mobile money to bridge service divide
While telecommunications firms keep a wait-and-see stance on SMS service charge reductions despite mounting worries from banks. 
The forthcoming adoption of mobile money from some state-run groups is expected to bridge the gap between urban and rural areas in convenient cashless payments.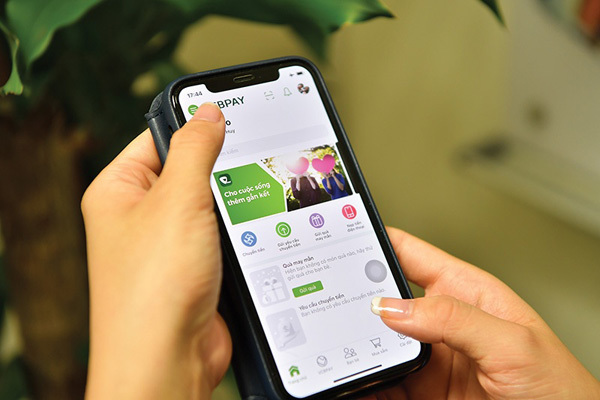 Mobile money to bridge service divide. VIR Photo: Dung Minh
The Vietnam Banks Association (VBA) has once again grieved the losses of banks on the huge expenses stemming from SMS banking charges, despite their constant proposals to telecom groups and the Ministry of Information and Communications (MIC).
Local lenders have spent billions of VND on various SMS banking fees. BIDV is roughly estimated to spend at least VND400 billion ($17.4 million) on services associated with network operators, and this figure is approximately equivalent for both Vietcombank and VietinBank.
In 2020 alone, the VBA sent three requests to the MIC on reducing telecoms charges for banks. Last month, the association put the issue back on the table, hoping the ministry and other telecoms exempt fees.
"However, banks have not yet received any feedback in this regard. As more banks are applying the zero-fee transaction mechanism to support customers, they are also suffering losses due to telecoms ignorance to cut charges on SMS banking. The pandemic has also pushed an increasing appetite of customers switching to e-banking services, thus putting more pressure on banks to pay a full suite of fees," said Nguyen Quoc Hung, secretary of the VBA.
MobiFone and Vinaphone charge around VND820 (3.5 US cents) per SMS for financial transactions and VND500 (2.2 US cents) for ads and customer service messages. Meanwhile, Viettel bags VND785 (3.4 US cents) per SMS for transactions.
"The current SMS charges are exorbitant in these challenging times, particularly when banks are ramping up their efforts to reduce and waive fees for customers," Hung noted.
Conversely, the implementation of mobile money – which allows the use of phone accounts to pay for small-value goods and services – could facilitate a competitive edge for customers in rural and remote areas.
Pham Minh Tu, deputy director of the MobiFone Digital Service Centre, said mobile money services from the three state-run telecoms giants of MobiFone, VNPT, and Viettel would lay a firm foundation to accelerate cashless payments in Vietnam, which is in line with the government's e-economy ambitions.
"If telecoms firms can promote mobile money in rural areas, it will create big changes in society by reducing gaps between urban and rural areas. Rural people would be able to sell their products on e-commerce platforms and using cashless payment methods," Tu stated.
She added that cashless payment infrastructure has started to pick up in Vietnam. In 2020, the country boasted more than 100 million mobile subscribers. Approximately 70 per cent of the population are internet users, creating a favourable environment for the development of e-commerce.
"Furthermore, the pandemic is a catalyst to promote digital transformation as it has shifted the habit of users toward e-commerce and cashless payments. We need to seize this moment," she claimed.
Economist Can Van Luc from BIDV, on the flip side, notes that cash is still a popular payment method in the country, with around 28 per cent of customers conducting their payment via cash on delivery when purchasing any items from e-commerce platforms. This figure is only 3.3 per cent as a global average.
In particular, payment methods via digital applications and e-wallets on mobile phones only account for 21 per cent, compared to about 44.5 per cent globally. The ratio of cash to total means of payment from May 2020 to April 2021 was more than 12 per cent, Luc emphasised.
The government's latest draft national strategy for the development of the digital economy and society by 2025 has set a firm target on digital identification and cashless payments.
Accordingly, by 2025, around 80 per cent of Vietnamese citizens will use digital payment methods with the non-cash payment rate reaching 50 per cent. "Vietnam boasts huge potential in developing non-cash payments. However, accelerating cashless payment is an ambitious strategy requiring strong efforts," said Luc.
Tu of MobiFone added, "We are completing the procedure and applying for a license to launch the product in the near future. We expected that with our wide-reaching telecom coverage, mobile money will reach the rural and remote areas, filling in a gap left by banks."
Dr. Doan Bao Huy, lecturer at RMIT University Vietnam, believed the advent of mobile money will not have a significant impact on e-wallets or mobile banking applications. "This is because service providers are not allowed to provide loans, raise capital, or pay interest on mobile money balances," Huy said. "A key difference in terms of market segment is evident in the transaction limits set by the government. E-wallets focus on customers in big cities, so they have a transaction limit of around $4,300 per month. Mobile money aims to provide non-cash payment services to remote areas and thus the maximum transaction value is $430 per month."
Source: VIR

Data shows that the Covid-19 pandemic has strongly promoted non-traditional forms of spending, but the use of cash is still high.

The prolonged COVID-19 pandemic has unexpectedly created "golden" conditions for the financial industry to accelerate digital transformation and shift to cashless payments.