Mekong Delta: spoiled pigs eating sweets, and other unusual phenomena
Nguyen Hong Trang's family in Vinh My A commune in Bac Lieu province raises pigs. More than a year ago, her sow gave birth to 11 baby pigs, one of which weighed only two kilos. As it could not suckle much, it stayed small.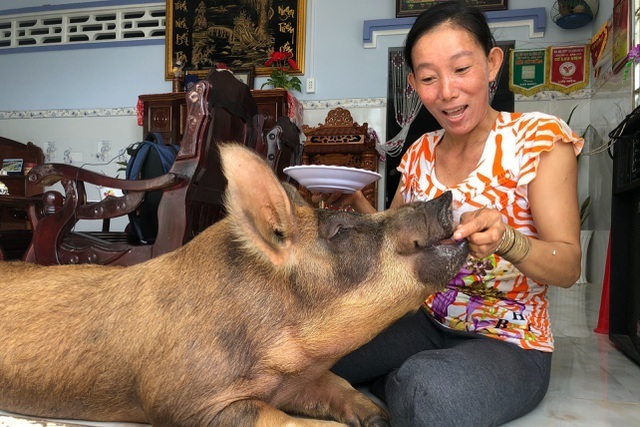 Ut Det eats fish, shrimp, sweets and fruits
Trang felt sorry for the pig and decided to keep it beside her for better care. She named the pig Ut Det. The pig became close to Trang's family and now weighs 50 kilos. It likes to sleep in a cool room with an electric fan. The pig eats fish, shrimp, sweets and fruits, and is bathed carefully by Trang and her husband with soap every day for 30 minutes.
Yellow shrimp
Tran Kim Hoang in Soc Trang City said in Dan Tri newspaper that on March 11 he harvested white-leg shrimp after three months of farming and surprisingly found a bright yellow shrimp.
Local farmers believe that shrimp with such a color is rare, saying that it will bring good luck. The shrimp is being kept by Hoang's family.
Strange fish in Binh Dinh
In Binh Dinh province, ca nien, or Onychostoma gerlachi, can be found in only two mountainous districts An Lao and Vinh Thanh.
This fish lives in rivers, especially at the foot of waterfalls. It is very special: they only gather, live and breed in the upper area of swift-flowing rivers.
Ca nien has a flat body. The large fish is 20 cm long and is as big as two adult fingers. They only eat algae, so the flesh is delicious, clean and nutritious.
Special dog called God of Luck
Nguyen Van Duong in Pho Cao commune in Ha Giang said his male Mong Coc male, 2 years old, is reddish brown, a color that the Mong ethnic minority consider lucky.
"Mong Coc dogs are loyal and agile, so they can work as guard dogs very effectively. These dogs are very precious and considered by Mong people as a 'God of Wealth'," Duong said.
His dog has attended competitions for rare and precious dogs in cities and provinces where it won first and second prizes.
Some people want to buy the dog for VND200 million. But Duong has kept it to develop a family-run precious-dog farm.
Deer antlers worth VND60 million
N.C.C. in Son Ham commune of Ha Tinh province is the owner of a deer with huge antlers weighing four kilograms.
C bought the deer from a farmer six years ago. In the first two years, the antlers grew normally but in recent years their weight increased very rapidly. 
Hanh Nguyen

Tan Thanh Flea Market is gradually becoming an interesting attractive meeting place in Hoi An, allowing visitors to not only trade unique products but also experience the local culture in a close and friendly community.

Buffaloes in Hoi An do not work on farms, but are made-up and perfumed to bring good fortune for their owners. They are just one example of a number of strange possessions of local Vietnamese.