Medlink wins first startup contest VietChallenge 2019

Medlink – the supplier of a platform for direct connectivity among drug companies and pharmacies has won the first prize of VietChallenge 2019, an annual startup competition for Vietnamese entrepreneurs from all over the world.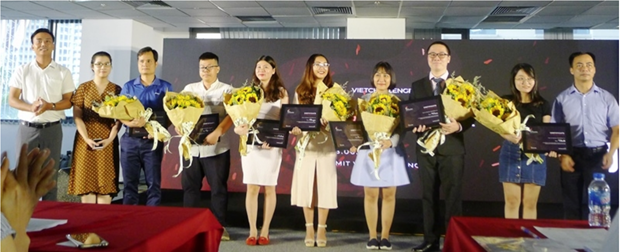 Representatives from teams competing in the final round of VietChallenge 2019 


Medlink surpassed eight other competitors in the final roundof the contest, which was held on September 7 at Massachusetts Institute ofTechnology by the Association of Vietnamese Students and Professionals in theUS.

The second prize came to VVN AI, a supplier of artificialintelligence to recognise images and texts, which is applied in the transactionprocess at shops and banks, helping save time and enhance convenience andsecurity.

Timobile from Indonesia and Graam from Vietnam shared thethird prize of the competition, which received more than 400 entries in total.

The prize winners will become partners of the Viettel Military Industry and Telecoms Group, givingthem a chance to provide services to nearly 100 million customers of Viettelaround the globe.

Presenting awards to the winners at the event, DeputyMinister of Science and Technology Tran Van Tung reiterated Government support forVietnamese students abroad to launch innovative startups and make morecontributions to their homeland.

He noted that on September 6, the ministry launched aprogramme to seek investment for Vietnamese startups with the support of USpartners, in order to organize Techfest Vietnam 2019 – the first nationalinnovation festival. The festival is slated for September 13 in California, theUS, with the participation of 200 intellectuals, experts, investors andrepresentatives of innovative startup ecosystem of the two countries.

A delegation led by Deputy Minister Cuong had engaged in aseries of in-depth discussions with major US partners in Boston inMassachusetts state and San Francisco in California state, and will visit worldleading technology groups of Amazon and Google, as well as the Silicon Valley.

The official revealed that the ministry plans to sign manydeals with US partners, including Ai20x, Pegasus Tech Venture and Stripe Inc.

One of the highlights of the Techfest Vietnam 2019 in the USis a Silicon Valley – Vietnam connection forum, where representatives fromVietnam and US startup ecosystems meet to discuss connection opportunities.
Techfest Vietnam in the US will be the first step towards theorganization of the Techfest Vietnam 2019, scheduled for December this year inQuang Ninh province.