Masan to close ineffective VinMart, VinMart+ stores

Masan Group intends to close up to 10 VinMart supermarkets and 150-300 VinMart+ convenience stores that have performed poorly and will open 20-30 new VinMart supermarkets and 300-500 VinMart+ stores this year.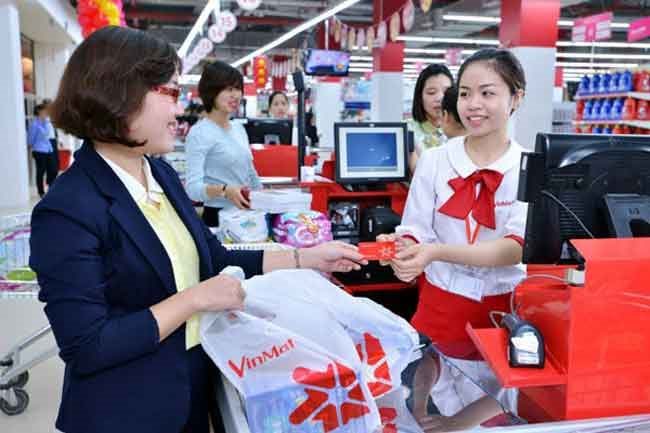 Consumers shop at a VinMart supermarket. Masan will close ineffective VinMart supermarkets and VinMart+ convenience stores - PHOTO: VINGROUP
The group held a conference call with its shareholders to discuss its plans for VinCommerce, a consumer retail unit of conglomerate Vingroup, which has been merged with its retail subsidiary Masan Consumer Holdings, Nguoi Lao Dong newspaper reported.
According to leaders of Masan, as of last year, VinCommerce had 134 VinMart supermarkets covering an average area of 1,500-5,000 square meters each and nearly 2,900 VinMart+ convenience stores covering an average area of 80-100 square meters each.
Although the company's revenue in 2019 surged by 67% over 2018 to VND26 trillion, it recorded a loss of VND2.1 trillion.
The number of VinMart supermarkets and VinMart+ convenience stores in Hanoi accounted for 34% and 29% of the total, respectively.
This year, VinCommerce is expected to earn more than VND42 trillion in revenue, rocketing 64% versus last year. The revenue will include 24%-25% of revenue from existing VinMart supermarkets and VinMart+ stores, while the remainder will come from stores to be opened this year.
In addition, Masan will put its Meat Deli chilled meat on the shelves of VinMart supermarkets and VinMart+ stores to increase the proportion of revenue from the product, from the current 30% to 35% by the end of this year. SGT

Masan has announced that after the share swap deal with Vingroup, it now owned 83.74% of Vingroup's subsidiary VCM Services and Trading Development Joint Stock Company (VCM) which operated Vinmart and Vinmart+ stores.  

In less than a month, Masan Consumer, a consumer business of major conglomerate Masan Group, has initiated two deals to take its businesses beyond the food and beverage sector.