Market rally to go on, corporate earnings in the sight
Vietnam's benchmark VN-Index climbed to a 10-month high last week and the market rally will keep on going, experts and securities firms forecast.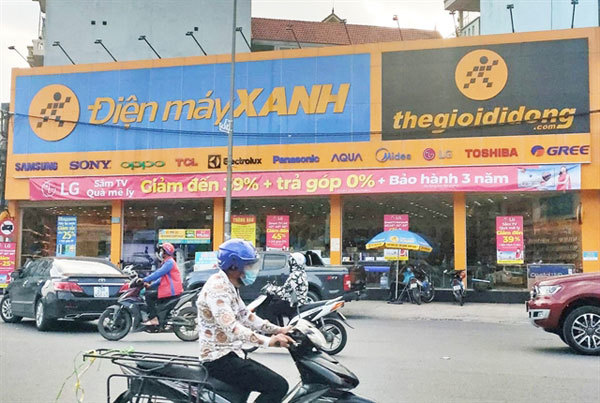 One of Mobile World Investment Corp's retail store in Hanoi. Mobile World Investment shares (MWG) soared total 5.8 per cent last week. — VNS Photo Doan Tung
The VN-Index on the Ho Chi Minh Stock Exchange has logged a three-day gaining streak of 1.51 per cent to end last week at 966.29 points.
It is the benchmark's highest level since January 22 when it reached 991.46 points.
After five trading days, the benchmark posted a weekly gain of nearly 3.0 per cent.
In the last two trading weeks, the VN-Index increased by total 5.14 per cent.
"Individual investors continued showing their superiority as their strong purchasing power was the major factor to keep the rally up," Dinh Quang Hinh, head of macroeconomics and market strategy at VNĐirect Securities Corp, told Việt Nam News.
Large-cap stocks remained the key to the market's rally.
The blue-chip tracker VN30-Index was last week up a total 3.13 per cent and it made a two-week growth of total 5.02 per cent.
In general, the market sentiment was bolstered by the updates on coronavirus vaccine development and the US presidential election progress.
Top bank stocks like Vietcombank (VCB), the Bank for Investment and Development of Việt Nam (BID), Vietinbank (CTG), Techcombank (TCB) and VPBank (VPB) increased by total 2.2-6.5 per cent.
Good gains were also seen at other large-cap companies in industries such as Vinhomes (VHM), Vingroup (VIC), Vietnam Rubber Group (GVR), brewer Sabeco (SAB), consumer company Masan (MSN) and PetroVietnam Gas (GAS).
"After beating the strong resistance levels of 940 points and 960 points, the market's short-term outlook turns positive," Hinh added.
"The market is forecast to continually increase during the early trading sessions next week and retest the previous peak around 969 points," Bao Viet Securities JSC (BVSC) said in its weekly report.
Both Hinh and analysts at BVSC agreed the VN-Index will head to 980-990 points and the range will be the strong resistance, which will trigger "wide fluctuation".
"The progress will be bouncy," Hinh said. "Investors will try to realise some profits and the VN30 futures will due on Thursday (November 19)." 
Earnings confidence
The market rally will be influenced by some factors in the last 1.5 months of the year, Hinh said.
"Those include the change of Vietnamese stocks' weights in MSCI's indices and updates on global coronavirus infection and vaccine development," he said.
"Fourth-quarter earnings reports by listed companies will also be key to determine the market sentiment."
Among all sectors, utilities, retail and consumer stocks are expected to speed up in the coming weeks.
"Those sectors may log good gains in the fourth quarter and become more attractive," Hinh said. "Companies in the three industries often enjoy the last one or three months of the year as domestic consumption normally picks up during the time.
"Despite the COVID-19 pandemic, we are quite confident those companies will deliver good earnings in the fourth quarter."
As Vietnam is among the countries that have successfully restrained the spread of the virus, it is widely expected to deliver good news on trade and macroeconomic conditions, he said.
Retail and service sale in October gained 6.1 per cent on-year with retail sale jumping 11 per cent on-year. Those were the highest growth rates since February, he said.
The very first positive signal was delivered by retail giant Mobile World Investment.
The company on Friday announced to investors that revenue in October was VND8.7 trillion (US$874.8 million), an annual increase of 10 per cent and a monthly rise of 4 per cent.
Mobile World Investment shares (MWG) soared total 5.8 per cent last week. VNS

Vietnamese shares are forecast to move positively this week, less affected by the US presidential election than initially assumed.