Many Vietnamese firms could stop operations by late March as inputs run out

The disruption of materials supply chain from major markets to Vietnam has led to a lower growth rate of the industrial production index in the first two months.
Many Vietnamese firms may run out of input materials for production by late March as the global supply chain is disrupted by the Covid-19 epidemic, according to Truong Thanh Hoai, director of the Ministry of Industry and Trade's Industry Department.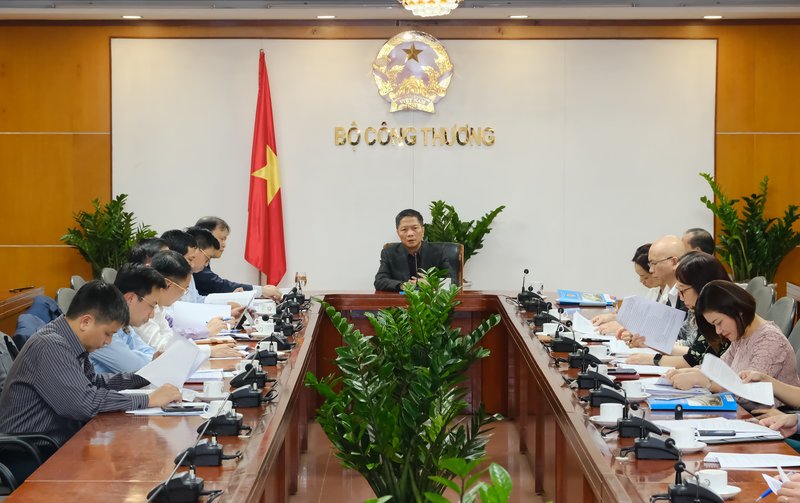 Overview of the meeting. 
Vietnam's manufacturing and processing sector is heavily dependent on components from countries currently affected by the Covid-19 epidemic, including China, South Korea and Japan, in which electricity and electronics are among the hardest-hit sectors, Hoai said at a ministry conference on February 26.
In 2019, Vietnam's electricity and electronics sectors imported goods worth US$40 billion, of which markets such as South Korea, Japan and China amounted to US$32 billion.
Meanwhile, the domestic leather, footwear and handbag industry which imported over US$23 billion in materials last year could only maintain normal operation until early April, said Hoai.
Le Tien Truong, director of Vietnam National Textile and Garment Group (VINATEX), said a delay in the supply of input materials could lead to a potential loss of US$1.5 – 2 billion for the textile industry.
For the automobile industry, nearly US$4 billion worth of parts and accessories were imported to Vietnam in 2019, of which those from South Korea, Japan and China made up US$2.6 billion.
The Industry Department said enterprises in the automobile industry would start facing shortage of supply by the end of the first quarter, which is a serious matter as it is not easy to find alternative sources for China, South Korea and Japan, especially in terms of price and quick delivery.
Hoai proposed more incentives are needed for local enterprises to actively search for input materials from other markets, or turn to self-reliance.
A representative of the Ministry of Industry and Trade expected to mobilze more resources from the government for industrial development, particularly supporting industries for major products such as steel, fabric, new materials, among others.
Another key point is to have exceptional policies promoting a shift in investments in manufacturing and processing from China to Vietnam.
Deputy Diector General of the MoIT's Planning Department Nguyen Thuy Hien said the disruption of materials supply chain from major markets to Vietnam has directly impacted the industrial production index in the first two months.
In the January – February period, the index expanded 6.2% year-on-year, down two percentage points compared to the same period last year, in which the manufacturing and processing rose only 7.4%, down four percentage points, mining down 1.6 percentage points and electricity supply down one percentage point.
Minister of Industry and Trade Tran Tuan Anh said Chinese products account for 40% of the supply chain in Asia, adding Vietnam is not the only case under impacts from the disruption.
The issue is more complicated for Vietnam when the epidemic is spreading in South Korea and Japan, the country's two major trading partners.
Anh said this is the right time for Vietnam to focus on being more self-reliant in terms of input materials for domestic production. Hanoitimes
Hai Yen

The Ministry of Planning and Investment (MPI) has predicted that the GDP would grow by 5.96 percent, a 7-year low.

Some large electronics manufacturers in Vietnam are feeling the punch from the COVID-19 outbreak as material imports and finished product exports have been affected by tighter border control.