Long history brand is no longer an important factor

Approaching his 40th birthday, Nguyen Tuan Ngoc thought he had a job safe enough to never have to worry about looking for work again.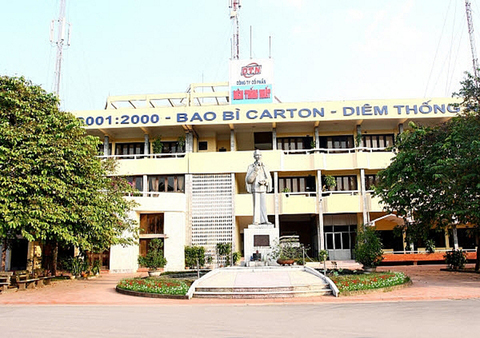 Thong Nhat Match Joint Stock Company'in Ngo Gia Tu Street, Long Bien District in Ha Noi. — Photo courtesy of the firm
For 15 years he had been making matches at the Thong Nhat Match Joint Stock Company's division in Long Bien District in Ha Noi.
Around the time he first started working there, the company employed as many as 700 people. Today that number is around a dozen, and Ngoc is not one of the lucky ones.
"I did think I could work here until retirement," said the married father-of-two. "But now I have no choice. I need to find a new job."
Thong Nhat Match company has a long history in Viet Nam. After the end of the war with France, it was the first factory built in the country's north.
For more than six decades the company has produced countless books of matches. Next year they will scale down operations and produce less and less, concentrating instead on lighters.
And with more and more people quitting smoking, the need for matches and lighters is burning away.
Nguyen Hung, the firm's general director and chairman of the board said: "Currently, Thong Nhat can sell 70 million to 80 million packages of matches per year. With that amount, we need only few workers."
In the past, one of the indicators when valuing a company was determined on its history. However earlier this month, the Ministry of Finance (MoF) removed that criteria.
For companies like Thong Nhat Match Company which has a long and valued history, removing this should not cause problems as the value of a business is much more than just its history, but experts believe companies need to up their game.
Branding expert Mibrand Lai Tien Manh, CEO of Mibrand, feels businesses need to move with the times, and those that rest on their laurels, could have problems.
"Though traditional branding is a valuable intangible asset, it is not an important factor in valuing an enterprise," Manh told Viet Nam News.
"Thong Nhat firm still has chance to take advantage of its being well known in the lighter making if they know how to do branding."
Manh believes the story of Thong Nhat Match Company is not unique. But other companies have moved with the times and found themselves heading in a different, and more profitable, direction.
Since last year, Ha Noi Soap (Haso) has been rebuilding its brand-name and is now known as Power. In the past, the firm concentrated in outsourcing for Unilever instead of maintaining its own soap brand.
Since 2017, seeing the potential loss of the brand, Haso came back to grow its own products. Haso's director Do Huy Lap said: "Haso produces 40,000 tonnes of washing liquid and 6,000 tonnes of soap per year, serving the rural market.
"The firm will launch other new products to meet more demands and serve more customers."
But these changes will not happen overnight. Right now, Haso employs just 10 per cent of its capacity, but Lap hopes that by 2024, they will be back to 100 per cent.
Lap's firm now only employs 10 per cent of its capacity. He said Haso will try to run its 100 per cent capacity by 2024.
Garment 10 Corporation is among the few businesses taking advantage of their history. For the nine months ended September 30, revenue increased by 12 per cent, reaching VND2.4 trillion.
According to Than Duc Viet, the firm's chairman, the garment firm still maintains its previous welfare model for employees providing them with preschool for children, a special health clinic, a vocational training centre. The firm also plans to provide housing for its workers in the future.— VNS
To make their produce competitive in the regional market, farmers in the Mekong Delta's southeastern provinces have created brands for them and adopted new technologies.

The revenue of Vietnamese fashion brands continuously increases year after year, which shows that they have firm positions in the market despite the presence of many famous foreign brands.