Logistics costs challenge farm produce export
Vietnam's logistics costs are higher than many of its regional peers'. That's why exporters of farm produce expect a helping hand from the Government in this regard in order to enhance the competitiveness of their outbound shipments.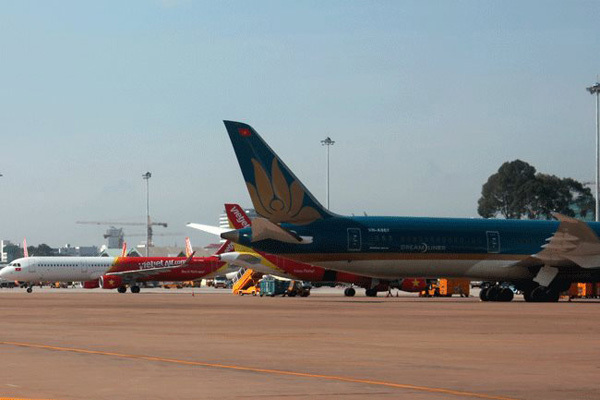 To cut transport costs, it needs to develop the local fleets of freighter aircraft, especially for agricultural exports. Since the end of the third quarter of this year, Vietjet has launched four cargo aircraft into operation to serve the local market and Southeast Asian destinations.
One of the "culprits" behind the high logistics fees is the imbalance in means of transport and the lack of connection among transport types. 
Railway, air transport receives lackluster responses
The Vietnamese Ministry of Transport recently held a teleconference meant to link farm produce exporters with railway and aviation companies to work out effective and affordable farm produce transport solutions.
A survey of the ministry over logistics enterprises indicates that farm produce transport by land still makes up an overwhelming proportion, followed by maritime shipping services. Meanwhile, the number of exporters making use of railway and air services remains insignificant.
Nguyen Chinh Nam, head of planning and business department of the Vietnam Railway Corporation, said cargo transport by train costs are lower than other types. For instance, enterprises are charged VND396,000 for one ton of cassava powder transported from Tuy Hoa in Phu Yen Province to Dong Dang in Lang Son Province. However, they will have to pay VND400,000 per ton if they choose a trip combining road and maritime services and up to VND1 million for road service only.
In addition, the railway sector has developed an international network with links to China, Mongolia, Russia and Europe. For service quality, railway transport enterprises have provided freezer containers which are self-operational, traceable and controllable from a distance, and official export-import procedures at border gates and warehouses. Railway transport companies have also slashed freight charges amid the Covid-19 pandemic, Nam said.
The question then is why enterprises are still reluctant to use railway transport services.
Nguyen Dinh Tung, general director of Vina T&T Company, who used to explore transport services to send agricultural products to China, said railway transport may affect goods quality, especially fruits, as trains must go through many transit spots. For instance, his company must send their shipments by road from the southern province of Long An to Song Than Station in Binh Duong Province, before they are transferred to a train to Dong Dang Station en route to China. Meanwhile, things would be much less complicated if Tung elects to make a direct trip on container trucks from Long An to the border gate with China.
"In case of fruits, although trains may cost less but our shipments may be prone to be damaged, which means huge losses," said Tung. "Therefore, we still prefer road transport."
Despite fast delivery and little chances of damages to shipments, exporters may not prioritize air cargoes due to high fares. Further, freighter flight services have yet to be offered while most international passenger flights have been stalled due to the ongoing pandemic. Citing dragon fruit export as an example, Do Xuan Quang, deputy general director of low-cost carrier Vietjet, said a kilo of dragon fruit costs only around US$3, but its transport fee is up to US$6-7. Consequently, exporters may fail to compete with other rivals with the transport bill taken into account.
Statistics show that foreign airlines dominate nearly 90% of Vietnam's international cargo transport market while local carriers only carry shipments along with passengers. Therefore, air goods transport heavily depends on foreign carriers. This is why local exporters have no choices if the latter lift service prices. 
In need of measures to have competitive prices
Enterprises exporting farm produce to China have said they cannot understand why logistics services provided by Vietnamese firms are always costlier than those of foreign firms. According to Hoang Van Hoan, managing director of TMS Trading JSC, among the 400 logistics firms that used to partner with his company, none of them accepted to provide transport services when asked, although their truck fleets remained idle during the epidemic outbreak. "The paradox is that Vietnamese logistics firms always offer higher service fees than Chinese enterprises do," Hoan said.
According to information obtained by Hoan, the Chinese government has given subsidy to the transport sector, enabling Chinese exporters of agricultural products to offer lower prices. Therefore, Hoan argued, Vietnam should consider policies on cutting logistics services to improve Vietnamese farm produce exporters' competitiveness.
In the air transport segment, Do Xuan Quang, deputy general director of Vietjet, stressed the need to develop freighter fleets, especially for agricultural exports, to help cut transport costs. To meet this goal, since the end of the third quarter, Vietjet has launched four cargo aircraft into operation to serve the local market and Southeast Asian destinations. Vietjet is working with partners in the United States to launch a direct freight route to the market, aside from expanding service to the Middle East and Europe.
Even if Vietnamese carriers are able to form their own cargo fleets, the Government should give more incentives to help lower the prices of farm produce exports, Quang added.
Meanwhile, Nguyen Manh Hung, vice chairman of the Vietnam Digital Agriculture Association, pointed the finger to the lack of a common voice between agricultural and logistics enterprises. Instead of waiting for incentives from the Government, the two sides should cooperate in optimizing their benefits. As the pandemic is expected to still linger, the cooperation between enterprises must be strengthened to reduce logistics fees and product prices in the coming time. SGT
Le Anh

Inflated logistics costs were hampering the competitiveness of Vietnamese goods, according to Chairman of the Vietnam Textile and Apparel Association (VITAS) Vu Duc Giang.

The suspension of trade in seafood and agriculture products at some northern border gates with China as a measure against the novel coronavirus (Covid-19) has caused a demand-supply imbalance in the market.