Localities build night entertainment plans

In many cities and provinces, local authorities are moving ahead with plans to develop night entertainment services, such as walking streets and night markets to attract travelers and develop local economies.
In Vietnam, the night-time economy has taken shape in large cities such as Hanoi and HCMC. The latter has the most bustling night economy hub with food streets, night market, walking streets and convenience store chains.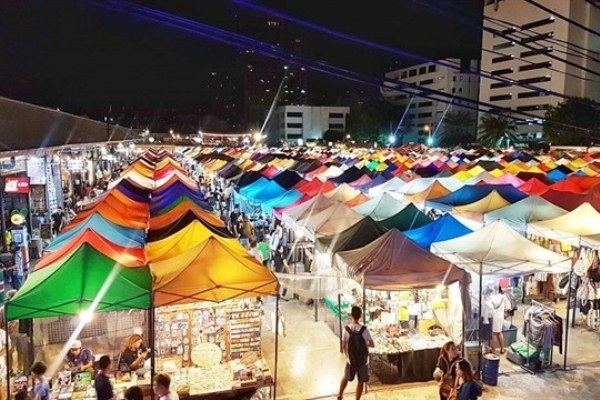 There are 2,300 convenience stores throughout the country, including 1,000 stores operating 24/7 and most of them are in Hanoi and HCMC.

In Vinh City in the central region, the local authorities plan to inaugurate Cao Thang night street. The products to be traded at the night street include clothes, footwear, leather products, bags, hats, souvenirs, local specialties, drinks, snacks and some other products which can satisfy requirements.

There are 2,300 convenience stores throughout the country, including 1,000 stores operating 24/7 and most of them are in Hanoi and HCMC.
To encourage local households to do business on the night street, the city will offer support to them in the first three months. During that time, households will be exempted from some kinds of fees and tax.

The local authorities decided not to collect fees for using retail premises for the first three months. Other kinds of fees and charges will also be exempted.

In Vung Tau City, the local authorities plan to organize night-time economic activities on the Thuy Van – Sau Beach route. In the near future, Vung Tau will have a tourist service area to serve tourists and people at night, as well as walking streets. The plan is in line with the general planning of Vung Tau until 2035 which has been approved by the Prime Minister.

Vu Hong Thuan, deputy chair of Vung Tau City, said on Tuoi Tre newspaper that the plan has been assessed and submitted to the Ba Ria – Vung Tau provincial authorities for approval.

Under the plan, the construction works along Thuy Van street will be cleared to make the coast airy. Discos, bars and karaoke shops which produce noise will be gathered on the sea side, separated from residential quarters and areas with travelers.

There will be night market on Thuy Van street, underground parking lot, central square and other key construction works.

In Da Nang, Son Tra Da Nang Night Market and Thanh Khe Tay Night Street exist, and from October 2019, the Bach Dang walking street and night market run by Ngoi Sao Bien Sai Gon JSC, located on the Han River bank will become operational, opening from 6 pm to 2 am.
Mai Chi

Economists and businesses all believe that developing the night-time economy will bring new opportunities to Vietnam.