Living in suburbs: growing trend among the well-off
Ten years ago, wealthy people said 'no' to properties located far from the center of cities, but more are now moving from the crowded inner city to the suburbs, where they can enjoy fresh air and less noise.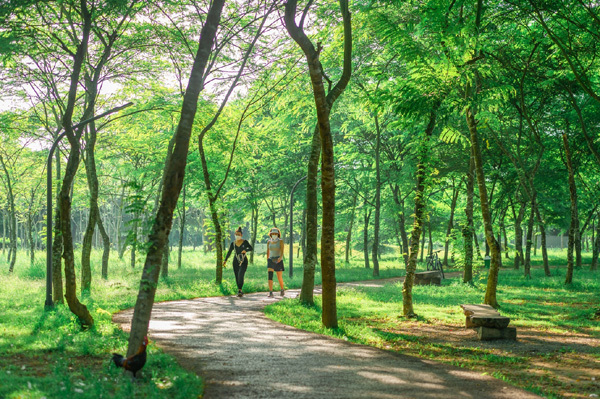 Analysts say that the pandemic has had a great impact on the real estate market. The social distancing campaigns have led to dreams about green living away from crowded and noisy areas in inner cities.
Since Hanoians and Saigonese now must stay at home, they would rather to stay in places surrounded by greenery.
Previously, the position of houses was the most important factor buyers would consider before making a decision to buy property. But now, the living space is the top priority for many.
Savills' latest report about the Hanoi real estate market in Q2 showed that the price gap between houses in the central area and the suburbs has narrowed.
In the eastern part of Hanoi, there are projects valued at VND40-50 million per square meter. In some cases, the apartments priced at VND60 million per square meter also sell well. Meanwhile, in the inner city, many projects at the same price levels remain unsold.
An analyst said that clients even have had to queue to buy apartments in the suburbs, while supply in the inner city was plentiful at the same time.
Do Thu Hang from Savills Hanoi said people previously believed that life in the suburbs had low quality. But now, when long distances from suburbs and inner city areas are no longer a problem thanks to the development of transport infrastructure, they are seeking a green life with open space in suburban areas.
Ecopark is a well known urban area developed in anticipation of the the 'leaving-city-for-suburb' trend. It had surpassed 2,000 developers and has 10,000 projects all over the world, recognized as urban areas with the best landscape design.
After 10 years of development, Ecopark is the largest green urban area in Vietnam with more than 100 hectares of trees and water surface, and more than 1 million trees with a density of 120 trees per person. The project remains popular despite Covid-19.
Observers note the trend of buying properties in the suburban areas in Hanoi has been growing rapidly. Many people are looking for areas with lakes, ponds and mountains, such as Chuong My, Ba Vi, Hoa Lac, Quoc Oai and Soc Son. 
Vy Oanh

Contrary to all predictions, the real estate market has been hot during the pandemic. People are rushing to buy apartments for fear that prices will escalate after the pandemic ends.

Soft ground levels, complex underground pipework, frequent flooding, and lack of incentives are all hindering investors from jumping into underground real estate development and construction in HCM City, despite promising prospects in some areas.