Live streamers compelled to register with MIC if new draft decree adopted
The Ministry of Information and Communications has proposed that only licensed social networking sites and accounts should be allowed to livestream to generate revenue.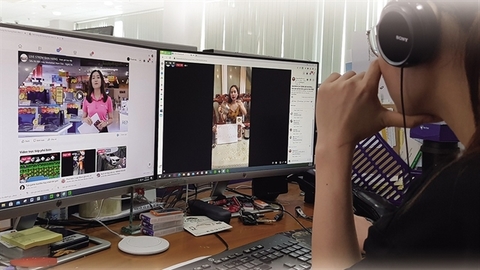 Sellers livestream on social networks. — Photo thanhnien.vn
The ministry is currently seeking comments on the draft decree on amending and supplementing Government Decree 72 on the management, provision, and use of internet services and online information.
The Ministry of Information and Communications emphasised that types of information available on the internet have become increasingly diverse since Decree 72 was issued in 2013.
Users have gradually turned away from traditional news outlets and are instead utilising social networks such as Facebook, Youtube, TikTok, Twitter and Instagram to serve their entertainment and shopping needs.
However, greater international integration and recent technological developments have revealed limitations and legal gaps, which need to be filled.
The ministry is proposing that businesses providing cross-border information services must comply with Vietnamese laws.
For websites and applications that provide content services with more than 100,000 regular visitors per month, they must notify and have their operation approved by the Ministry of Information and Communications. They must also agree to co-ordinate with the ministry to handle any violations.
In addition, cross-border social networks such as Facebook and Youtube must require channels and accounts in Việt Nam with 10,000 or more subscribers to contact the ministry. Only licensed channels and accounts would be able to livestream and access revenue-generating services.
Currently, any account that meets the conditions of Facebook, Youtube or any other social network can livestream and make money, without having to comply with Vietnamese regulations.
At the same time, these cross-border social networks must prevent and remove violating content within 24 hours when the receive a request from Vietnamese authorities.
Notably, there were 829 licensed social networks by the end of June this year, but the number of social networks with 1 million or more regular users accounts for less than five per cent.
The influence and popularity of Vietnamese social networking sites is still limited compared to foreign social networks. Facebook has about 65 million users, Youtube has about 60 million and TikTok about 20 million in Việt Nam.
The Ministry of Information and Communications says these organisations have not fully complied with the current provisions of Vietnamese law.
The ministry also said that social networks contain a lot of information that violates the law. They facilitate the spread of fake news, cause social instability and frustration in society, and also cause inequalities between domestic and foreign businesses.
The Ministry of Information and Communications concluded that many individuals and organisations take advantage of social networks to conduct journalistic activities, and livestream to provide untrue information, insult the reputations of other organisations and individuals, and provide information and services that violate the law.
Source: VNS