Listed companies look to tap real estate segment
A series of listed businesses on the stock market have announced plans to expand and tap real estate investment.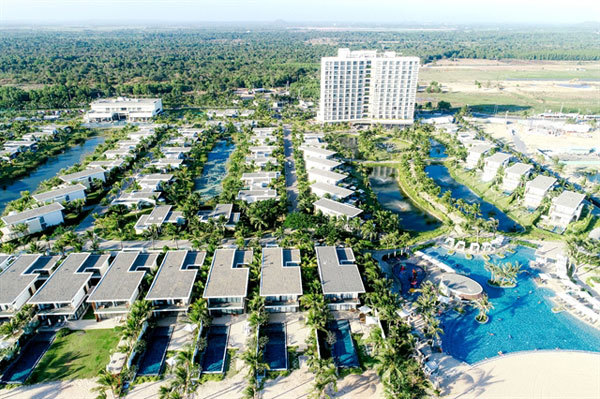 Many listed companies have announced plans to expand and tap additional business in real estate investment. Photo baodautu.vn
Thanh Cong Textile Garment Investment Trading Joint Stock Company (TCM) has revealed a plan to build three towers, namely Thanh Cong Tower 1, 2 and 3 (or TC1, TC2 and TC3).
TC1 will span an area of 9,898 sq.m at No 37 Tan Thanh Street, Tan Phu District in HCM City.
TC2 will be built on the area of the existing factory covering ​​about 6.6 hectares. TC3 is a residential commercial project with an area of ​​13,178 sq.m, located on Nguyen Tat Thanh Street, District 4, HCM City.
The news was released at TCM's annual general meeting of shareholders held in late March. Answering questions from shareholders about the new business, TCM leaders said that the TC1 tower project was under legal procedures and is expected to take about 12 to 15 months. Real estate revenue and profit would be recorded about 2-3 years later.
Notably, a new member of the TCM Board of Directors is Nguyen Van Nghia, who is currently the Chairman of the Board of Members of Thanh Long Trading and Transport Construction Co Ltd, and used to be the Vice Chairman of Prime Group. He has continuously bought TCM shares for a long time.
At the time of the shareholder meeting, he was holding 7.6 million shares, equivalent to 12.37 per cent. On April 13 this year, Nghia increased his ownership to 14.15 per cent, equivalent to 8.77 million TCM shares.
Nghia, who is an expert in real estate and corporate financial restructuring, is believed to support TCM's new business segment. 
REE, HAX
At the recent annual shareholder meeting of Refrigeration Electrical Engineering Joint Stock Company (REE), Nguyen Thi Mai Thanh, Chairwoman of REE, said the Board of Directors regarded this year as a good time to focus on M&A projects in the real estate sector.
Currently, REE is constructing the Etown 6 project, a 45,000-sq.m office project for lease, with total investment of approximately VND1.7 trillion (US$1.3 million).
REE developed an office project for lease named Etown 5 in 2019, with good rental capacity and positively contributed to the company's revenue and profit. Currently REE has 15,000 sq.m of office floor for lease.
Last year, REE rearranged its operations with the establishment of REE Real Estate Company Limited (REE Land) as the focal point of real estate investment and trading, expanding investment into segments of houses, trade centres, industrial parks and infrastructure in many big cities across the country.
According to Mai Thanh, this year, the real estate segment would contribute VND626.7 billion to the company's net profit.
Recently, at the annual shareholder meeting of Hang Xanh Auto Service Joint Stock Company (HAX), the Board of Directors of the company shared a plan to expand investment in real estate.
Previously, Haxaco invested in sea villas at The Hamptons Ho Tram project. At present, this investment makes up about 10 per cent of the company's profit. The villa area is in the Mercedes style, the auto brand that Haxaco distributes.
According to Do Tien Dung, Chairman of Haxaco's Board of Directors, this year, the company plans to invest in buying land as assets, as well as building factories and showrooms.
This activity contributed to promoting sustainable growth for Haxaco. Instead of renting space to open showrooms, the company aimed to buy land for long-term and stable development, he said.
"As for the plan to open a resort project, if there is an investment opportunity, Haxaco will also invest in it as in the case of the Ho Tram project," Dung said. 
Interior tycoon
The case causing a stir in the market recently is that the Department of Construction of Son La Province has issued a document in late March requesting Picenza Vietnam Corporation and the Hano-Vid Real Estate Joint Stock Company to review their advertising, capital mobilisation and sale of land plots and houses in a urban area project as the conditions are not met.
The urban area project that Picenza Vietnam and Hano-Vid are working on is located in Son La Province's Chieng Le Ward and Chieng An Ward, namely Picenza Riverside Son La. It has a large scale of 81,973 sq.m.
Talking to the Đầu tư Chứng khoán (Securities Investment) newspaper on this issue, Picenza Vietnam's representative, Le Thuy Trang, said Picenza had sent a document to the Son La Construction Department to request the correction of information.
Regarding Urban Area No 1 in Chieng An Ward, the company has basically completed legal procedures, investors have been allocated land plots, granted construction permits and certificates of land use rights.
In an official document sent to Son La Construction Department, the company stated that Picenza has not made any housing land transactions, has not received deposits to buy or sell land and housing directly or through social networking sites, as stated in the document of the construction department. Picenza Viet Group Joint Stock Company was founded by Hoang Tu Company, which owns Hung Tuy showroon, founded by Nguyen Van Hung and Cao Van Tuy.
Currently, Hoang Tu has divested from Picenza Vietnam but it is known that Hung and Tuy are still major shareholders. Both are known as tycoons in the field of interior design.
Picenza is currently headquartered at 20 Cat Linh Street, Hanoi. This company operates in the field of commerce, real estate, and is known for a number of projects such as Aqua Central and King Palace.  
VNS

Hoang Cong Khuong has lived in Poland since 2002, and he and his wife run a small business there.

The Vietnam Real Estate Brokerage Association forecasts the housing real estate market in 2021 to have more optimistic developments due to the effective prevention of the COVID-19 pandemic and domestic economic recovery momentum.