Labour-related difficulties lie ahead for Vietnamese textile firms

Vietnamese textile and apparel firms are facing tough times expanding their businesses, especially in terms of human resource development, experts said on Friday.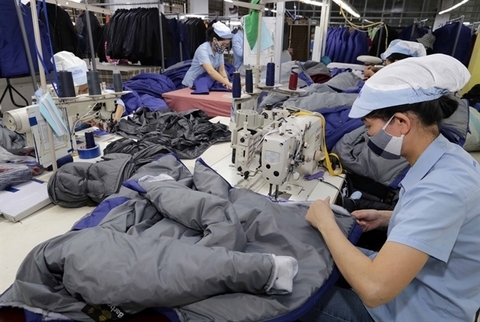 Coats are made at Duc Giang Co Ltd for export to Europe. Vietnamese textile companies must be aware of origin and traceability regulations to increase their market shares in the EU amid the ratification of the EVFTA.
The main problem was because of low productivity by Vietnamese workers despite better pay conditions in recent years, Nguyen Thi Thu Trang, director of the WTO Integration Centre at the Vietnam Chamber of Commerce and Industry (VCCI), said.
Vietnamese labour productivity was quite low compared to other Southeast Asian economies such as Thailand and Singapore, she said.
The population was ageing while additional number of workers was growing at a slow pace, she added.
In recent years, Viet Nam faced stronger competition from Myanmar, Bangladesh and Laos regarding labour cost, according to the Vietnam Textile and Apparel Association (Vinatex) chairman Vu Duc Giang.
There are three million workers and around 7,000 companies in the textile and apparel sector. Training facilities can only meet 1 per cent of the sector's demand for skilled employees.
Most of the workers were trained by businesses and it would cost a company between six and 12 months with salaries and financial assistance to produce one skilled worker.
Local companies may also lose workers up to foreign direct investment (FDI) firms because they are willing to pay higher salaries.
In addition, the lack of a Government-level development plan for the textile and apparel sector allowed local authorities to call for investment, resulting in the density of companies in the same location, Giang added.
Workers were free to move from a company to one another, making the structure of the firms unstable, he said.
The ongoing Fourth Industrial Revolution would make Viet Nam less dependent on the low cost of labour as manual stages would be done fully by machines in the near future, Trang said.
Advantages
Lower cost of labour is a comparative advantage Viet Nam has over China in the textile and garment industry, Vu Duc Giang said.
The average salary of Chinese workers in the industry was US$700-800 per month, double that of the Vietnamese, making China less competitive to Viet Nam when luring investment for apparel production, Giang said during an online conference on the EU-Vietnam Free Trade Agreement and its impact on Viet Nam's textile and garment sector.
All textile factories in China's coastal areas had closed and moved to the western region. They were forced to move business offshore and China began buying Vietnamese textile and apparel products, he added.
Working conditions have remained one of the key requirements set by strict markets such as the Europe and Japan towards Vietnamese exporters.
According to Nguyen Thi Thu Trang, Vietnamese companies even met harder requirements of labour conditions in some markets such as the Europe and Japan.
In the past, European consumers once boycotted Bangladesh's apparel exports because labourers were not treated well enough. But a similar issue does not happen to Viet Nam. — VNS