Japanese banks take on strategic roles
Given their financially sound cornerstone and professional know-how, Japanese megabanks are actively exploring sensible bolt-on opportunities of banks in Southeast Asia, including Vietnam, as a critical part of their international market expansion.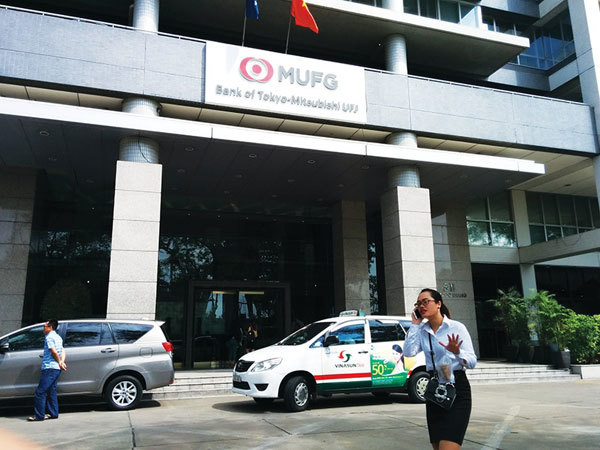 MUFG has been working in collaboration with VietinBank for years. VIR photo: Le Toan
Japan's Sumitomo Mitsui Banking Corporation (SMBC), the banking arm of Sumitomo Mitsui Financial Group (SMFG) was last week reported to have acquired a 5 per cent stake in Philippines-based lender Rizal Commercial Banking Corp (RCBC), equivalent to around $93.9 million.
After securing fresh capital from SMBC, RCBC would set up a digital banking arm and ramp up tech investments, as the Japanese bank and the Fillipo bank are interested in attracting their tech-savvy customers.
Established in 1960, RCBC is the sixth-largest private bank in the Philippines with net assets of around $15.2 billion, and about half of its revenue comes from corporate lending. The company also focuses on lending to small and medium-sized enterprises, which has seen an increase in demand following COVID-19 outbreaks, according to Nikkei Asia.
SMBC's exposure to outbound investment in overseas market, particularly in Southeast Asia, has been one of its top priority for the past few years. The bank aims to leverage the digital banking expertise of its Indonesian subsidiary, Bank BTON, to create business synergies in Asia.
In April, SMFG, through its consumer finance company SMBCCF, acquired 49 per cent in FE Credit, Vietnam's largest consumer finance company under VPBank. The $1.4 billion bet on FE Credit is part of SMFG's strategy to increase its footprint in Asia.
The mega-deal will offer mutual benefits, where the Japanese lender fund could jump on the lucrative consumer finance bandwagon in Vietnam, and FE Credit could enhance its operations to international standards.
Meanwhile, VPBank last month announced setting its maximum foreign ownership limit at 15 per cent, with plans to make a private placement for a foreign strategic investor. Ngo Chi Dung, chairman of VPBank, said in its latest shareholders meeting that the bank is planning to offer a private placement to a strategic partner by the end of this year.
SMFG is publicly mentioned as one of the most likely bidders, given its close-knit relationship with VPBank which is clearly illustrate by the FE Credit deal and SMFG's strong financial backbone.
However, not all of SMFG's deals are magic touch. Besides a rosy outlook with VPBank ecosystem, SMFG has been bogged down with another Vietnamese lender, Eximbank. Eximbank has been tangled up with a range of financial disputes for several years.
Last year, SMFG failed in purchasing PT Bank Permata – a local lender in Indonesia – which was acquired by Bangkok Bank Pcl. Sumitomo Mitsui already owns PT Bank TPN in the Southeast Asian nation, according to Bloomberg. "It was very painful to miss out on Permata. However, we are already thinking about the next move," CEO Jun Ohta said at that time.
Elsewhere, Mizuho is currently the largest strategic shareholder of Vietcombank. In early 2019, it purchased additional new shares to maintain its existing 15 per cent stake in Vietcombank, thus creating a solid capital buffer for Vietcombank as the leading local lender. The bank revealed that roughly 70 per cent of listed Japanese companies are its customers.
MUFG Bank Ltd., a wholly-owned banking unit of Mitsubishi UFJ Financial Group, is also expanding its reach. MUFG now has a 92.47 per cent stake in Indonesia's PT Bank Danamon Indonesia Tbk, a 76.88 per cent interest in Thailand's Bank of Ayudhya PCL, 20 per cent in the Philippines' Security Bank Corporation, and 19.73 per cent ownership in VietinBank.
Cooperation between VietinBank and MUFG continues to support businesses and Japanese enterprises in particular with regard to banking and financial services in Vietnam. In June last year, VietinBank's Board of Directors approved the plan to transfer 49 per cent stake in its 100 per cent wholly-owned subsidiary VietinBank Lease to Mitsubishi UFJ Lease & Finance and transfer 1 per cent stake of the company to a domestic investor. VietinBank Lease has been constantly expanding its market share in Vietnam, supported by VietinBank's strong brand and customer base.
Through investment in VietinBank Lease, MUFG will launch its business in Vietnam and provide financial services to local customers while sharing its extensive expertise and knowledge with VietinBank Lease. MUFG and SMFG, along with Brit-based Standard Chartered, were mentioned as other potential bidders to acquire Citibank's retail business arm after Citibank's announcement in April.
While Japanese banks have seen an increase in lending since last year as companies rushed to borrow due to the pandemic, a prolonged low-rate environment and a shrinking population have weighed on profits. MUFG, Mizuho, and SMBC have sought growth outside Japan, Reuters reported.
In 2020, Aozora Bank – another Japanese lender - acquired a 15 per cent stake in Vietnamese bank OCB in a deal worth $139 million. This was the first merger and acquisition carried out by Aozora in an overseas market since 2001 and made Aozora OCB's largest shareholder.
Source: VIR

Japanese investors have poured billions of dollars to purchase stakes at Vietnamese businesses over the past decade.

The Japanese government will set up a fund worth JPY250 billion ($2.4 billion) to support Japanese companies' "smart-city" projects and to help further decarbonisation measures in Vietnam and other Southeast Asian nations, reported the Nikkei Asia.