Industry & Trade Ministry hands over loss-making projects to CMSC

The Ministry of Industry and Trade on Tuesday handed over 11 out of 12 loss-making projects to the Committee for Management of State Capital at Enterprises (CMSC).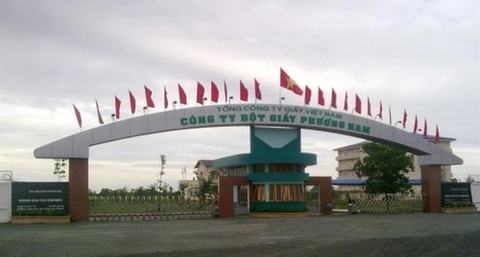 A view of Phuong Nam Pulp Factory - one of 12 loss-making projects. 11 out of 12 ineffective projects were handed over to the Committee for Management of State Capital at Enterprises. — Photo thuongtruong.vn
According to an agreement signed between Minister of Industry and Trade Tran Tuan Anh and CMSC Chairman Nguyen Hoang Anh, the committee will take responsibility to resolve the shortcomings at the 11 projects. The remaining Phuong Nam Pulp Factory project will be handed over at a later date.
Duong Duy Hung, director of the ministry's Planning Department, said of the 12 projects, DAP Fertiliser 2 Hai Phong and Viet Trung Steel Plant reported profits of VND195.5 billion and VND456.8 billion respectively in 2018.
Two other projects resumed operation while another project preparations to restart.
The Dinh Vu Polyester Fiber Plant (PVTex) resumed operation of three production lines last year and a further 10 this January.
In addition, Quang Ngai bio-fuel plant has been outsourcing production to Saigon Sundries Investment And Trading Joint Stock Company (Tocontap), while Binh Phuoc Bio-fuel plant had completed repair work and is ready to restart operations.
Hung said Viet Nam Paper Corporation has worked with consultant firm to review its three projects which have been delayed in construction..
The Ethanol Phu Tho project has seen difficulties as PVOil is not its main shareholder and Other shareholders holding 60 per cent did not agree to contribute capital to implement the project and are considering bankruptcy.
The expansion of Thai Nguyen Iron and Steel Joint Stock Corporation's phase 2 has not resolved its legal disputes with sub-contractors.
He said the MoIT has promulgated decisions and taken solutions to resolve difficulties for the 12 ineffective projects since 2016.
The 12 projects' owners have taken responsibility to resolve their problems and the Government has not added more capital into the projects.
Prime Minister Nguyen Xuan Phuc on May 30 told the steering committee to resolve the shortcomings of the projects.
Accordingly, the CMSC's chairman would be deputy head of the committee to replace the Minister of Industry and Trade. The handover would help the CMSC better implement State representation at State-owned corporations and facilitate co-operation with ministries in helping the projects.
Anh said the ministry would continue to work with CMSC in resolving the projects.
Nguyen Hoang Anh, the CMSC's chairman, said they will stipulate the responsibility of the chairmen and general directors of corporations owning the 12 projects to accelerate the process of handling shortcomings.
"They will have to deal with it but cannot depend on the steering committee. This will be one of the criteria for evaluating whether they complete the annual tasks or not," he added.
The National Assembly, in a resolution issued in November 2016, named 12 loss-making projects under the management of the industry and trade sector: Dinh Vu Polyester Fibre Plant, Phuong Nam Pulp Factory, Thai Nguyen Iron and Steel Joint Stock Corporation, Dung Quat Bio-ethanol Plant, Ninh Binh Fertiliser Plant, Ha Bac Fertiliser Plant, DAP 1 Lao Cai Fertiliser Plant, DAP Fertiliser 2 Hai Phong , Ethanol Binh Phuoc, Ethanol Phu Tho, Dung Quat Shipyard and the joint venture between Quy Sa and Lao Cai Steel.
Of these, five are under PetroVietnam and four belong to the national chemicals corporation Vinachem. — VNS