Indian pharma group has eyes on Da Nang
A group of 30 pharmaceutical production companies from India plans to build the first Pharma Park in Vietnam, and Da Nang City's Hi-tech Park has been suggested as a prime location.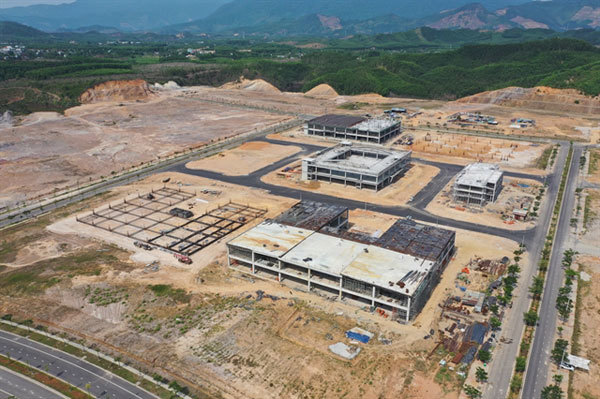 Factories are developing at the Da Nang IT Park. The city has been calling for investment from India to build the first pharmaceutical production centre in Da Nang. — Photo courtesy of Anh Huy 
The Indian business group, which accounts for a 30 per cent share of Indian exports, expects to build a pharmaceutical production centre and fill the shortage of material and medicines supplying Vietnam's pharmaceutical production chains.
Vice-chairman of the city's people's committee, Ho Ky Minh said the city's 1,184ha hi-tech park infrastructure has been flagged as a potential site for the first Pharma Park in Vietnam.
He said the park would be a magnet for Indian pharma firms and producers as it offers flexible land rent, land clearance, and favourable income tax and import tax policies including land rent exemption for the first three years of operation.
Under the Prime Minister's decision signed in 2018, investors in traffic, technical infrastructure and public works, or special investment projects will enjoy a land-rent exemption for the entire duration of their investment period in the park.
Investors will be given incentives as they benefit from a 10 per cent tax rate for 15 years, a four-year tax exemption and a 50 per cent cut in income tax for the following nine years, he said.
He added that projects valued at more than US$133 million will get a 10 per cent tax rate for 30 years, while businesses will have to pay no import tax on materials and equipment that are not available in Vietnam for the first five years of operation.
Minh said the city's education system with 106 universities, colleges and vocational centres supplies 25,000 students each year, while nearly 10,000 doctors, nurses and medical staff are working at 22 hospitals.
The New Golden Hills urban area in the western region of Da Nang offers accommodation and an entertainment centre for Da Nang's Hi-tech and IT Park. — Photo courtesy of Trung Nam Group
The Indian pharma producers group has its own manufacturing centre in Visakhapatnam, and a series of companies including Hospira healthcare, Hetero pharmaceutical company, Shasun pharmaceuticals, Natco Pharma and Eisai Pharmaceuticals.
Da Nang Hi-tech Park, which was designed as a 'green' hub in central Vietnam, offers a number of benefits to manufacturers.
This includes Lien Chieu Seaport, Kim Lien railway station and logistics centre, an airport and national highway all within a radius of 20km.
It also smoothly connects with the Chan May Economic Zone in Thua Thien-Hue, the Chu Lai Economic Open Zone in Quang Nam and Dung Quat Economic Zone in Quang Ngai Province, Minh said.
The park's authorities have granted an investment licence to the local Danapha Pharmaceutical Joint Stock Company for developing the first nano-technology and biotech project with an investment capital of VND1.5 trillion ($67 million).
Up-to-date, Da Nang has attracted 905 foreign direct investment (FDI) projects worth $3.85 billion, with the hi-tech park alone a destination for 24 of those projects with a total of $815 million.
Source: Vietnam News

The People's Committee of Da Nang City has asked for the Prime Minister's approval for the construction of three new industrial parks at a cost of more than VND15,000 billion (over $652 million).

Trung Nam Group has started construction of five factories at the Information Technology and Communication (ICT) Service Zone in the central city of Da Nang to host the moves of global supply chains.