Hot rolled coil segment named bright spot of Vietnam's steel industry

Currently, local production of hot rolled coil, a key input material for cold-rolled steel and other pre-painted galvanized steel sheet, cannot meet domestic demand.
The rapid growth of the hot rolled coil (HRC) segment is the bright side of Vietnam's steel industry in the January – October period, recording growth in production, sales and exports of 25%, 27% and 59% year-on-year, respectively, according to Viet Dragon Securities Company (VDSC).
The only domestic HRC producer, Formosa Ha Tinh (FHS), provided 3.44 million tons to the market, of which roughly 18% was exported.
Currently, the domestic production of HRC, a key input material for cold-rolled steel and other pre-painted galvanized steel sheet, cannot meet domestic demand. In 2018, Vietnam imported around 10 million tons of HRC, accounting for approximately 60% of total steel imports. Facing no domestic competition, FHS's growing momentum is predicted to last until Hoa Phat (HPG)'s Dung Quat iron and steel production complex starts operation, scheduled in 2019.
After several years of development at a significantly faster pace compared to the construction industry growth, the rise in steel consumption is slowing down gradually and impacting the growth rate of the construction industry. Over the first 10 months of 2019, total domestic sales of Vietnam Steel Association's members grew 7.88%, which could be affected by a lower growth rate of construction activities (8.3% in a nine-month period of 2019 versus 9.2% in 2018).
In the fourth quarter, the domestic selling volume is forecast to increase due to the more dynamic building activities in favorable weather.
The whole domestic steel industry produced 20.98 million tons of steel during the first ten months of 2019, up 4.6% year-on-year, and sold 19.17 million tons, or an increase of 6%, of which 3.89 million tons were exported, down 0.6% compared to the same period last year.
Noticeably, the export activities of coated steel and steel pipes are facing difficulties as exports dropped by 21% and 11% respectively over the same period. However, thanks to the high growth of the domestic market for coated steel at 10.2% in the January – October period, the consumption of this product decreased by just 4%.
Meanwhile, the construction steel consumption has grown slightly by 5%, which is considerably lower than the growth rate recorded in the first ten months last year at 13.8%, due to a significant decrease in export's growth rate (6% versus 35%).
Regarding the market share, in the construction steel market, minor changes occurred when HPG solidified its leading position by accumulating 1% more of the segment's selling volume, whereas other main competitors maintained the similar shares during the January - October period compared to the same period last year (picture above).
However, southern and central Vietnam markets witnessed fierce competition for market shares. After running the first steelmaking furnace in Dung Quat Complex in July 2019, HPG has increased selling volume dramatically in the southern and central Vietnam markets, by 91% and 50% respectively. Another steel manufacturer enjoying high growth in the southern market was FHS as it started to supply wire-rods last year. Besides, HPG's new factories in Central Vietnam also help it lessen costs to deliver products to the South compared to its old factories in Northern Vietnam.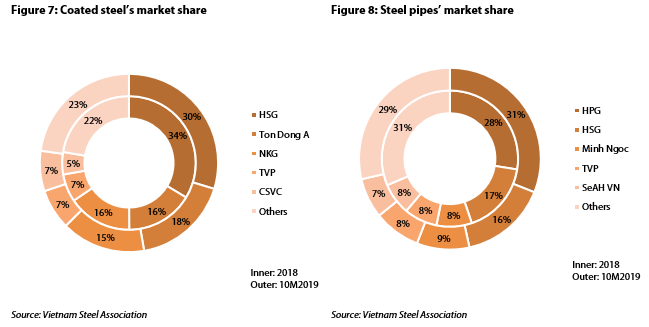 Meanwhile, there were significant shifts in the coated steel segment as Hoa Sen Group (HSG)'s market share dropped from 34% in 2018 to 30% in the first ten months of 2019, while Ton Dong A gained 2% more of total selling volume. The reason is the change in HSG's orientation that will prioritize maintaining the gross profit margin of around 13%, instead of reducing the price to gain market share. In the steel pipe market, HPG has been growing strongly to gain 3% more of market volume and still ranked first with 31% in terms of market share, followed by HSG and Minh Ngoc. Hanoitimes
Ngoc Thuy
The neighboring country remained Vietnam's leading supplier of steel over the last three years, with the quantity and value growing at two-digit growth rates annually.

Vietnamese steel manufacturers must be transparent about the origin of their products when exporting to all markets, experts say.