HoSE, HNX to operate under new Vietnam Stock Exchange

Streamlining stock and securities activities in the country, the new State-owned Vietnam Stock Exchange (VSE) will take charge of regulating and supervising the Hochiminh Stock Exchange (HoSE) and the Hanoi Stock Exchange (HNX).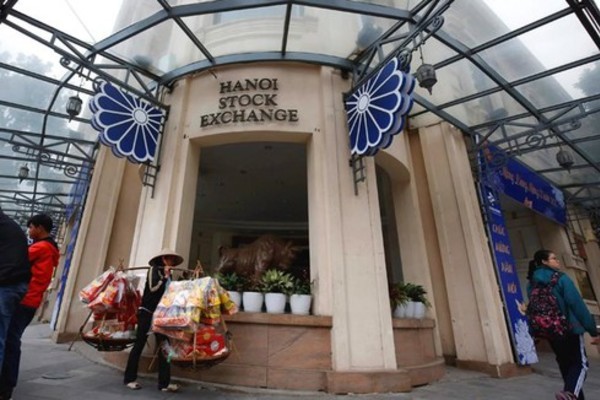 People walk past the Hanoi Stock Exchange in the capital city of Hanoi – Photo: REUTERS
Headquartered in the capital city of Hanoi, the new entity, VSE, will run as a single-member limited liability company whose entire charter capital is held by the State and is managed by the Ministry of Finance, acting as a focal point for all stock- and securities-related activities, according to a draft decision to be issued by the prime minister.
The VSE will adopt independent accounting and perform financial activities, statistical reporting, auditing and financial obligations in accordance with prevailing regulations.
The southern and northern bourses will become its wholly owned subsidiaries.
The VSE will be tasked with introducing regulations on stock listings and transactions, announcements of information and transaction members; supervising the two bourses; and monitoring the stock market.
It will also act as an intermediary when disputes relating to stock transactions occur and will cooperate with foreign partners in the securities market.
By 2023, the VSE's charter capital will amount to VND3 trillion (US$130 million), including VND2 trillion from the HoSE and the remainder from the HNX.
Vietnam set up the HoSE in 2000, followed by the HNX in 2009.
Located in HCMC, the HoSE has grown into the main market for enterprises to raise funds and hold initial public offerings. Foreign investors often closely follow the VN30 and the VN-Index, which include blue chips such as Vietnam Dairy Products (VNM), Vietcombank (VCB), Vingroup (VIC), Vietjet (VJC) and Masan Group (MSN).
The southern exchange accounted for 93% of the two exchanges' total market capitalization of some US$131 billion, as of December last year. This figure does not include corporate bonds and companies listed on the secondary market, known as the unlisted public company market.
Meanwhile, the Hanoi bourse focuses on small- and medium-sized enterprises, bonds and derivatives. SGT

The Government will decide the location of the soon-to-be-established Vietnam Stock Exchange (VNSC) in either Hanoi or HCM City, a National Assembly (NA) deputy chairman said on Monday.  

The Ho Chi Minh Stock Exchange (HoSE) plans to introduce a new index that contains foreign-ownership-capped shares.