High-tech police bust virtual investment fraud ring
Police have raided an online foreign exchange investment company for allegedly appropriating property of hundreds of thousands of participants.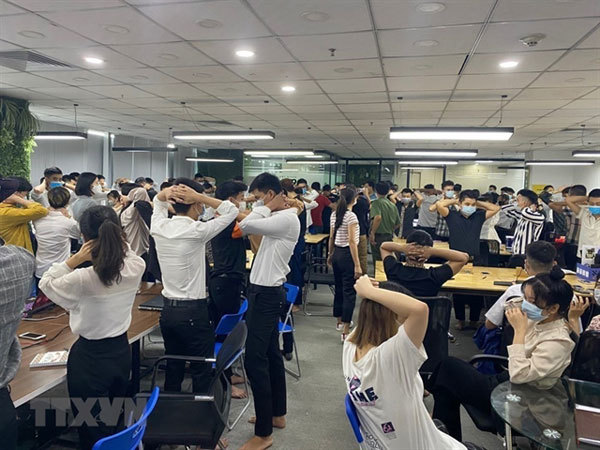 Police raid the headquarters of ANT Group One Member Co. Ltd, headquartered at 7 CTM Complex Building in Cau Giay District.  — VNA/VNS Photo
Initial investigations showed the financial investment platform namely Hitoption.net attracted nearly 970 people who have invested around hundreds of thousands of US dollars.
On Tuesday, the police launched criminal proceedings and arrested Nguyen The Duong and Nguyen Van Quyen, the leaders of the company, for using computers, telecommunications networks and electronic means to appropriate property.
On April 7, the city police discovered the forex and cryptocurrency platform was showing signs of property appropriation.
The city police, in co-operation with the Department of Cyber ​​Security and High-Tech Crime Prevention under the Ministry of Public Security, mobilised more than 40 officers and soldiers divided into seven groups to inspect the operation of the platform in Hanoi.
It was revealed that last June, Nguyen The Duong, from Hanoi's Yen Hoa Ward in Cau Giay District, asked Nguyen Van Quyen, from Hanoi's Da Ton Ward in Gia Lam District, to establish the forex trading platform Hitoption.net.
The platform was advertised as UK-based and committed to a stable interest rate of between 6 and 15 per cent per month. Investors could withdraw capital and interest at any time.
The platform operated as a gambling site and used the auto-play mode to place orders instead of self-trading by customers. The operators could interfere with controls to determine the outcome.
An investor, or player, would join in betting based on the rate of cryptocurrency within a period of 30 seconds to enjoy 95 per cent of the bet or lose the entire amount depending on the results.
The investor could bet by themselves or entrusted site to automatically bet for them, promising a return of between 6 and 15 per cent per month.
Within 100 days, the investor could withdraw his/her capital and interest. He/she could also claim 1.5 per cent commission for introducing new investors to participate in the platform.
But in reality, the results of the betting depended on Duong, who was the organiser and operator of the platform.
Duong established ANT Group One Member Co, Ltd, headquartered at 7 CTM Complex Building in Cau Giay District. He hired nearly 100 employees to advertise and invite people to join Hitoption.net.
The employees received the commission of between one and six per cent for successfully securing new investors.
At least 30 people in Hai Phong City invested a total of VND16.1 billion ($701,580) on Hitoption.net and were refused to withdraw their money after continuously losing money on the account.
Economic experts and management agencies have consistently warned about the risks of virtual financial investment platforms, saying it was a new form of fraud but investors have been tempted by skyrocketing returns.
Financial investment platforms paid interest on time and adequately for the investors in the first place, but in some cases, platforms suddenly collapsed after investors put a large amount of money in.
When websites go offline, investors can't access their accounts or withdraw their money and they have no way to contact the websites' administrators.
The city police also found that the two suspects were the admins of dozens of foreign exchange transition websites.
Preliminary inspections of 16 online platforms managed by the two suspects showed that more than 115,720 accounts joining the platforms with total investment money of more than VND7.5 trillion ($326 million).
The police is conducting further investigations.
Source: Vietnam News

A high-tech fraud ring has been busted by the Police Unit for High-Tech Crime Prevention of Thua Thien-Hue Province.