HCMC's US$12.7 billion property debt at risk of turning sour
Although real estate outstanding loans are still within the safety zone, the HCMC Real Estate Association (HoREA) has warned of a possibility that they might turn sour.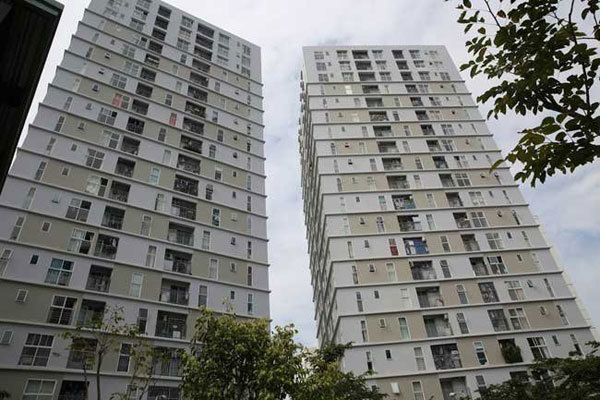 Two apartment buildings in HCMC. Although real estate outstanding loans are still within the safety zone, HoREA has warned of possible risks when the loans turn sour – Photo: Thanh Hoa
Between January and October, HCMC reported total outstanding loans of around VND2,400 trillion, or over US$103 billion, up 5.5% compared with the end of 2019, with medium- to long-term debts making up 52%.
Real estate alone racked up debts totaling around VND293 trillion, or US$12.7 billion, up by nearly 6% against the end of last year, with the bad debt ratio put at 2.7%.
As for the Government's preferential VND30 trillion housing loan program, over 8,554 customers reported over VND2.9 trillion in outstanding loans as a whole, including two firms having taken out loans worth VND120 billion, plus 8,552 individuals and households. 
Though HCMC's outstanding loans and bad debts are still within the safety zone, the risks are huge as some credits, including real estate bonds held by credit institutions and individuals, may be classfied as bad debts, said HoREA Chairman Le Hoang Chau.
"It is necessary to pay attention to consumer credits taken out for housing repair or construction purposes but then turned into funds for property trading. The credits accounted for around 1.7% of total consumer outstanding loans and they need appropriate control and management mechanisms," Chau noted.
In addition, from January to September, 175 enterprises issued VND341 trillion worth of corporate bonds, soaring 79% year-on-year, according to HoREA data. Of the figure, realty companies issued VND173.5 trillion, accounting for over 40%, the highest ratio in the corporate bond market.
It is concerning that individuals made up over 20% of the total number of investors, and credit institutions made huge investments in debt papers issued by property firms. There will be a high risk when the bonds are due, Chau added.
Bond issuance regulations have been tightened as per the Government's Decree 81, which took effect on September 1. The bond market in September saw the issuance volume plummeting by 84% compared with the previous month.
However, the biggest osbtacle is that Vietnam has yet to have reliable credit rating agencies to assess bond issuers, secure transparency of the market and protect investors. SGT
Viet Dung

The value of corporate bonds issued in October was VND9.5 trillion (US$409 million), down 12.8 per cent from September, according to the Hanoi Stock Exchange (HNX).