HCM City taxman wants to tax apartments for lease
The HCMC Tax Department has proposed piloting a plan to tax apartments for lease in five residential blocks in District 11.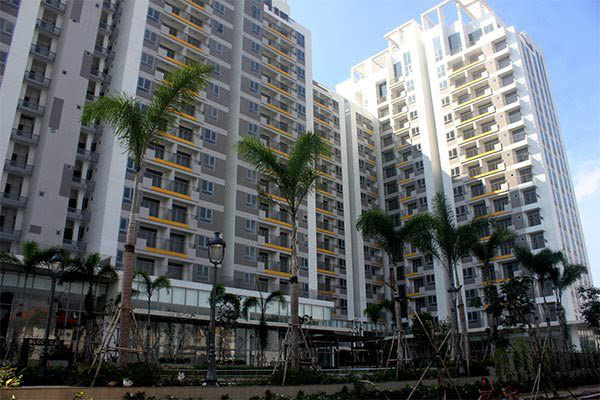 An apartment building in HCMC. The HCMC Tax Department has proposed taxing apartments for lease in five apartment buildings in District 11. 
The department will work with the management boards of the five apartment buildings -- Res 11 at 205 Lac Long Quan Street, Thuan Viet at 319 Ly Thuong Kiet Street, Bao Gia at 184 Le Dai Hanh Street, Khai Hoan at 624 Lac Long Quan Street and another at 70 Lu Gia Street -- to make a list of households leasing their apartments.
It will also cooperate with the local police to ask the owners to make tax declarations.
At first, the department will encourage the owners to provide information about apartment lease contracts to compare the actual rentals with those mentioned in the contracts.
The HCMC Tax Department has also suggested solutions to prevent losses in the land use and registration fees and personal income tax.
In the coming periods, the department will review the personal income tax and registration fee declaration in real estate transfer deals in HCMC and compare them with those in other deals in equivalent areas to force tax payers to declare the correct transfer values in reality.
These solutions are expected to help prevent tax evasion in the transfer of real estate projects in the city.
On April 22, the HCMC Real Estate Association wrote to the prime minister proposing the real estate tax.
According to the association, apartment owners do not have to pay taxes for their apartments. They only have to pay non-agricultural land use fees, which are very low.
Therefore, it is necessary to issue regulations on the real estate tax, based on the values of apartments, houses and land, to create a stable and sustainable revenue for the State budget.
However, the current land use fee should be replaced with the tax on the conversion of land use purposes to prevent the overlapping of tax.
SGT

The HCM City Real Estate Association (HOREA) has proposed amending the Housing Law and 2014 Law on Real Estate Business to recognize short-term leasing of apartments as a legal business.
The HCM City apartment lease market has been hit hard by the COVID-19 outbreak despite landlords reducing rentals, experts said.