Gojek, Grab seek to expand services in Vietnam

Ride-hailing firms Grab and GoViet, a subsidiary of Indonesia's Gojek, have taken turns to announce plans to pump additional funding into expanding their services in Vietnam to win more riders in this fast growing market.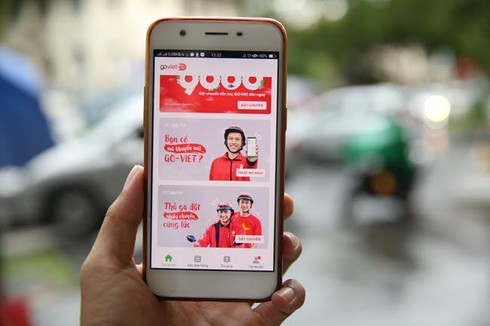 A person uses Go-Viet app. Ride-hailing firms Grab and GoViet are aiming high in Vietnam

Not long after Grab unveiled its plan to invest US$500 million in the local market over the next five years, Gojek said that Vietnam is among the key markets in its overseas business expansion plan.
In particular, Gojek expected to raise its ridership in countries outside Indonesia to match its market share within Indonesia, instead of the current ratio of 2:8.
In Vietnam, GoViet has recorded the strongest growth in Southeast Asia and accounts for 60% of Gojek's rider base in the firm's overseas markets.
As the first international market of Gojek, GoViet in August revealed that it had completed 100 million rides, connecting over 125,000 drivers with millions of riders and 70,000 business-partners.
Also, GoViet has partnered with an additional 25,000 drivers and some 10,000 restaurants and has completed millions of new rides over the past two months, with the ridership rising by hundreds of thousands of people.
Gojek expected to reach its target of raising US$2 billion from major investors such as Google, Tencent, JD and Mitsubishi by the end of the year, to move away from the model of heavy promotions and cash burning that the company has so far applied and switch to a model of obtaining growth through its products.
"We have set ambitious goals for the international market," said Kevin Aluwi, co-founder and co-CEO of Gojek.
Meanwhile, its Singaporean rival, Grab, will use the amount of US$500 million to expand transport, food delivery and payment services in Vietnam. By the end of this year, Grab will have injected over US$200 million into the local market.
Besides this, Grab plans to establish a public-private partnership with the Vietnamese government and local authorities in joining national projects, such as by participating in developing a smart urban city in HCMC.
The global ride-sharing market still holds great potential for growth. Statista, a German online portal for statistics, forecast that the industry will see its revenues reaching US$181 billion during 2019, up over 19% year-on-year, with the annual growth rate between 2019 and 2023 likely to hit 14.8%.
In Vietnam, the local ride-sharing market may record a 31% year-on-year rise in turnover this year, totaling roughly US$470 million, according to Statista. SGT

If successful, Kakao's presence in Vietnam would mark its second overseas expansion after it signed a partnership with Japan Taxi last year to enable call taxi services for Korean users.

Grab Holdings Inc. announced on August 28 that it will invest $500 million in Vietnam in the next five years to expand its services in the country.