Global changes to impact Vietnamese marine transport industry

New regulations and development in the global economy will have a strong impact on Vietnamese shipping, a conference held to discuss Viet Nam's Maritime Future heard in HCM City on Wednesday.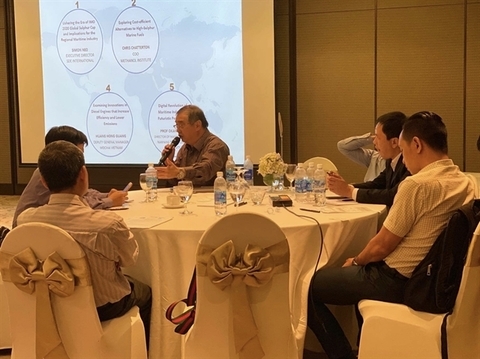 A conference discusses urgent issues facing the marine transport industry in HCM City on Wednesday.
The biggest change facing global shipping is the International Maritime Organisation (IMO)'s new global sulphur cap that comes into effect in January.
From then ships will have to use fuel with a sulphur content of no more than 0.5 per cent compared to 3.5 per cent now.
The change poses a great technical challenge for ship owners.
Besides, it will increase costs, and major shipbuilders in Japan, the EU and the US are looking for ways to use liquefied fuel to reduce costs, the conference heard.
This presents an opportunity for Viet Nam to learn from global players while relying on imports of cleaner fuels in the meantime.
Simon Neo, executive director, SDE International, said the 2020 global sulphur cap would increase the cost of operations by 50 per cent.
"Asia is very much prepared for the IMO 2020 and all major ports have made suitably graded fuels available. In the lead-up to the regulation's implementation, we are seeing vessels in the region being fixed with scrubbers.
"However, major ports, apart from in Japan, do not allow open loop scrubbers to operate within their territorial waters.
"And vessels using the closed loop or hybrid system will also face some problems with the disposal of the waste products produced by the scrubbers because not many ports are ready to accept this waste for treatment and safe disposal."
Participants suggested ships should switch to methanol.
Chris Chatterton, COO of Methanol Institute, said, "Methanol, unlike other alternative fuels, can really move the needle with respect to meeting both the IMO2020 regulation and the carbon intensity reduction targets set by the IMO along several renewable or zero carbon production paths.
"Renewable methanol can act as a long-term transition fuel, while as an efficient carrier of hydrogen it can also power fuel cells, a future fuel which is deemed one of the most feasible in achieving a lower carbon approach to shipping."
Nguyen Vu Hai, deputy general director of the Viet Nam Register, told Viet Nam News: "There have been various knowledge platforms hosted by the Viet Nam Register and the Association of Asian Classification Societies over the years to guide ship owners, managers and other parties in adhering to the IMO 2020 global sulphur cap. While ship owners look to hardware solutions like vessel design and modification, tank cleaning, fuel-switching, it is equally important that the knowledge is cascaded down to the crew so that they better understand the challenges associated with compliance with post-2020 operations."
Solutions for tomorrow: Digitisation
Another issue discussed at the event was digitisation in the shipping industry.
Delegates said though Viet Nam's shipping industry is poised for growth, many players have outdated maritime assets and limited access to capital, which hinders digitisation.
The Viet Nam Maritime Department issued a call in late 2018 for the industry to accelerate the adoption of industry 4.0 technologies.
Asst Prof Okan Duru, director of maritime studies, Nanyang Technological University of Singapore, said: "Digitisation is an evitable investment for survival. If ship owners and operators cannot adapt to this transformation of industry 4.0, they will be wiped out by industry 5.0.
"Among various solutions, workplace automation and Ship 5.0 (embedded ship automation) will change the eco-system dramatically. The tipping point is not as close as perceived, but it is not that far [either]."
Bui Van Trung, secretary general, Viet Nam Shipowners Association said: "Viet Nam's fleet consists mostly of second-hand ships, many of which have technologies 15 years old or older, and this puts us at a disadvantage amid fierce competition from newer ships belonging to foreign owners.
"While modernisation is a must to survive, it is also a grave problem for the shipping companies, chiefly because of low profitability in the business and lack of funds, especially from commercial sources.
"The current shortage of skilled maritime manpower is also another problem for ship owners."
Organised just ahead of the Asia Pacific Maritime 2020 exhibition and conference, the event, organised by Asia Pacific Maritime (APM), gathered maritime experts from Viet Nam and neighbouring countries.
The Vietnamese marine transport sector is growing steadily, with goods transported by the country's fleet exceeding 81 million tonnes in the first half of 2019, a year-on-year increase of 16 per cent.
The Viet Nam Maritime Administration said in the period the country's ports handled 308.8 million tonnes of goods, up 13 per cent.
As Viet Nam strives to become a maritime powerhouse by 2030, industry players are following global developments closely.
Yeow Hui Leng, group project director, APM, said: "Viet Nam has developed significantly over the past three decades and its economic outlook remains bright despite economic headwinds and global uncertainties.
"Rapid economic expansion has driven shipping demand. However, the country will need to stay on top of tightening regulations and modernise."
The Asia Pacific Maritime 2020 exhibition and conference will be held in Singapore in March next year. — VNS

Boasting great potential of marine economy in terms of natural resources, transport, fisheries, tourism and coastal economic zones, Vietnam has set the target to become a powerful marine nation.

The Government has assigned the Ministry of Natural Resources and Environment and the Vietnam Administration of Sea and Islands to design a national action plan on reducing marine debris towards 2030.