Foreigners offload VNM shares

Domestic stocks managed to recover after three consecutive falling session today, November 12, but still failed to stage a strong rally as foreigners heavily offloaded shares of dairy giant VNM.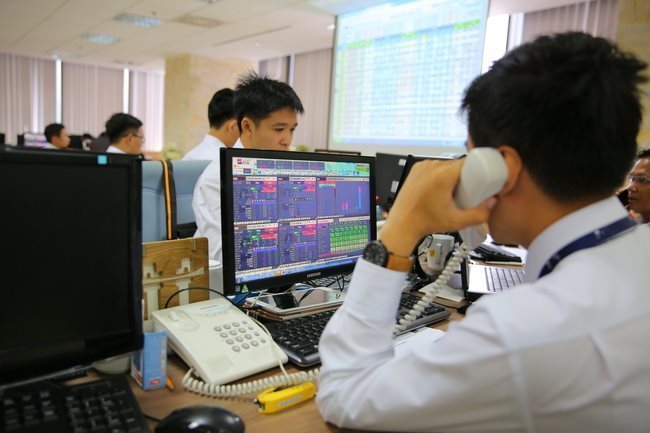 A securities staff follows stock movements on the computer screen. The local market recovered slightly on November 12
Closing the day, foreigners net sold over 1.35 million shares of VNM with the total value of nearly VND174 billion, sending its price down 1.4% at VND127,500. Overall, they net sold over 1.8 million shares of various stocks worth VND150.7 billion on the Hochiminh Stock Exchange, after net buying VND9.8 billion worth of shares on the previous day.
With 185 gainers and 150 losers, the VN-Index inched up 1.58 points, 0.16%, against a day earlier at 1,018.33. Market trade improved 6% in volume to 223 million shares but value slid a slight 1.5% to over VND4.5 trillion.
Other blue chips gave support to the main index, including lender BID, which added 1.9% at VND42,100 and gas group GAS, gaining 0.7% at VND104,300.
Construction firm ROS again took the lead for liquidity with nearly 27.5 million shares exchanged, but it dropped 0.9% at VND25,150. Steel firm HSG came next with 10.4 million shares, soaring to the ceiling price of VND7,880.
Phan Dung Khanh, Maybank Kim Eng Securities Company's director of investment and consultancy department, said further growth of the market would depend on the cash inflow. However, trading scale was declining, so it would be hard for the VN-Index to continue growing and surpass 1,030 points soon.
On the positive side, the Vietnamese market may benefit from the movement of global stocks upon positive news about the United States-China trade war and the prospects of the domestic economy and companies.
The trade relations between the two largest economies have been progressing in recent weeks as the two sides have been willing to cool down the war that has dragged on the global economy, Khanh said on tinnhanhchungkhoan.vn.
On the Hanoi Stock Exchange, foreigners net bought VND5.4 billion, having reported a net selling value of VND3.6 billion on Monday. The investors net bought VND2.2 billion of petroleum technical service firm PVS and VND2.1 billion of bank stock SHB.
The HNX-Index rose 0.2 point, or 0.19%, at 106.96. The northern market saw 24.8 million shares worth VND281 billion changing hands at the end of the day, expanding slightly compared with the previous session. SGT



The VN-Index is expected to enter an uptrend towards a new resistance zone after successfully penetrating the psychological resistance mark of 1,000 points, analysts said.

As many as 706 enterprises, 85 per cent of 832 listed companies on the Vietnamese stock market, generated profits during the third quarter of this year.