Food processors thinking outside the box for sales

Vietnamese enterprises are aiming to widen deep processing to diversify products to better serve their export markets.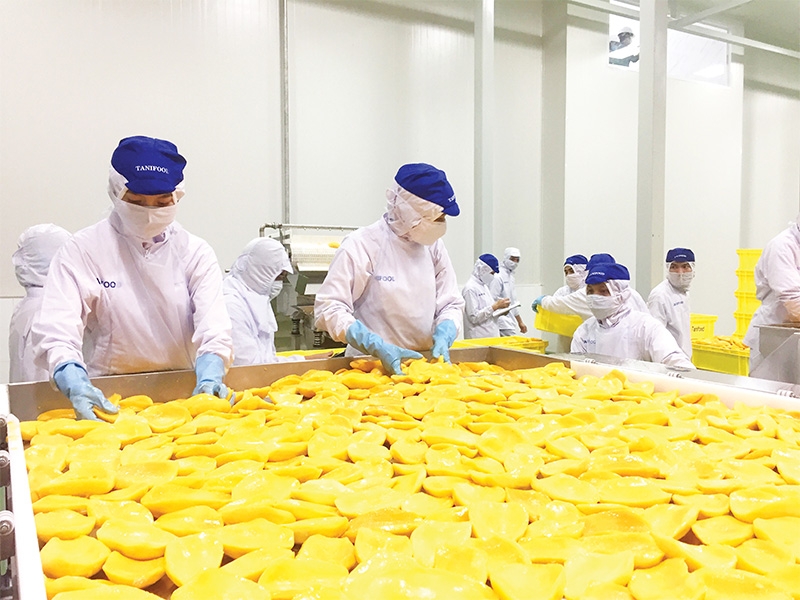 Lavifood has created new products to take food lifespan into account
With a processing factory in the Mekong Delta province of Long An stuck with a large amount of dragon fruit due to the current worldwide health crisis, global fruit and vegetable producer Lavifood has come up with brand new products made from this kind of fruit. As a result, the company bought a huge amount of dragon fruit to both support farmers and start their new project.
"We have made 100 per cent dragon juice with a lifespan of nine months, soft dried dragon fruit for six months, and also frozen packaged products," Dinh Hung Dung, deputy general director of Lavifood said.
According to Dung, with these new products, the company can use all of the fruit before their expiry dates. "Part of these products will be shipped to China via sea, which is convenient for both China and Vietnam. From now on, we will only export by sea, not by road," Dung added.
Along with Lavifood's move, many other enterprises have also found different ways to diversify their products while supporting farmers.
Self-proclaimed 'king of bread' Kao Sieu Luc, owner of ABC Bakery, also thought of using dragon fruit in his products. He replaced 60 per cent of water with pureed dragon fruit, which means that he uses 1.4kg of the fruit for every 5 kg of wheat.
"At the early stage we bought a tonne of dragon fruit, then pureed and froze them for future use. If the product is popular, we will need 200kg of dragon fruit per day," Luc said.
After big success with the dragon bread and long lines of people waiting to purchase some, Luc has also introduced varieties with durian filling in the middle.
"We aim to export this kind of bread after serving the domestic market. In addition, we will introduce dragon moon cake this autumn. We have also thought of using typical Vietnamese products like taro, watermelon, and avocado to bake cakes," he added.
Also wishing to support farmers, Huynh Kim Chi's Vikybomi Corporation, a producer of prepared mix in Ho Chi Minh City, has finished products made from wheat, dragon fruit, and watermelon such as bread and fresh noodles.
"We are a material provider, so we will not sell the products directly to consumers but transfer the formulas of these products to manufacturers for free, helping consume more agricultural products," Chi said.
According to Chi, her corporation may create more new items from agricultural products for export.
Meanwhile, Le Duy Toan, director of Duy Anh Food Ltd., Co., said that his company had also successfully made watermelon vermicelli and dragon fruit rice crepes, which were immediately welcomed by Japanese and South Korean customers.
"In these two markets, people often use the rice crepes to roll barbecue or wrap sushi. We have just exported the first watermelon vermicelli patch to South Korea, while one customer from Japan has ordered 3.5 tonnes. We are in the process of signing an order of around three tonnes of watermelon noodles and dragon fruit rice paper for the Australian market," Toan said.
According to Toan, the company will continue creating similar products, while continuing to promote these new ones.
"Noodles and rice paper made from dragon fruit and watermelon will be our major products. We are consuming 1-1.2 tonnes of watermelon and 300kg of dragon fruit a day. We hope to increase the amount to four tonnes of watermelon and one tonne of dragon fruit," he added.
With experience in using sweet potatoes, beetroots, and spinach to produce vermicelli, pho, and rice paper, Toan said, "Creativity in processing agricultural products to increase their value is essential because Vietnam has strong advantages in agriculture while consumers are very fond of new products."
Lauding the initiatives of enterprises, Minister of Agricultural and Rural Development Nguyen Xuan Cuong said that these were practical means to help the agricultural sector to sustainably develop in the future.
"Focusing on deep processing is necessary to help the agricultural sector reach the target of $43 billion in 2020. Processing enterprises must closely connect with material areas to reduce the volume of exported fresh products," Minister Cuong said. VIR
Phuong Hao

Vietnam will continue to solicit investment in food processing to add value to the industry, a conference heard in HCM City on November 14.

The ministry said Vietnam welcome the FSIS's involvement to ensure Vietnamese tra fish hold up to the strictest of safety and quality standards.