First horse racing course licensed in Vietnam

Chairman of the Hanoi municipal People's Committee Nguyen Duc Chung, empowered by the Prime Minister, presented an investment license to a multifunctional entertainment complex with a horse racing course in Soc Son district yesterday.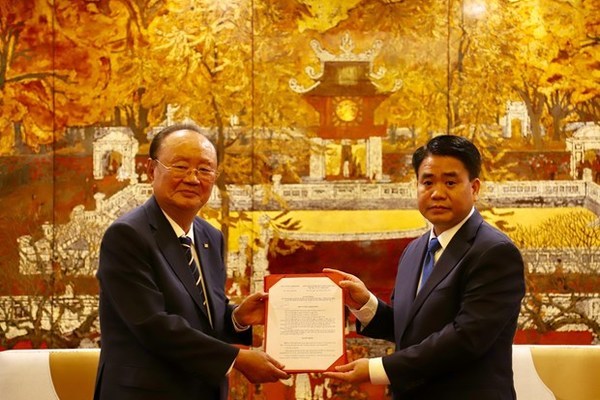 Chairman of the Hanoi People's Committee Nguyen Duc Chung (R) presents the investment license to the investor
Invested bythe Republic of Korea's Global Consultant Network Co.Ltd and the HanoitouristCorporation, the work has a total cost of 420 million USD. Of the figure, 120million USD are contributed by both of them and the remaining are loans.
Speaking atthe event, Chung said it is the first-ever horse racing course licensed by thePrime Minister in Vietnam. He wished that the project would be launched soon togenerate more jobs, raise local income, and especially strengthen Vietnam – RoKstrategic partnership.
He committed all possiblesupport to the project and assigned Soc Son authorities to step up siteclearance and assist investors in administrative procedures.
The work covers over 125ha inTan Minh and Phu Linh communes and will operate for up to 50 years startingfrom the license day./.VNA

After six months under construction, the Formula 1 race track in Hanoi has progressed as scheduled towards its completion.

Hanoi's Department of Transport has released plans to regulate traffic in Nam Tu Liem District's Le Duc Tho and Le Quang Dao streets to facilitate the construction of a Formula One (F1) racetrack.