Failing to take over division of South Korean firm, billionaire works with US partner
Vietnam's dollar billionaire Pham Nhat Vuong did not succeed with his plan to take over LG's smartphone production division in Vietnam and Brazil, but has taken new moves in the US market.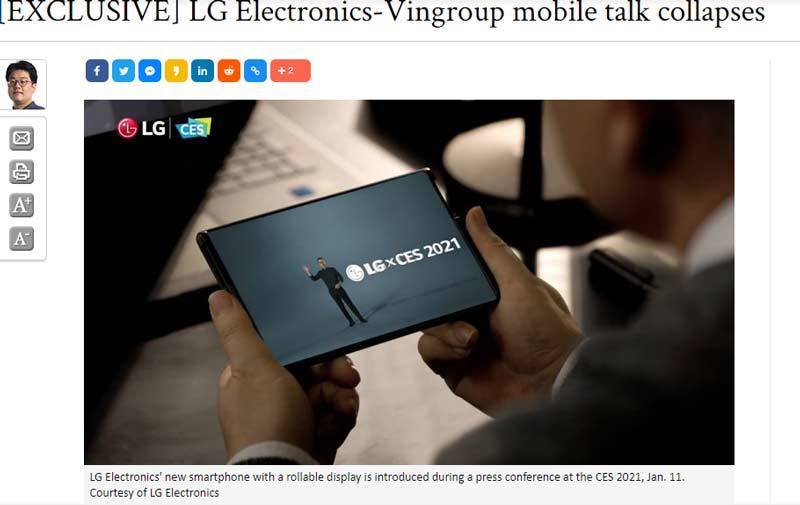 Vingroup failed to take over LG's smartphone production division
Vingroup share prices have stayed firmly in the highest level in one year, which allowed the assets of the billionaire to reach $7.3 billion and help him remain the top billionaire in Vietnam.
The Korea Times reported that the negotiation between LG Electronics and Vingroup on the transfer of mobile phone manufacturing factories in Vietnam and Brazil has collapsed because of disagreement about price.
The information about the negotiations caught special attention from the public. South Korean media commented that Vingroup was a suitable client for LG because the Vietnamese group now wants to expand its business to hi-tech manufacturing. It has capability and ambitions to develop in the field.
LG wanted to sell its mobile phone production division to Vingroup because the South Korean group has faced financial difficulties in recent years, and it plans to gather strength in other divisions, including making electric vehicle parts.
Meanwhile, Vuong's plan to scale up his production and business in the field has been going smoothly, with the number of Vsmart phones sold in the domestic market increasing steadily though it only joined the smartphone market in 2018.
Vingroup has become the third largest mobile phone manufacturer in Vietnam, just after Samsung Electronics and Oppo.
The information about the prices of Vingroup's first smartphone products recently appeared at AT&T, the US' leading network operator. Analysts say that this is proof of Vuong's plan to enter the US smartphone market.
Three smartphone models, Fusion Z (V340U), Motivate (V341U) and Maestro Plus (V350U) manufactured by VinSmart, have officially hit AT&T's shelves.
Many analysts said that the purchase of LG's smartphone manufacturing division in Vietnam and Brazil would help Vingroup's Vsmart easily enter the North American market. The move would also help Vingroup make strides in smartphone manufacturing thanks to LG's fame, technology and network.
However, the latest happening showed that Vingroup can follow other ways to penetrate the choosy North American market before targeting other markets.

They also said that Vuong's ambitions in the fields of technology and industrial manufacturing are very high, with Vsmart phones and VinFast cars and electric cars. However, difficulties are still ahead.
Vingroup in recent years has withdrawn from some business fields. It has sold the retail division to billionaire Nguyen Dang Quang and transferred the youth football training center to Van Lang Education, though it has gained great achievements in the fields. 
V. Ha

Vuong has made a number of moves recently to restructure his huge business system to shift his development strategy to technology, industry and services.

Vietnam's industry has seen the fastest upward movement in ranking in global competitiveness among Southeast Asian countries, coming closer to the top 4 ASEAN countries.