F&B groups hunker down during curbs
Expansion of home delivery and promotion programmes are opening up chances for food and beverage enterprises this year, but transportation disruption for the non-essential sector will continue to narrow the door.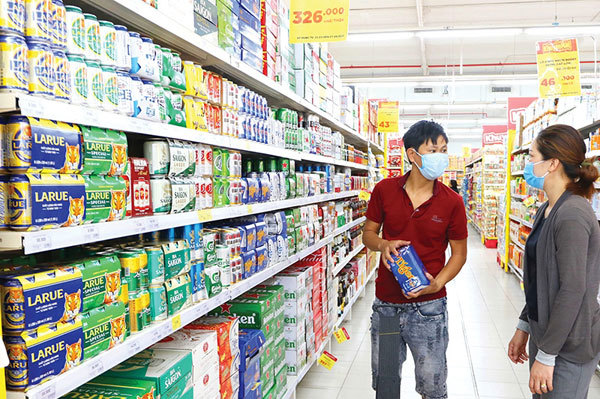 Big changes have occurred in Vietnam in regards to drink-driving laws and commerce trends. VIR Photo: Le Toan
As more consumers comply with stay-at-home and social distancing orders, food and beverage (F&B) enterprises have launched home delivery and promotion programmes to attract customers and keep their business above water.
SABECO has launched a home delivery service as well as a promotion in which consumers can win a super-premium motorcycle, while other brands such as HABECO and Heineken are arranging free-of-charge delivery services.
With the pandemic changing customer habits, and with bars and restaurants closed, recent sales trends depict a massive shift in where consumers buy and ultimately where they consume their adult beverages of choice, according to NielsenIQ.
Le Anh Tuan, commercial director of Hanoi-Thanh Hoa Beer JSC, said that since last year his company has been affected by the double impact of COVID-19 and Decree No.100/2019/ND-CP from December 2019 on administrative sanctions for road traffic and rail transport violations, causing a decrease in both revenues and workers.
"Due to the application of anti-pandemic solutions, the company had to suspend production in many stages. The stagnation and decline in sales have greatly affected the jobs of employees working directly at the company," Tuan said at an online seminar on the current business climate in Vietnam. "Although it has begun to switch to online sales, this form is only suitable for urban areas, while the main market is in rural and mountainous areas."
Dang Thanh Van, CEO of Thanh Branding and Management Company, added that the proportion of e-commerce in the beer and beverage industry is also very small compared to other industries. Therefore, businesses need to seriously apply and better exploit e-commerce to serve production and business.
Meanwhile, some home delivery campaigns are not easy to set up in the context that many cities and provinces are tightening restrictions in order to brush off the coronavirus. Small breweries without major supermarket shelf placements will be hit the hardest.
Last week, industry associations noted to the Ministry of Industry and Trade (MoIT) that the measures to restrict movement and restrict circulation of localities in the past have disrupted the supply chain, affecting the supply chain business activities of many enterprises.
For instance, during social distancing many items such as beer, soft drinks, and canned drinks are not classified as essential goods, so they are not circulated to sales agents, while beverages usually have a shelf life.
"The strict control between provinces and the heterogeneous regulations of the customs authorities make it even more difficult for businesses, especially for food - items that require strict storage conditions," said a representative of one F&B business.
On the same note, Taku Tanaka, CEO and founder of Kamereo, a platform with its own warehouse and last-mile delivery network, said that lockdowns heavily affect F&B businesses as they are not allowed to operate even a standard delivery service. "Some F&B businesses pivoted their business creatively, like selling vegetables instead. However, with such strong restrictions, most of the business activity has been either stopped or slowed down a lot," Tanaka said.
"If the government allows food delivery in the future, F&B business would be in a much better situation as many people order food online now. From our company's perspective, we have been supplying retail shops like mini marts, convenience stores, and supermarkets. Sales of this segment have increased a lot which offset lower sales of the F&B segment for our company under the current situation," he added.
According to research results of independent agencies, customers' consumption habits are changing rapidly during this period, and it is forecasted that they will still maintain those habits to a certain extent even after the pandemic. In particular, one of the typical trends is the strong development of e-commerce channels on many platforms.
Katsuhiko Usui, general director of beer maker Sapporo Vietnam Ltd. said, "We are already preparing for activities after the pandemic is controlled. For some points of sale still operating on the online delivery platform, we have some programmes to reach and promote sales through this channel."
For the modern trade channel, except for a few points of sale that face difficulties due to the limited number of customers, the rest in general are still seeing good growth, Usui explained. "Sapporo also is making efforts to promote promotion programmes for the online channel of supermarkets. The company has started a plan to penetrate other e-commerce channels such as Shopee, Tiki, and Lazada in the near future."
Source: VIR

Food and beverage outlets in HCM City have switched to takeaway and delivery services during the two-week social distancing that began on Monday last week.  

The sudden, unexpected and virulent spread of the Covid-19 pandemic brought about a change in perception and planning in consumer sales behavior, and many well established businesses made a strong shift towards online delivery servicing.