Exhibition industry struggles to survive pandemic
The exhibition industry is expected to start recovering by the middle of next year and rebound in 2022 if the COVID-19 pandemic is brought under control in the next few months, industry insiders said.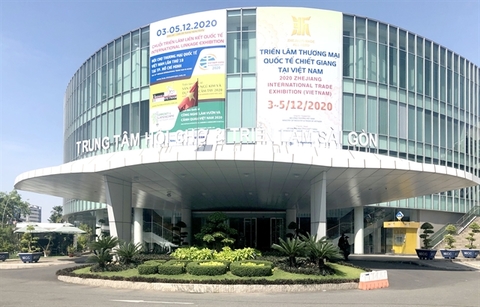 Saigon Exhibition and Convention Centre in HCM City's District 7. 

The pandemic has brought the industry to a standstill since February, said Le Tri Dung, Deputy Chairman of the Viet Nam Exhibition and Conference Association.
International trade shows bore the brunt, with businesses suffering a 80-90 per cent loss in revenues as trade shows were cancelled or postponed, he said.
"Trade fairs and business events were the first to be affected, and will take longer to recover.
"The 80-90 per cent loss in turnover has put most exhibition organising companies in severe difficulty."
He predicted the recovery to start next June and growth to be strong for five years starting in early 2022.
The increasingly open business environment and continuing international integration are promising factors, he said.
Vu Trong Tai, general manager of Reed Tradex Vietnam, said his company, ASEAN's exhibition organiser, saw a 71 per cent fall in revenues this year due to cancellations and postponements.
In Viet Nam, four annual trade shows, METALEX Vietnam, NEPCON Vietnam, VietCorrugated & VietFoldingCarton, Vietnam Mnufacturing Expo, were cancelled.
Foreigners usually account for 60-80 per cent of exhibitors to these shows, he said.
"The fall in turnover puts most exhibiting companies in severe difficulty and has a huge domino effect on related domains such as transport, travel and hospitality.
"The exhibition sector plays a vital role in the development of trade and economy and supports many industrial sectors."
Vietnam Manufacturing Expo would be held in August, NEPCON Vietnam in September, METALEX in October, and VietCorrugated & VietFoldingCarton in November next year, he said.
"The country's exhibition market is projected to rebound to 80 per cent of its 2019 size by 2021 and see robust growth from 2022."
Virtual exhibitions have been held to keep in touch with customers and retain markets.
Thuong My An, managing director of the Saigon Exhibition and Convention Joint Venture Company, said 48 exhibitions were registered to be held this year in District 7, but only eight have taken place as planned and two more are slated to take place this month.
Businesses in the exhibition industries need to find ways to collaborate to overcome the crisis, she said.
SECC would offer incentives to support exhibition organisers in this tough period, she added.
Nguyen Khac Luan, general director of the Vietnam National Trade Fair and Advertising JSC, said the company has been striving to maintain operations during this uncertain period, with at least seven exhibitions being held this year.
In August the company had to cancel two trade shows due to the social distancing requirement by the Government, he added. — VNS