EVFTA expected to be ratified in 2020

The European Union and Vietnam are completing procedures related to the EVFTA and expect to ratify the deal next year, opening up new opportunities for both sides, according to Giorgio Aliberti, new ambassador of the EU to Vietnam.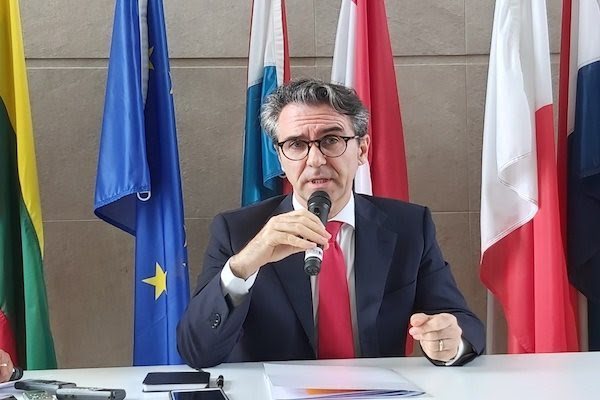 Giorgio Aliberti, new ambassador of the European Union to Vietnam
At a press briefing in Hanoi on November 12 after Aliberti officially assumed a four-year term of office in Vietnam, the newly accredited ambassador noted that the European Parliament's Committee on International Trade had completed a working trip to Vietnam on the EVFTA. The results of the working trip will be discussed at a meeting of the committee in January next year and at another meeting of the European Parliament the following month.
The Vietnamese National Assembly has also tabled the issue for discussion at its ongoing sitting and may ratify the deal at its meeting in May next year.
Aliberti admitted that the European Union is still concerned about the agreement, so it has sent a working team to Vietnam before making the final decision.
Regarding obstacles to the EVFTA ratification process, the ambassador stated that European enterprises have paid great attention to labor, cybersecurity and human rights issues in Vietnam though such issues are not directly related to trade activities between Vietnam and the bloc.
Therefore, Vietnam must complete the approval of basic conventions of the International Labor Organization. The country has yet to approve Convention 105 on the abolition of forced labor and Convention 87 on the freedom to organize associations. The two conventions are expected to be approved in 2020 and 2023, respectively.
The National Assembly is discussing the draft amended labor law and the two conventions have been included in the discussion. The European Union expects the draft law to be approved later this month, Aliberti remarked.
He added that he will focus on environmental protection and the development of the digital economy during his term of office in Vietnam. The country has made considerable strides in its economic development, but it must make this development sustainable.
The European Union has supported Vietnam in developing renewable energy and using energy efficiently. In the coming months, the bloc will assist the country with working out strategies to develop the digital economy to grasp opportunities ushered in by the fourth industrial revolution. SGT
Thuy Dung

The need for laborers is expected to become more serious when the EU-Vietnam FTA (EVFTA) takes effect.

With the newEU-Vietnam FTA (EVFTA), the insurance sector is expected to continue to see strong growth, while the telecom sector will be more difficult to join.