Enforcing copyrights on social media in Vietnam

Spending on online advertising in Vietnam in 2018 reached $550 million, including Facebook's $235 million, Google's $152 million, and the remaining $150 million divided among local advertising firms.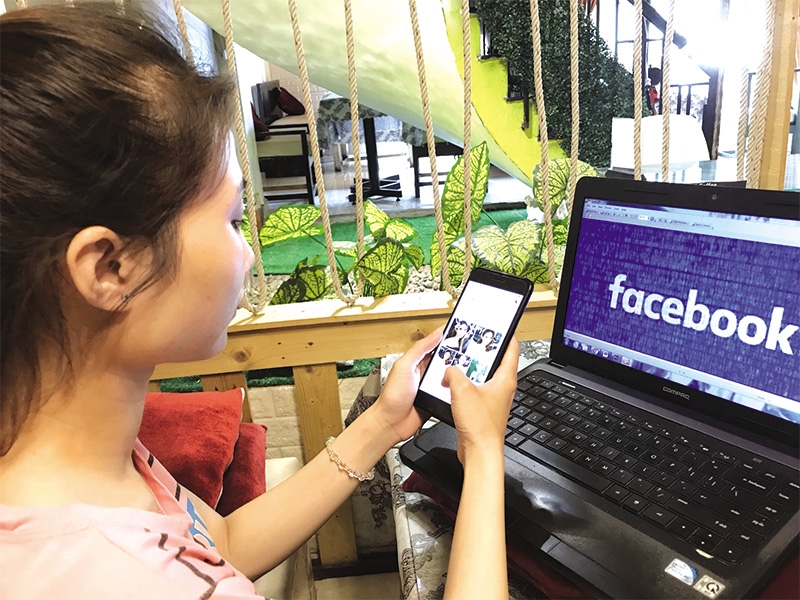 Vietnamese authorities are working on a draft decree that would boost attempts to extend supervision over social networks
The EU's new copyright law, which will require tech giants like Facebook and Google to pay copyright fees for creators when their works are shared on their platforms, setting a powerful precedent for countries trying to extend supervision over the operations of them, including Vietnam.
The EU legislation is good news for newspapers in the EU and has inspired newspapers in other countries, like Vietnam, which have been facing unfair competition from the two tech platforms that are using local articles to earn huge advertising revenues – and then refuse to share with the newspapers themselves.
According to the latest data published by Vietnamese market research company ANTS, spending on online advertising in Vietnam in 2018 reached $550 million, including Facebook's $235 million, Google's $152 million, and the remaining $150 million divided among local advertising firms. Thus, Facebook and Google accounted for more than 70 per cent of the local online advertising market.
Similarly, when the new law was drafted last year, the EU-based newspapers claimed that Facebook and Google have no newspapers of their own, or reporters who readily risk their life in Syria, and editors who take responsibility to tailor the information collected by reporters – yet the lion's share of their advertising income comes from the efforts of newspapers.
Nguyen Thanh Ha, chairman of SBLAW told VIR that social awareness on intellectual property for intangible products is still limited, and this is a gap that tech platforms like Facebook and Google take advantage of to earn huge income in many countries, including Vietnam.
Facebook and Google have so far refrained from commenting, despite the heavy crossfire from global authorities not only over intellectual property but also tax obligations and cross-border transactions.
In fact, this is not the first attempt to charge Facebook and Google for growing rich from others' intellectual property. Specifically, moves in Germany and Spain were met with utter indifference from Google which decided to stop quoting complaining newspapers Die Welt and Bild, and completely halted its news business in Spain after this nation passed a law to bring Google under control.
It remains a question of how Vietnam will find a hold on the two corporations. The fact that Facebook and Google do not have representative offices in the country is the biggest obstacle, despite the fact that the Law on Cybersecurity has been in effect for half a year. Economist Vu Sy Cuong said that the establishment of representative offices will be guided by a decree outlining the specifics of the Law on Cybersecurity, which is still being drafted.
Recognising the issue, the Government Office in April released Document No.2965/VPCP-PL urging related ministries to complete the draft decree guiding the implementation of the law and submit it to the government by the end of the second quarter of this year.
"We received 216 comments on the draft decree. The comments and explanations need to be carefully studied to adjust the draft decree to the intent of related ministries," said Deputy Minister of Public Security Le Quy Vuong.
According to drafters, Facebook's recent data leaks have exposed a big danger in which a single foreign company can control personal data of citizens in many other nations.
The supervision over the tech platforms is expected to receive a boost by the new decree, which is expected to be enacted in 2019. Then the main concern will be whether Vietnam could follow the EU's lead to issue a similar regulation to collect copyright fees from the giants.
Regarding the issue, the representative of a local newspaper who wished to be unnamed told VIR that drafting a similar law in Vietnam would be possible. "It depends on local newspapers. If a large number of local newspapers file lawsuits against the tech giants, Vietnam will consider issuing legislation similar to the EU's," said the newspaper's representative.
Ho Quang Loi - Vice chairman, Vietnam Journalists' Association
Industry 4.0 has impacted directly to the world of mass media, with a plethora of new platforms now available for readers' picking.
The press and society alike have been rocked by the impacts of social networks, especially by fake news on those platforms, putting readers into a house of mirrors of information.
Social networks are a platform which allows the spreading of fake and harmful news at a very high speed. The current filtering policies of these platforms are not enough for us to supervise content on social networks. Vietnam should formulate stricter legal provisions to strengthen the supervision of social media activities.
Le Quoc Vinh - Chairman and CEO Le Invest (Holdings)
Facebook and Google are seen as effective tools to distribute local articles, much like the news aggregator baomoi.com, which collects articles from newspapers. To many small- and medium-sized newspapers, social networks are a good platform for promoting their image, which means newspapers and social networks should be in a symbiotic relationship.
The problem is whether the newspapers are strong enough to find readership without resorting to the use of social networks.
Once the newspapers have valuable and interesting stories and big enough scale, they are less dependent on social networks, allowing them to earn advertising revenue themselves, as well as income from readers.
Truong Tri Vinh - Managing director The Manager Magazine
The EU's new copyright law will definitely impact the ­income of Facebook and Google from articles in the EU. The new policy means that the market has reached maturity.
For instance, Grab and Uber were not put under any kind of supervision when they began operations in Vietnam. However, when the ride-hailing platforms have grown large enough in the country, local authorities will try to supervise them.
Another issue is that legislation is usually made to respond to conflicts between stakeholder groups. The new law of EU is really a precedent for the other countries to follow up. And, applying similar regulations in Vietnam will take time. VIR
Anh Huong

Creating a healthy and safe information environment, in which social media is an important source of news, will help maintain Vietnam's political and social stability, a top official has said.  

In fact, both Facebook and Google have been using content of entertainment and news articles, so thanks to this, gaining hundreds of millions of US dollars in annual advertising revenue in Vietnam.

Many Vietnamese showbiz personalities became angry at a large number of people using the funeral of popular comedian Anh Vu to stream and make videos for social media.