Economic momentum in 2021 takes a knock
Prolonged social distancing in many localities have led to lower-than-expected economic growth for the first nine months, but with the accelerated vaccine rollout, the economy is expected to gain growth momentum soon.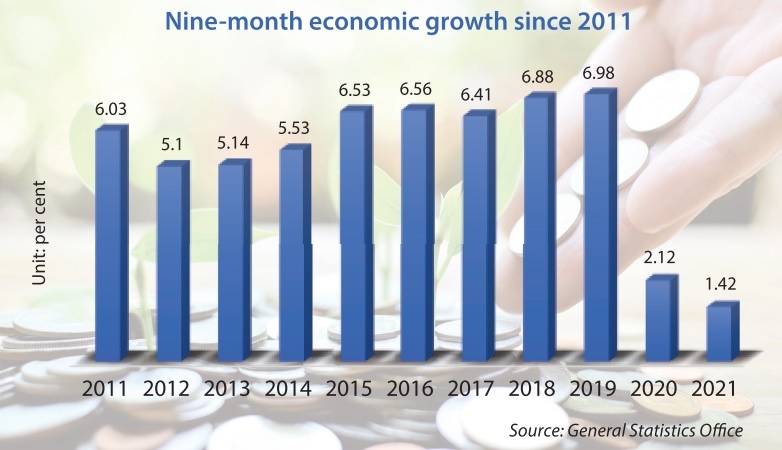 Economic momentum in 2021 takes a knock.
The Ministry of Health last week sent a document to leaders of all provinces and cities nationwide, urging them to accelerate the speed of COVID-19 vaccinations. This is aimed at protecting people's health and reviving domestic production, which will in turn help spur economic growth for the fourth quarter.
As of late last week, more than 40 million vaccine doses were administered, with over 23 million people vaccinated with one dose and over nine million inoculated with two. The rate of population at 18 years old and upward with at least one dose hit more than 45 per cent.
Prime Minister Pham Minh Chinh last week said that acceleration of vaccinations will help the economy recover in the last portion of the year, when many businesses will resume operations.
Standard Chartered Bank has forecast that the Vietnamese economy may bounce back in Q4, when the growth rate is expected to reach about 5.5 per cent. However, this may be reduced if the negative impacts of COVID-19 continue.
The bank recently lowered its 2021 and 2022 growth forecasts to 4.7 per cent (from 6.5 per cent) and 7 per cent (from 7.3 per cent), respectively.
Grey performance
Minister of Planning and Investment Nguyen Chi Dung also said that if pandemic control is carried out sufficiently, the economy may grow 3.5-4 per cent this year, a figure which will be difficult to achieve as it would need "greater efforts of the whole political system and also localities."
If the economy's growth in 2021 hit 3.5 or 4 per cent, it must be 5 or 6 per cent, respectively, in H4. In Vietnam's conditions, each percentage of growth represents around 400,000 new jobs.
Last week, the General Statistics Office (GSO) announced that the economy's third-quarter economic growth of 2021 reduced by 6.17 per cent on-year, with a grey picture seen in all key sectors including agro-forestry-fishery (up only 1.04 per cent), industry and construction (down 5.02 per cent), and services (down 9.28 per cent).
This is the biggest decline since 2000, when Vietnam's quarter-based growth statistics methods were first applied. It has led to an on-year growth rate of merely 1.42 per cent in the first nine months, far lower than across the previous decade (see chart).
"This is due to COVID-19 causing serious consequences for all sectors of the economy. Many key economic localities have had to implement strictly prolonged social distancing in order to prevent the pandemic from spreading," said a GSO report released last week.
In the first nine months of the year, all the key economic sectors suffered, including agro-forestry-fishery (up only 2.74 per cent on-year), industry and construction (up 3.57 per cent), and services (down 0.69 per cent).
Nineteen provinces and cities in the south – creating 44.4 per cent of national GDP with Ho Chi Minh City holding 24 per cent – have since June been suffering from stringent social distancing, with hundreds of thousands of factories shut down, leaving tens of millions of labourers in the lurch. About 90 per cent of enterprises in the city saw their performance become more difficult in Q3 than in Q2.
In the first nine months, the localities saw on-year slashes in the index for industrial production (IIP), such as Ho Chi Minh City (12.9 per cent) due to heavy reductions in production of garments, textiles, leather and related products, and processed foodstuff; Ben Tre (11.2 per cent), Dong Thap (9.9 per cent), Can Tho (9.8 per cent), and Ba Ria-Vung Tau (5.3 per cent).
In Ho Chi Minh City alone, the number of labourers in Q3 working at manufacturing firms reduced 63.3 per cent on-year. In general, the rate of labourers in all types of enterprises in the city decreased 22.1 per cent on-year.
Meanwhile, Hanoi, which creates 16 per cent of Vietnam's GDP, and a number of northern industrial hubs such as Thai Nguyen, Bac Ninh, Bac Giang, and Haiphong have also been hit hard by the health crisis. All of these localities have yet to fully open their doors to production activities, with tens of millions of labourers facing hardship.
"The prolonged pandemic has driven so many enterprises to the danger of bankruptcy and many of them have either halted operations or wait for dissolution," said GSO general director Nguyen Thi Huong. "Domestic and international supply chains have been broken due to consecutive periods of social distancing. The number of newly-established businesses has seriously reduced both in the number and in the registered capital."
In September, the number of these enterprises hit about 3,900, down 62.2 per cent on-year, with registered capital of VND62.4 trillion ($2.7 billion), down 69.3 per cent.
According to the GSO, since July, the number of businesses affected by the pandemic and kicked out of the market or completing procedures for dissolution has been bigger than the number of newly-established enterprises. Specifically, the respective numbers were 79,700 and 75,800 by late July; 85,500 and 81,600 at the end of August; and 90,300 and 85,500 (down 13.6 per cent on-year) by late September. Nearly one-third of this figure comes from Ho Chi Minh City.
On average, about 10,000 businesses nationwide left the market every month in the first nine months of the year.
Optimism remains
However, Fitch Solutions last week told VIR that it remains somewhat optimistic over Vietnam's general prospects.
"Stronger economic growth in 2021 will bode well for business optimism and borrowing demand. We forecast real GDP to grow by 5.8 per cent in 2021, up from 2.9 per cent in 2020, with the acceleration to be led predominantly by manufacturing and be supported by construction and broad services," said the statement. "Improved market access to Europe with the EU-Vietnam and UK-Vietnam free trade agreements will be a tailwind for the export manufacturing sector, which is already benefiting from the global inventory restocking cycle."
"Meanwhile, we expect construction activity to also benefit from smoother public project implementation as a result of the public-private partnership law, which took effect in January, as well as a buoyant property market. Services will continue to face pressures from consumer worries around the COVID-19 contagion, especially with the Delta variant spreading in Vietnam."
The pandemic situation will likely continue to dampen inward investment for the rest of 2021 and may create further tourism uncertainty, according to Tim Leelahaphan, economist for Thailand and Vietnam at Standard Chartered. "Vietnam's economy is being hit by the pandemic like many others in Asia and other parts of the world. However, we remain bullish on its economic prospects over the medium and long term," he said.
The World Bank in August also released its latest prediction on Vietnam's economic outlook, saying that Vietnam's economy could expand by around 4.8 per cent in 2021 and 6.5 to 7 per cent from 2022 onward.
Assuming the COVID-19 pandemic is brought under control by the end of 2021 and full vaccination covers 70 per cent of the population by the second quarter of 2022, the growth forecast for next year will be revised to 6.5 per cent. The inflation rate forecast is also revised down to 2.8 per cent for 2021, as subdued domestic demand has pushed the rate to its lowest level since 2016. The inflation rate is forecast at 3.5 per cent in 2022 as growth accelerates.
A modest current account deficit equal to 1 per cent of GDP is expected in 2021 since the impact of the pandemic on production will slow export growth over the rest of the year. The current account is expected to return to a surplus, at 1.5 per cent of GDP in 2022, as exports increase on a revival in domestic production and external demand.
Vietnam's economic outlook in the near term is challenging. The main risk to the outlook is a prolonged COVID-19 outbreak if the vaccination rate does not increase substantially.
Because vaccines are not reaching Vietnam fast enough, the government's efforts to start up domestic COVID-19 vaccine manufacturing in 2021, combined with increased procurement from outside sources, will be crucial for the country to avert a health crisis caused by the pandemic.
The growth prospects for this year and next will also depend on the timely and sufficient provision of necessities, such as food and cash, to those affected by the outbreak. Non-performing loans could become a risk in 2022. Cutting unnecessary administrative burdens and digitalising government procedures will be critical for improving the efficiency of pandemic containment measures and to support recovery this year and next. Source: Asian Development Bank
Source: VIR

Nguyen Quoc Ky, Chairman of Vietravel, a big tourist company in Vietnam, said that due to the impact of the 4th wave of Covid-19 epidemic, the entire tourism industry of Vietnam has been closed since May 2021.