E-hailing apps expand to e-payment services

Ride-hailing apps have been expanding their market share, attracting more customers and becoming more ambitious in the e-payment field.
Nguyen Thuy Linh, an office worker in Hanoi, said when paying for small expense items, instead of a Visa card, she uses Moca, an e-wallet on Grab, as the company has connected clients with hundreds of businesses.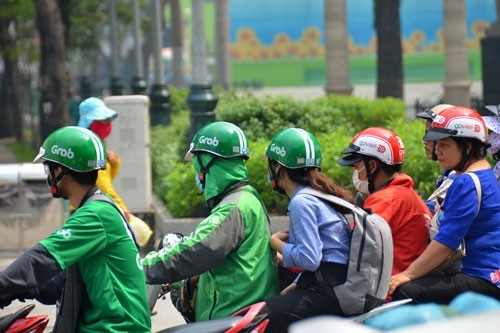 "When I buy a VND100,000 phone card with Moca, I have to pay VND90,000 only and I have 160 points to my wallet. The money in Moca can be transferred to a bank card when necessary and I don't have to pay any kind of fee," Linh said.
In October 2018, Grab and Moca joined forces to run Moca e-wallet on Grab app. The number of Moca users on Grab has been increasing rapidly.
In October 2018, Grab and Moca joined forces to run Moca e-wallet on Grab app. The number of Moca users on Grab has been increasing rapidly.
Moca has a connection with the highest number of banks, 17 commercial banks and one digital bank (Timo).
Moca users pay for trips and food orders, make money transfers among wallet users, make payments at shops, and pay for electricity, mobile phone and water bills.
Some car drivers said they will register to use the financial service of VP Bank after the bank joins hands with Be Group JSC, which is developing e-hailing app Be. The strategic cooperation between Be Group and VP Bank is the next step taken by Be to realize the plan to develop its open technology ecosystem.
Be-VP Bank cardholders can access consumer credit, while Be drivers can access VP Bank's services designed specifically for them with preferential interest rates.
Analysts commented that e-hailing apps now not only provide transport and delivery services, but also develop payment portals and join banks to develop tech finance.
According to Nguyen Huu Tuat, CEO of Fastgo, an e-hailing app, the company has launched many services, including payment with cards and e-wallets.
"Fastgo also joins with small and medium enterprises to provide delivery and forwarding services, thus creating a flexible e-payment ecosystem," Tuat said.
Go-Viet, another e-hailing app, has also joined the e-payment market.
A representative of Go-Viet said the company has cooperated with other businesses to provide payment solutions, including paying money into accounts via e-wallet, internet banking, and mobile banking, via the shops of The Gioi Di Dong, Dien May Xanh, Bach Hoa Xanh, FPT Shop, Viettel Post and Circle K chains.
Partners can also withdraw money in their wallets from all the shops of FPT Shop.
Ha Anh Tuan, director of Vinalink, a consultancy firm, said consumers will get big benefits when e-hailing apps diversify services and develop financial apps. 
Thanh Mai

Viettel Post, the delivery arm of Viettel Group, has developed ride-hailing app MyGo for car, motorbike, delivery and transport services.  

Vietnam needs to untangle bottlenecks facing the logistics sector in order to boost the sectoral development on a par with that of developed countries, insiders have suggested.