Doors open for free trade with the EU

The adoption of trade and investment agreements with the European Union offers Vietnam opportunities to attract more investment and increase its exports to EU member states, making the country less dependent on traditional markets. 
Last Wednesday the European Parliament (EP) officially adopted the EU-Vietnam Free Trade Agreement (EVFTA) and the EU-Vietnam Investment Protection Agreement (EVIPA) in a historic vote in Strasbourg, presenting a major milestone in the bilateral relationship between Vietnam and the EU.
The EP gave its consent to the EVFTA with 401 votes for, 192 votes against, and 40 abstentions.
The "most modern, comprehensive, and ambitious agreement ever concluded between the EU and a developing country" will contribute to setting high standards in the region, and could lead to a future region-to-region trade and investment agreement, said an EP statement.
The EVFTA is "a strong signal in favour of free, fair, and reciprocal trade, in times of growing protectionist tendencies and serious challenges to multilateral rules-based trade," it continued.
The next and final step before the EVFTA can enter into force is a vote in Vietnam's National Assembly, expected to take place in May. If greenlit, the agreement will take effect one month after Vietnam and the EU have notified each other that the legal procedures have been completed.
Furthermore, the EP also agreed by 407 votes for, 188 against, and 53 abstentions to the EVIPA, providing an investment court system with independent judges to settle disputes between investors and state.
"This is a historic moment for EU-Vietnam relations, and one which will open the door to a new chapter of increased trade and investment between our two sides," said Nicolas Audier, Chairman of the European Chamber of Commerce in Vietnam (EuroCham).
"It will enable European business to be at the forefront of the next phase of Vietnam's socio-economic development, and ensure that Vietnamese companies and consumers have privileged access to European markets, products, and services. Likewise, EU companies will have greater access to Vietnam's fast-growing market," he said.
European Commissioner for Trade Phil Hogan also commented, "The EU-Vietnam agreement has a huge economic potential. A win for consumers, workers, farmers and businesses. And it goes well beyond economic benefits. It proves that trade policy can be a force for good. Once in force, these agreements will further enhance our potential to promote and monitor reforms in Vietnam."
According to the EP, Vietnam is a booming, competitive, and connected economy with almost 100 million citizens, a growing middle class and a young and dynamic workforce. Vietnam is also one of the fastest-growing economies in the ASEAN with an average GDP growth rate of around 6.51 per cent from 2000 until 2018. Vietnam is also one of the most open and pro free trade economies in the region.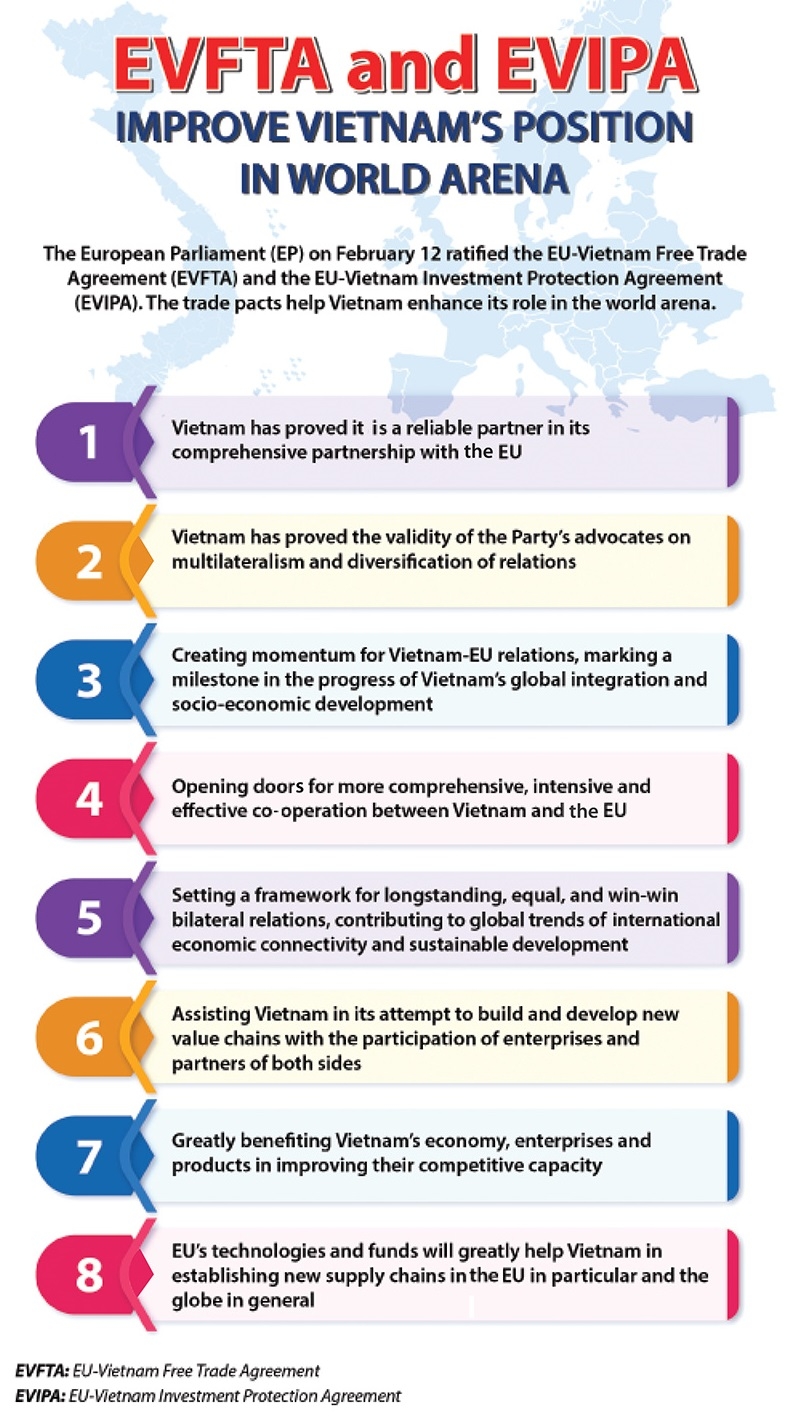 Source: VNA
Pushing trade forward
The EVFTA is expected to be a major driver of Vietnamese exports, and help the country to diversify its markets and exports, especially its key staples such as agro-forestry-fishery products, electronics, footwear, and garments and textiles. Currently, Vietnam's exports rely on its traditional markets like China, the United States, Japan, and South Korea.
Last year, Vietnam's largest export markets were the US ($60.7 billion), the EU ($41.7 billion), China ($41.5 billion), the ASEAN ($25.3 billion), Japan ($20.3 billion), and South Korea ($19.8 billion).
The agreement will remove virtually all customs duties between the two parties over the next 10 years, including on Europe's main export products to Vietnam like machinery, cars, poultry, and chemicals.
It extends to areas such as banking, maritime transport, and postal services, where EU companies will have better access. Companies will also be able to bid on public tenders put out by the Vietnamese government and several cities, including Hanoi. The deal also safeguards 169 emblematic European products.
MEP Geert Bourgeois, who is in charge of steering agreements through the bloc's parliament, said the EVFTA aims to eliminate 99 per cent of tariffs within seven years. This should result in €15 billion ($16.37 billion) a year in additional exports from Vietnam to the EU by 2035, while EU exports to Vietnam would expand by €8.3 billion ($9 billion) annually.
"Of course, these EU exports result in around 14,000 new, well-paid jobs here in the EU," Bourgeois said. "Vietnam is a vibrant market with a young population. With an economic growth of 6-7 per cent every year, Vietnam is very interesting for European investors."
According to the General Statistics Office, in 2019, EU member states spent $41.7 billion importing Vietnam's goods, holding 15.8 per cent of Vietnam's total export value of $263.45 billion.
These markets also exported goods worth $14.8 billion to Vietnam, meaning the country's total import turnover from them accounted for 5.8 per cent of Vietnam's total import turnover of $253.51 billion from global markets.
According to a study by Vietnam's Ministry of Planning and Investment, the EVFTA will help Vietnam's exports to the EU increase by additional 20 per cent in 2020, 42.7 per cent by 2025, and 44.37 per cent by 2030. It will also help raise Vietnam's imports from the EU by 15.28 per cent in 2020, 33.06 per cent by 2025 and 36.7 per cent by 2030.
The deal will also enable Vietnam's GDP ascend by an additional 2.18-3.25 per cent during 2019-2023, 4.57-5.3 per cent during 2024-2028, and 7.07-7.72 per cent for the 2029-2033 period.
Investment boost
According to the German Industry and Commerce Vietnam (GIC), the EVFTA is very important for the German economy, and the country is Germany's second biggest trading partner in Southeast Asia.
"More than 4,000 German companies have already been exporting to Vietnam, of which 69 per cent are small and medium-sized enterprises. In times of increasing international trade conflicts and erosion of the world trade rules, the new agreement is an essential sign for rules-based trade and fair competition," said the GIC in a statement released last week.
Recently, EuroCham asked its 1,000 members how the EVFTA would affect their trade and investment plans in Vietnam. Their responses painted a strong, positive, and optimistic picture.
Most said that the EVFTA would have either a "significant" or "moderate" impact on their business or investment plan in both the medium-term (78 per cent) and long-term (85 per cent). Furthermore, 72 per cent agreed that the EVFTA will help Vietnam to become a hub for European companies in the ASEAN.
On top of the clear economic benefits of the EVFTA, EuroCham's members believed that it will have a positive impact on a range of social and environmental issues, from welfare (88 per cent) and environmental protection (85 per cent) to knowledge transfer (88 per cent) and workers' rights (65 per cent).
"Experts agree that the EVFTA will have a positive and significant impact on Vietnam's social and economic development," said Audier of EuroCham. "Vietnam's exports to the EU are set to rise around 50 per cent, with imports also seeing significant growth."
Swedish glove-maker Hestra said the EVFTA will give EU companies like it a helping hand.
"With the EVFTA in place, we would look to invest in a new factory in Vietnam with 200-400 employees, alongside our current factory. This would not only be a good opportunity for our company, but also create more job opportunities for the local community," said one of Hestra's owners Svante Magnusson.
Hestra, which exports its gloves to over 30 countries worldwide, will benefit from the removal of EU tariffs on gloves of up to 9 per cent. This will make it easier for Hestra to export its products to the EU.
Besides this, the agreement's new rules of origin will make it easier to trade products tariff-free when they include inputs from other countries the EU has trade agreements with. This will benefit textile producers such as Hestra.
The EU is one of the most important sources of foreign investment for Vietnam. According to the Vietnamese Ministry of Planning and Investment, investors from 23 out of 28 EU member states have registered approximately $24 billion for nearly 2,200 projects in Vietnam.
The EVFTA and the IPA were initially negotiated as a single text, but in 2018 the EU and Vietnam decided to split them, following the approach chosen for the trade and investment agreements with Singapore.
The EVFTA covers exclusive EU competences, and can therefore be ratified by the EU alone, without involving the member states. The European Commission will have a mandate to implement it straightaway, thereby removing trade tariffs gradually until 2035. The EVIPA covers non-direct (portfolio) investment and investor-state dispute settlement mechanisms. These are shared competences on which the EU shares decision-making powers with member states, meaning that the agreement must also be ratified by them.
The two texts were signed by the EU and Vietnam in Hanoi last June.
Phil Hogan - European Commissioner for Trade
I firmly believe that these trade agreements will create the best platform for further engagement and constructive dialogue. To not ratify the deal would be a failure and leave the European Union with fewer options to pursue a reform agenda in Vietnam and would undermine the credibility of the EU as a reliable partner.
Among members of the European Parliament, the free trade agreement and the investment protection agreement with Vietnam are the most ambitious ever concluded with a developing country.
The agreements will further reinforce our already strong trade and investment ties. And, they will also provide an additional opportunity to strengthen the co-operation established under other EU instruments, for example on illegal logging or fishing.
The agreements will strengthen our presence in Asia, following the new generation agreements.
Tomas Tobé - European Parliament Committee on Development
Free trade is one of the best tools to lift people out of poverty. History proves that with all clarity, but this agreement will ensure that Vietnam can go forward on an inclusive path. Also, with this FTA, we set a very high standard as a comprehensive agreement with a developing country.
And as shared by the development committee, I am very pleased that this agreement has a dedicated chapter on sustainable development, which needs to be effectively implemented. I also welcome the timetable from Vietnam on when to ratify the outstanding core International Labour Organization conventions. Moreover, I urge both parties to make full use of the provisions of the agreements in order to contribute to strengthening human rights in Vietnam and towards the sustainable development goals. I also urge the commission to work with civil society to ensure growth in Vietnam will strengthen environmental protection and labour rights. The Committee on Development recommends to give our consent to this agreement.
Ywert Visser - Board member, Dutch Business Association in Vietnam
The ratification of the EVFTA and the EVIPA by the European Parliament marks a historic milestone in the relation between the European Union and Vietnam. The next step is the ratification by the European Council and Vietnam's National Assembly. In the meantime, the Dutch Business Association in Vietnam (DBAV) is preparing for the moment the agreement enters into force. This is expected to be in the middle of this year.
The EVFTA is a comprehensive agreement and it is therefore important that Vietnam is fully prepared for the agreement before its implementation. However, companies and consumers must also do their part. One of the keys to unlock the benefits of this agreement is for companies and consumers on both sides to be alert to the possibilities and requirements of the EVFTA. This is sometimes challenging, especially for small- and medium-sized enterprises. The DBAV will be an active participant in this process and our focus will be on sharing practical advice to companies to facilitate trade between the Netherlands and Vietnam and the EVFTA in particular.
This new-generation FTA will deliver a rise in trade and investment while creating sustainable growth and mutual benefits in several sectors. In short, it will be an effective tool to improve trade relations between the EU and Vietnam. The DBAV will continue to encourage and support Dutch companies to enhance their investment to support Vietnam's economic growth.
Pamela Phua - General director AkzoNobel Paints Vietnam
With the approval of the EVFTA and EVIPA, a new decade of sustainable foundation to improve quality in comprehensive co-operation has been opened.
Among EU members, the Netherlands is the country with the largest investment in Vietnam and Dutch enterprises are hugely contributing to the sustainable development of the country. As the most notable company among that, AkzoNobel is quickly making progress to help turn Vietnam's potential into a vivid and sustainable reality.
Given that the accelerated urbanisation trend is coming along with complex environmental issues, Vietnam is finding new and suitable solutions. The company has developed a wide range of paint and coating products to meet customers' needs. Advanced technologies that are in high esteem for their sustainable benefits are currently inherent to almost all brands in AkzoNobel's portfolio.
Besides that, the company is building a clear pathway to reach a sustainable future with a series of events and activities to promote smart cities, urban heritage preservation, and green architecture in Vietnam.
Lynette Moey - Managing director, Bayer Vietnam
The EVFTA will enhance broad relationships in many areas, resulting in the creation of jobs, transfer of know-how and expertise, and introduction of cutting-edge technologies as well as provision of many new goods and services to benefit consumers. The strong commitment to an open, fair, and rules-based trade will further widen export markets for Vietnam. The improved regulatory co-operation and coherence through the EVFTA will bring advantages to Vietnam towards international rule alignment. This not only helps Vietnam attract foreign investors but also bring advantages to its society.
As we are a global company with roots in Germany with our key businesses in healthcare and agriculture and a presence in more than 90 countries worldwide, international trade is essential for our business. The company's business depends on a complex value chain with research and development (R&D) being conducted in many different places, geographically spread production, and largely nationalised regulatory environments. In agriculture, we are converting R&D into solutions for farmers that enhance productivity, create new value, and reduce the use of inputs necessary to produce a crop. Thanks to our leading positions across technology platforms including digital solutions, Bayer is best positioned to discover, combine and tailor solutions. With that, the company enables increased agricultural productivity and contributes to keeping Vietnam's agriculture competitive in international markets.
For the health care sector in Vietnam, there are opportunities to strengthen high-quality services through innovation and infrastructure investments. Bayer, together with the healthcare industry, is ready to join hands with the government to support such developments and share international practices to benefit the patient access to better quality of treatment in Vietnam.
With its leading innovation, Bayer is ready to have further close co-operation and partnership with the government and relevant stakeholders to achieve the national action plans in the respective areas to ensure the effective implementation of the EVFTA agreements from now.
Erick Contreras - Managing director, BASF Vietnam
BASF, a global leading chemical company headquartered in Germany, has been active in Vietnam since 1994. Over the last 26 years, we have been proud to be part of the remarkable transformation of the Vietnamese economy into one of the fastest-growing in the region.
The EVFTA was approved by the European Parliament last Wednesday, and we are very pleased with this important event. With more preferential customs duties, we will be able to offer our innovative solutions to many more local manufacturers, helping them better serve the export and local markets.
Local consumers will have greater access to safe and quality goods made in Europe and vice versa, and that Vietnamese goods will be offered to many more European consumers.
Last but not least, together, we can all contribute to the sustainable development of both Vietnam and the European Union.
Hans Kersten - Head of Sales and Marketing DEEP C
With another hurdle being cleared, it only takes the final vote in Vietnam's National Assembly and ratification of the European Council before the historic EVFTA can come into force. The deal holds a special significance to DEEP C as it is a drive to attract more overseas companies to the country and encourage them to pour investment in the manufacturing sector. The EVFTA reflects that Vietnam is a trustworthy place for EU companies to manufacture, meaning we respect the labour law and we do not trade environmental health for economic growth.
This is also important to DEEP C Industrial Zones because we are at the forefront of our efforts in sustainability to showcase that manufacturing and environment can coexist in harmony. On top of that, the EVFTA pledges the best import-export duties. In combination with the existing attractive investment incentives at DEEP C, it will give investors a financial advantage to participate in our endeavours.
Joseph Perucca - General director at GIVI Vietnam
As a European company that focuses on the global market, we welcome this challenging and important turn with enthusiasm. Looking at trade activities, the EU is currently among the top trading partners of Vietnam. We believe that important changes will be executed in the future regarding the Vietnamese manufacturing sector. At the same time, we hope that this will result in bilateral exchanges, allowing not only simplifications in processes but, more importantly, create advantages in export operations from Vietnam to Europe.
Our vision for these two markets is that the possibility of real integration can really make a difference. A market reality that translates into optimistic approaches between the parties in a humanistic way, making quality products available at reasonable prices and competitive costs.
I would like to emphasise a very important aspect of this agreement: the regulation of intellectual property rights. As a leading company in the sector, we deal with issues related to the protection of our images and products on a daily basis. We invest heavily in research and development and can clearly see that regulations on intellectual property can bring significant benefits, not only for companies but particularly for the end users of products or services.
Oliver Brazier - Managing director, BRG Capital Investment Management
We see this agreement as a very important milestone in the relationship between the EU and Vietnam and think that it will, especially in the long run, be very beneficial to both sides. In particular to Vietnam, as it allows the country more flexibility and to diversify its usual trade partners to export goods on favourable terms and receive investments.
We expect that the demand for logistics, warehouses, and office space will further increase as this agreement is implemented and hope to welcome many more European investors as tenants to our projects in Vietnam. The country will further strengthen its position inside the ASEAN as a central and cost-effective hub for activities of European companies operating in the region. We hope that this agreement will also facilitate access to European investment and funding directed at the infrastructure sector, as this is an important element to actually being able to implement what the agreement promises.
Alain Cany - Country chairman, Jardine Matheson
I feel extremely relieved and excited with the favourable result of the vote of the European Parliament. This will be a win-win for the EU and Vietnam and the result of very hard work from both sides.
I want to pay tribute to my successors at EuroCham, in particular Nicolas Audier and Jean-Jacques Boufflet who have been so active in Vietnam, alongside the government and the EU delegation to push for the final approval. I am sure their personal efforts have counted at the end.
The last step is to ratify the agreement by the National Assembly in Vietnam, but this seems to be a mere formality.
After almost 10 years of preparation, we can now benefit on the business side.
Of course, the immediate elimination of customs duties and some non-tariff barriers will boost trade between the EU and Vietnam, and new investments from the EU will be encouraged by a better framework.
In the long term, Vietnam should benefit more from the technology transfer from the EU to support its sustainable development.
For full success, Vietnam needs to accelerate structural reforms and fulfill all its commitment on labour and human rights, but I feel confident this will happen. VIR
Thanh Dat

The new trade agreement between Viet Nam and the European Union opens many doors for agriculture, according to experts.

The EU has a strong financial services market and the EVFTA will have a significant impact on the Vietnamese economy and finance market.